Coconut rice is a very special delicacy unique to Nigeria. No tribe in Nigeria can however claim full ownership of the coconut rice but it is as Nigerian as any meal could be.
The very first time I tried coconut rice, my mum had made it for lunch. I wasn't particularly excited because well, it's just jollof rice, till I tasted it.
Note that I can't be sure this was the first time ever but it is the first time I remember. I would go on and on about coconut rice for the weeks to come.
Read Also: List Of Nigerian Foods For All Tribes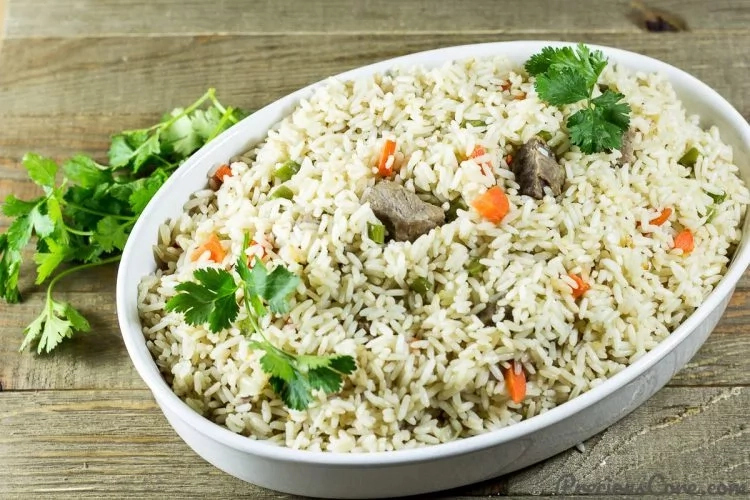 When I finally became old enough and began learning how to cook, coconut rice was top of my list. The first meal I ever learnt how to make was beans but coconut rice made top 10.
Coconut rice is a modified version of the Nigerian jollof rice made with coconut extract. It is delicious and unique and requires extra care and expertise to make successfully.
It is rich in all the nutrients that make jollof rice a joy but with a little extra. It is not as popular as the jollof rice and may not be as readily available in most restaurants because of the availability of fresh mature coconuts.
The coconut milk obtained from the coconut shavings add a flavour to the rice that is completely irresistible. All the time I have ever had coconut rice it's been home made. Maybe after this I would set out to find coconut rice in a restaurant and know if it would meet up with expectations.
When you come across coconut rice you can very easily mistake it for jollof rice because they both look basically the same.
When trying to make coconut rice always opt for very mature coconuts with very deep brown outer surface because these give the best flavour.
The immature ones that are a pale brown don't give the right flavour and you might have to use 2 coconuts if you are very particular about the taste so please always opt for a mature coconut.
Read Also: How To Start Food Processing Business In Nigeria
Ingredients [for 3 servings]
a. 4 cups of rice
b. ½ kg chicken/ beef
c. 4 medium sized tomatoes
d. 1 green bell pepper
e. 1 red bell pepper
f. 2 medium sized carrots
g. 1 tablespoon cayenne pepper
h. I medium onion
i. Ginger and garlic
j. 2 tablespoons of ground crayfish
k. ½ tablespoon of curry powder
l. 1 small tin of tomato paste
m. Vegetable oil
n. One medium coconut
Read Also: How To Start Food Packaging Business In Nigeria
Steps
1. Break the coconut
2. Save the water inside the coconut, if it has water.
3. Using a vegetable shredder, shred the coconut carefully into tiny fine bits.
4. Use the tiny part of the shredder and do this carefully so you don't hurt yourself.
5. When all the coconut has been shredded, soak it in warm water and set aside.
6. Boil the rice in about 2 cups of water.
7. Cook for 10 minutes. Cook till the rice is nearly soft enough to eat. Remove from heat and wash the rice thoroughly in cold water and set aside.
8. Wash and blend the tomatoes.
9. Chop the onions and set aside.
10. Wash and peel the carrots. Chop and set aside.
11. Crush the ginger and add some warm water to it to extract the juice. Sieve off the chaff and set the extract aside.
12. Wash the bell peppers, cut in half and remove their seeds then chop into little bits.
13. Wash your meat and season mildly. Place on medium heat and cook till the meat is nice and tender.
14. Take the meat out and preserve the stock.
15. Place a frying pan on heat. Add some vegetable oil, a reasonable quantity to fry the meat. Heat up the oil and the place the meat in the hot oil. Do this carefully to ensure that the hot oil doesn't splash on you.
16. When one side of the meat has fried then flip the meat and fry till it's golden brown all over.
17. Remove the meat and set aside.
18. Pour the blended tomatoes into a fresh pot and set on medium to high heat. Cook till all the water in the tomatoes have dried off.
19. Pour some of the vegetable oil used previously into another cooking pot. Just a little this time, just enough to make a stew.
20. Place on medium heat.
Add the onions and fry for a minute. Add the cooked tomatoes and the tomato paste. Fry for about 10 minutes 21. 21. and ensure you stir constantly to ensure that it doesn't burn.
22. Add salt, cayenne pepper, curry powder, seasoning cubes, garlic, ginger extract and stir.
23. Add crayfish and the meat stock.
24. Cover the pot and allow to boil for about 5 minutes.
25. 26. While it's boiling, return to your coconuts. Strain the mixture and save the water.
26. Combine this water with the coconut water, if there was any, then pour into the boiling pot.
Read Also: How to Start Food Delivery Business in Nigeria
Note: The combination of this coconut water and the meat stock should provide enough stew to cover the rice properly when you finally add it.
If you feel it won't be enough then you can add a little more. But not too much so the rice does not get too soft while we are waiting for all that water to get dried.
27. Add the carrots and bell peppers.
28. Add the rice and stir. Ensure that the rice is covered a little bit with the stew then place on medium heat and cook for 10 minutes.
Note: It is expected that the rice would burn a little bit but check on it at intervals and if it's burning poke a cooking spoon into the bottom of the pot and lift the rice off the under part of the pot so that some of the water can get to the bottom of the pot.
Cook for 5 more minutes while checking the rice at intervals to know if it's cooked. When the water is dried and the rice is nice and tender, remove from heat and stir again using a spatula.
Serve while hot with the chicken or beef alongside a chilled bottle of wine or juice.
Cheers!!!
🤑 Start making money from home today!
👉 Get correct FREE TIPS and Guides on how to make money from home today. Click here to start
.
👍Showcase your business here!
With over 1M unique users per month across all channels, we have a large audience for you to showcase your products and services. Simply get in touch via 👉 marketing@Infoguidenigeria.com.
🤑 Make Money now!
👉 Make money writing for us. Apply for Freelance writing jobs in Nigeria.
👉 Make Money as InfoGuideNigeria Advertising Agents, read more here
.
This post can be helpful to somebody else, please share it on Facebook, Whatsapp, Telegram and Twitter. There are buttons below for this (easy to use too)!
Copyright Warning!
Contents on this website may not be republished, reproduced, redistributed either in whole or in part without due permission or acknowledgment.
.
Proper acknowledgment includes, but not limited to (a) LINK BACK TO THE ARTICLE in the case of re-publication on online media, (b) Proper referencing in the case of usage in research, magazine, brochure, or academic purposes,.
.
All contents are protected by the Digital Millennium Copyright Act 1996 (DMCA).
.
We publish all contents with good intentions. If you own this content & believe your copyright was violated or infringed, please contact us at [infoguidenigeria@gmail.com] to file a complaint and we will take necessary actions immediately.