Nigeria is a country of many tribes. These tribes have different foods. From the northern part of Nigeria to the southern part, many types of food exists and each tribe have the food they are known for.
These food items are consumed traditionally in Nigeria and you can get them in many of these Nigerian restaurants.
👉 Relocate to Canada Today!
Live, Study and Work in Canada.
No Payment is Required! Hurry Now click here to Apply >>
Immigrate to Canada
Foreign foods can be obtained from foreign restaurants in Nigeria. In this article, I will share with you the list of Nigerian foods for all tribes.
Read Also: How to Start Food Delivery Business in Nigeria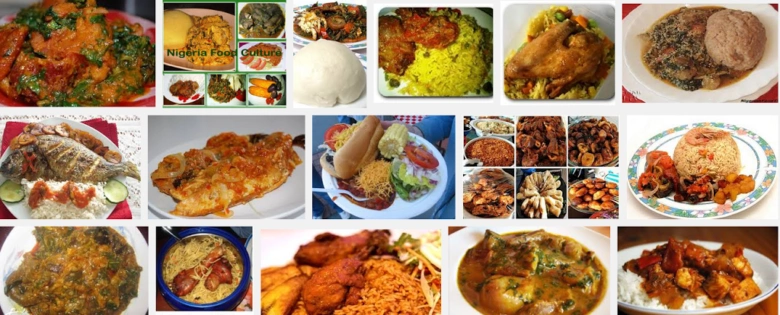 1. Igbos
This is among the 3 major ethnic group in the country and majority of them are settled in the Eastern part of Nigeria. Majority of the Igbo states include Imo, Delta, Rivers, Anambra, Ebonyi and Benue.
Their main occupation of the Igbo is made up of agriculture ( manioc, corn, yam, rice, vegetables). The main crop is palm oil in the Southern regions.
Igbo people often engage in trade, fishing and harvesting of berries, wild fruits, plants and herbs. They are not very much engaged in livestock breeding like the Northern savanna areas of Nigeria.
The Igbo people live in a rainforest geographical zone of Nigeria. Igbo people use spices and palm oil for cooking. Among the most delicious known salads of the Igbo are Abacha, Jiakwu and Ugba.
The best dessert of the Igbo people is known as Nkwobi. This is said to be the greatest delicacies of Nigeria. Their corn is extremely tasty and they use it to prepare a meal known as Agidi which is mostly served with tomato stew and beans.
Read Also: 18 Steps to cook ogbono soup with Ingredients
👉 Relocate to Canada Today!
Live, Study and Work in Canada.
No Payment is Required! Hurry Now click here to Apply >>
Immigrate to Canada
Igbo Soups
a. Bitter leaf soup: This type of soup is often taken with cocoyam and akwu.
b. Okro soup: You can use fresh fish and preparing is not very expensive.
c. Akwu and Oha soup: You are aware that this is a heavy type of food and it is better to eat it at a minimum of 4 hours before going to bed.
2. Yoruba
This tribe is in Southwestern and Western part of Benin, Nigeria, Togo and Ghana. The Yoruba tribe is made of Muslims, African traditionalist and Christian and they are all in the Yoruba tribe.
The main occupation of the Yoruba tribe is fishing and manual agriculture. They grow corn, yam, bananas, cassavas, groundnuts, millet and various vegetables.
They export cocoa as the main export and because they live in rain-forest zone of Nigeria, they do not rear livestock like the other northern regions.
Read Also: How To Make Nigerian Egusi Soup
Yoruba foods
One of their most common items is yam. This yam can be fried, mixed or boiled with other vegetables. The Yorubas are known for their pounded yam, a dish that can be served with many soups.
Corn is also very obtainable in this part of Nigeria. Corn grains are prepared with fried plantain and beans, added meat or bananas and this can be used for cooking porridge.
Much attention is paid to plantains and bananas and they can be fried or mixed with yam or legumes. The most popular dishes in some areas are rice and sorghum.
Majority of their dishes are spicy as Yoruba people are fond of their pepper. They cook meat and fish with many types of hot sauces.
They mainly use palm oil. They use palm oil juice to prepare wine known as 'Emu'. Beer is made from corn, sugar cane and bananas. Other food of Yoruba's are Ekuru, fried egg plant, Gbegiri.
3. Pulbe (Fulani/ Fulana)
This is one of the ethnic groups in Nigeria and they can be found in Borno, Bauchi, Kano, Jigawa, Sokoto and Kaduna, Niger, Yobe and Kebbi occupying certain areas.
This modern Pulbe tribe has their divisions into cattle breeders ( Bororo, Unda), semi- nomads and settled communities.
They form a special ethnic group called Hausa-Fulani. The main occupation of the nomads have been largely preserved and that is cattle breeding.
Those ones who are semi-nomads combine the breeding of cattle with manual farming. The cattle they breed include horses, large and small cattle and the crops they grow are sorghum, millet rice, corn, yam, phonio, bananas, cotton, coffee, vegetables and tobacco.
The main dish of this tribe are vegetables and they use it to prepare soups, patties, porridges, couscous and they also feed on dairy products.
The cuisine of Fulani are Wars, Faraday Nono. The Fulani milk is delicious. The main ingredient of the Fulani heavy porridge (Nyiiri) is flour and they can be of various types like sorghum, millet or corn.
Some sauce is added and then the porridge is served. They eat soup made up of spices, peppers, tomatoes and onions.
Read Also: 8 Best Yoruba Foods You Should Not Miss
4. Angas
This is the name of the Nigerian tribe that live in the Central part of Nigeria. The tribe has about 250000 people and some of the groups are mountain settlers.
Majority of Angas are Muslims and many of them are adherent to traditional beliefs. Their major occupations are manual farming ( millet, corn, rice, yam, sweet potato, peanuts and cotton. They inhabit small villages.
Their traditional dwelling is with mud houses with grassroots. Their main food is vegetable ( soups, porridges) for those inhabiting mountainous areas and their own is vegetable foods and dairy foods.
5. Hausa
This is among the 3 major ethnic groups in the country and these tribes are represented in states like Borno, Bauchi, Kano, Jigawa, Niger, Sokoto and Kaduna.
Hausa food is made up of porridges, vegetables, soups and meat including fish and dairy products. Kolanut is relevant in most Hausa homes. One of their delicious delicacies is Tuwo in union with Kuko soup.
Other Hausa dishes are:
a. Dan Wake
You need bean flour, kuka and pepper. Add ground Cayenne pepper. This dish can be ready in 20 minutes.
b. Moringa soup: this is medicinal.
c. Tuwo Shinkafa: this is served with a well known Hausa groundnut soup. They are prepared from rice and the soup is made up of white hibiscus ( white zoo) and groundnut.
Read Also: 10 Factors Responsible for High Cost of Food Items in Nigeria and Solutions
Suya: this may be bush meat suya, chicken suya or beef suya. Suya is very popular in Nigeria and you can get it from the southern part of Nigeria since the northerners in southern Nigeria prepare it.
👇👇👇👇👇
Immigrate to Canada Via Job Offer!
Get latest Jobs in Canada for foreigners with visa sponsorship 2023 and how to apply. Don't miss this opportunity that can help you relocate to Canada with your family.
👇👇👇👇👇
👍Advertise your business on InfoGuideNigeria.com!
From just
N9,999 per month
, you can advertise your products and services to over
1,500,000 monthly
users on our website.
Click here to read more
.
======
🤑 Make Money now!
👉 Make money writing for us. Apply for
Freelance writing jobs in Nigeria
.
👉 Make Money as InfoGuideNigeria Advertising Agents,
read more here