In this post we look at the Top 10 Nigerian Comedians and their Net Worth. Many comedians exist in Nigeria and they are making their mark both within and outside the country. These comedians are well known in Nigeria. They are very funny comedians known across the country.
In this article, I will share with you the top 10 Nigerian comedians.
👉 Relocate to Canada Today!
Live, Study and Work in Canada.
No Payment is Required! Hurry Now click here to Apply >>
Immigrate to Canada
Top 10 Nigerian Comedians and their Net Worth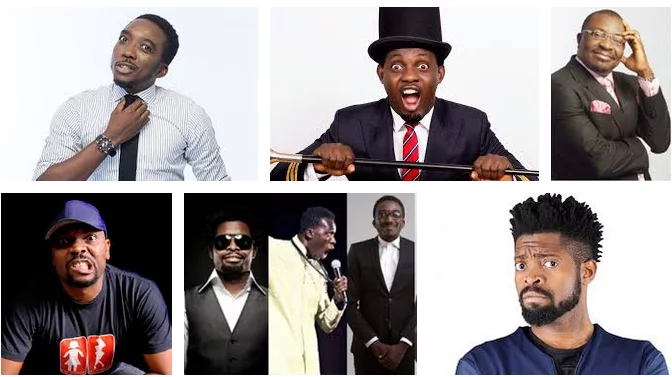 1) Basketmouth
This comedian champions the cause of entertaining his fans. He is now the Brand Ambassador for companies like Amstel Malta and Globacom Ltd. He is engaged with hosting of events in America, London and South Africa and these are sold his uncensored platform of which his popularity has been attained.
His asset are worth 2 billion naira and his annual income is up to 192 million with endorsement deals that are up to 120 million naira annually. He is among the richest comedians in Nigeria.
Basketmouth has been hosting a comedy program on Instagram that is known as the Two Things Challenge. He won the National Comedy Award in 2005. His comedy program is shown in African Magic.
2) Alibaba
He has been hosting many dignitaries in Nigeria among them former presidents who sponsor him. He has a residential home in Lagos, a mansion estimated at more than N300 million naira.
He also has many businesses in Lagos and he is an inspirational speaker apart from his comedy enterprise. His charges for an event is at an average rate of 4-4.5 million naira per event and they only host a minimum of two events on a weekly basis.
Alibaba is a top Nigerian comedian who began hosting events and television shows because he intends to venture into professional comedy, he kept on and soon he became the Master of Ceremony in many events. In 1993, he started changing the public perception about stand-up comedy.
After he incorporated in 1998, he obtained a 2-year agreement to get billboards in certain parts of Lagos Island to inform the public that comedy is a reputable profession. He was awarded the Comedian of the decade in 2009.
👉 Relocate to Canada Today!
Live, Study and Work in Canada.
No Payment is Required! Hurry Now click here to Apply >>
Immigrate to Canada
3) Julius Agwu
He has earned millions by charging for each event 2-3 million naira. He is known for two events which are Laugh for Christ Sake and Crack Your Ribs. He has many properties that are spread across 3 states in Nigeria and he is the CEO of an entertainment enterprise known as Real Laff Entertainment.
He earns 180 million naira annually and his net worth is about 1.5 billion naira and he had made more than 20 million naira from launching a book. Julius Agwu is a musician, comedian and actor.
He formed a genre of music in Nigeria which is known as music comedy and he has done many shows in many parts of the world like London, Atlanta, Maryland etc. He is known across the globe as Julius D Genius. It all began in 1996 with the Night Of A Thousand Laughs at the University of Lagos.
4) AY
This comedian became known at a rate faster than what was being expected. His annual earnings are up to 280 million naira and he has an event company and MVP club. His performance fee is between 1 and 2 million naira for each event and he makes up to 160 million on a yearly basis through his AY live events programme.
He is the CEO of Corporate World Entertainment in Nigeria and he became the US Peace Ambassador in 2009 after he won up to six awards in 2008. He hosts many live shows and his first movie was 30 Days In Atlanta.
He hosts Africa's largest comedy shows. He has also influenced a lot of upcoming comedians through his program known as Open Mic Challenge.
5) Gbenga Adeyinka
He owns several enterprises and properties and he is also into hosting the Laffmaltaz show with more than 5000 people attending on a yearly basis and he always sell the tickets. His popularity began with his shine shine bobo promo known as the Star Game Show.
He has been anchoring many television programs like MBI, DSTV, African Magic, Galaxy TV. The main strength he has is that he can speak multiple languages.
He has been anchoring multiple weddings and events for the top politicians in Nigeria.
6) Okey Bakassi
He is comedian that is involved in the anchoring of events in the upscale. He is a comedian that is also the Senior Special Assistant on entertainment in IMO State and he is also a famous performer for many politicians.
Okey Bakassi won the best actor in the main Igbo category of the Best of Bollywood Awards in 2014. It all began from 1993 when Zeb Ejiro gave him the chance to be shown on network television with a television program known as Fortunes where he acts as Nick who is among the bodyguard of Johnson.
7) Tee-A:
He is a very popular writer and gifted MC for wedding ceremony and he is the owner of an event company. He has many private enterprises among his assets and he is well known for his activities.
He is among the veteran actors of the Nigerian entertainment industry. Tee-A began his comedy ventures in 1996 and today he is among the top 10 Nigerian comedians.
8) I Go Dye
His annual income is up to 350-500 million naira and the net worth of his assets is valued at more than 2 million naira. He is the CEO of Revamp Construction Company, a road construction and real estate construction company. He is also an Ambassador to the United Nations Millennium Development Goals.
9) Bovi
At present, Bovi happens to be among the hottest. There is always a rush for tickets and if you happen not to come early enough it would then be sold out. Bovi is an actor, writer, producer and director.
He has staged popular stand-up comedy concerts both within and outside Nigeria. He was also part of a Note of 1000 Laughs that was organised by D.A Williams and his first movie was Its Her Day which is on the 8th of October 2016 where he got nominated for the AMVCA Awards.
10) Yaw
This is another well known comedian and he earns from radio presentations, event anchoring, MTN adverts, equipment leasing and many other enterprises. Yaw has got his own share among the elites.
📢

We are hiring writers!
Article Writing Jobs
- We are hiring good freelance writers -
Click here to apply