Nigerian egg rolls are the big brothers of the Nigerian buns. They are a healthier option because they contain boiled egg filling.
Usually, when looking out for egg rolls in a mini pastry shop near you, you might come across some that come with half an egg inside or a quarter of an egg.
The size of the egg often decides the cost of the roll. They still however, very cheap snacks that can be gotten nearly anywhere because the ingredients are always readily available and affordable in grocery stores all over Nigeria.
Read Also: How To Make Nigerian Buns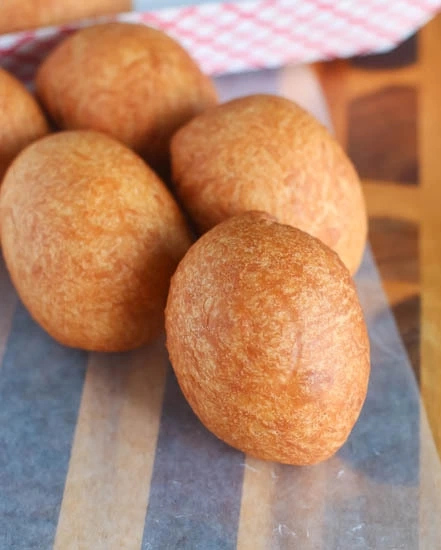 The recipe for making Nigerian egg roll is an adaptation of the recipe for making the Nigerian buns. It is just slightly modified to fit in the egg twist. You can find my article on Nigerian buns under the title, 'How to make Nigerian Buns' on this site.
Egg rolls contain about 310 calories per serving. It contains 16g saturated fats, 108g cholesterol, 446mg sodium, sugars 12g, proteins 6g and 36g total carbs.
These values are based on a 2000 calories diet. The fact that it is very high on calories means it fattening but its great if you need to fill up on a hectic day because it provides a lot of energy, digests quickly and leaves you feeling light and ready to move. Flour used for making egg rolls is also rich in vitamins which are very healthy.
Even though egg rolls may not be suitable to the ever growing fit fam seeing as it is rich in carbs and a lot of oil, one can afford to indulge in one or two once in a while.
It is however rich in protein with its egg content. It is nutritious and often advised that one egg a boiled egg a day. What better way to enjoy boiled egg than when it's in a delicious roll?
It's great to serve if you are hosting a picnic or a small gathering of friends. It can also be made into smaller sizes if you cut up the eggs into little bits.
Know also that if you are going to be cutting the eggs into bits, you would first get out the ball for the roll and the carefully make a hole on it, put in the piece of egg and the cover. You can then work carefully around it to make it perfectly round.
Egg rolls are very quick and easy to make. It will take you about ten minutes to prep and another 30 minutes to fry about 10 pieces so you would enjoy trying this.
The recipe I'm going to be putting down would require the use of milk although some people have been known to prefer egg rolls made without a milky flavour.
Tastes differ and this is just the basis of making egg roll, you can choose to remove milk and alter some other ingredients. Some use cayenne pepper in their recipes but I would rather not have peppery egg rolls, thank you.
Read Also: How To Make Nigerian Cupcakes
Ingredients
For about 10 balls depending on the size of the balls
a. 400g plain multipurpose flour
b. 2 tablespoons of baking powder
c. 175g sugar
d. ¼ table spoon salt
e. 1- 15 cups of warm water [for mixing]
f. 6 table spoons of evaporated milk or 3 tablespoons of powdered milk
g. Vegetable oil for frying.
g. 10 hardboiled eggs
Time
Prep Time – 15 MINUTES
Cooking Time – 30 MINUTES.
Read Also: How To Make Nigerian Chin-Chin
Steps
First heat up a little water in a pot or kettle. Do not wait till it has boiled or till it's very hot. The water is just required to be warm.
Sift the flour into a bowl, add the baking powder and mix till it's even.
Add the sugar and salt and also mix.
If you are using powdered milk, you can add the milk now and mix thoroughly.
If, on the other hand you are using evaporated milk you might add it now and mix then add water or you can add water and while you are mixing the dough in you can then add the milk. It doesn't really matter what order this comes as long as it is thoroughly mixed.
You are going for a dough that will be similar to waffle dough so avoid adding too much water so you are not forced to add more flour than stated for this recipe.
Keep the dough aside.
Break the hard boiled eggs and shell them.
You can use your cupped palm to scoop the dough and mould around an egg carefully ensuring that the egg is completely covered evenly all round with the dough and set aside.
If you are cutting the eggs into bits, you would first get out the ball for the roll and the carefully make a hole on it, put in the piece of egg and the cover. You can then work carefully around it to make it perfectly round.
Place the vegetable oil on low heat. What you need is to heat the oil with the idea you would use when frying plantains.
Ensure the oil is not too hot or it will brown the exterior of the egg rolls leaving the inside uncooked. If you discover the oil is too hot you can add some room temperature oil to it to cool it off a bit.
If you have a means of measuring the temperature, probably a thermometer, you would want to heat the oil to 350 – 355 degrees Fahrenheit.
When one side of the balls have been frying for about 3 minutes turn the balls over the other side.
Fry your egg rolls very carefully because they are bigger than the buns and might take a few more minutes to cook depending on your heat level.
Read Also: How To Make Nigerian Birthday Cake
Remove the balls from heat when it's evenly brown all over.
You can then start frying the next batch. Constantly regulate the heat to ensure the oil doesn't get too hot so that following batches don't come out charred.
Remove from heat and serve warm alongside a cold drink.
Cheers.!!
⚽ Start winning football betting today!
👉 Get correct FREE GG and Over 2.5 football prediction tips. Click here to join
.
👍Showcase your business here!
With over 1M unique users per month across all channels, we have a large audience for you to showcase your products and services. Simply get in touch via 👉 marketing@Infoguidenigeria.com.
🤑 Make Money now!
👉 Make money writing for us. Apply for Freelance writing jobs in Nigeria.
👉 Make Money as InfoGuideNigeria Advertising Agents, read more here
✍️ Be Our Guest Publisher!
Do you have a press release, breaking news,  or any other helpful information to share with our growing readers? If yes, send your article to 👉 infoguidepr@gmail.com.
We will be glad to publish it if the information is useful to our audience.
.
This post can be helpful to somebody else, please share it on Facebook, Whatsapp, Telegram and Twitter. There are buttons below for this (easy to use too)!
Copyright Warning!
Contents on this website may not be republished, reproduced, redistributed either in whole or in part without due permission or acknowledgment.
.
Proper acknowledgment includes, but not limited to (a) LINK BACK TO THE ARTICLE in the case of re-publication on online media, (b) Proper referencing in the case of usage in research, magazine, brochure, or academic purposes,.
.
All contents are protected by the Digital Millennium Copyright Act 1996 (DMCA).
.
We publish all contents with good intentions. If you own this content & believe your copyright was violated or infringed, please contact us at [infoguidenigeria@gmail.com] to file a complaint and we will take necessary actions immediately.