Economy
Nigerian Rice Industry; Facts, Analysis, Challenges and Prospect
Nigerian Rice Industry
Find out in this post all the formation you need about the Nigerian rice industry; facts, analysis, challenges, prospects, and potentials.
Rice is undoubtedly one of the most consumed food today in Nigeria and Africa at large. Mostly grown in swampy and waterlogged areas several states are responsible for the cultivation of rice here in Nigeria.
The history of rice production in Nigeria can be traced back to centuries ago.  Nigeria is the largest producer of rice and at the same time highest importers in Africa which says a lot about the deficiency in the production of rice in the continent.
Read Also: 1,108 rice farmers to benefit from CBN loan in Daura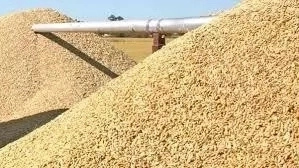 The Nigeria rice industry is one of the under-growing industries in Nigeria given the level of input into this very sector.
Though there has been a massive improvement in the production of rice since 2015, an increase to 5.8 million tons annually, which was still way short of what is expected from this industry as the consumption is rate is at 7.9 million tons per annum.
Facts about the Nigerian rice industry:
Even when it seems the Nigerian rice industry is under-growing considering the amount of effort put in by government, individual and group of persons to increase the production of rice.
However, the Nigerian rice industry remains the highest producer of rice here in Africa. According to reports on premium times in 2017, the tabloid stated that rice production in Nigeria has risen up to 15 million metric tons annually.
Read Also: Procedures to Start a Successful Rice Farming Business in Nigeria
The report seems to be untrue given the fact that Nigeria is still importing rice and with such amount we should be talking about exporting to some other countries.
Though there is no clear and reliable report on the amount of rice produced in the country, several reports have it that the rate of importation of rice from 4,800 to 5,850 in the last five years, conflicting the earlier report that rice production has increased to 17 million metric tons.
Well, one can only say if there is that so much increase in both production and importation then maybe there is so much demand for the product or Nigerians are not consuming the product which will also pop another question up like where is the rice being kept if it not exported.
So, the fact is that rice production in Nigeria is still way short of what is required for consumption in the country alone.
Read Also: How to start rice farming in Nigeria
Analysis:
At least 70% of Nigerians consume rice (in any form) which makes the demand for it very much high and its production has been far below the demand.
However, as at 2014, a report in world food production shows that rice is the third highest produced food as measured in metric tons 741.5 million just behind maize 1.0 billion metric tons and sugarcane 1.9 billion metric tons.
So, with this, we can say that rice is one of the most consumed food in the world and interestingly the consumption of rice in Nigeria keeps increasing to about 10% annually in a recent report which is quite alarming given the level of production in the country.
Kano state is the highest producers of rice currently as recently reported 1.2 million metric tons per annum, other states that equally produce rice in Nigeria are Ebonyi, Benue, Kebbi, katsina, Jigawa, Kaduna, Bauchi, Taraba, Kogi, F.C.T., Zamfara, Ogun, Niger, Kwara, Ekiti, Sokoto, and Kano. Though there is no clear report on the amount each state produces but all of these sum up to the said 15 million metric tons with Kano state producing the highest.
Challenges in the rice industry:
In as much as there is continuous improvement in the industry, there are still several challenges that seem to be dragging down the level of productivity in the sector.
First amongst those challenges is inadequate farming equipment; believe me, we have moved past the days of planting, harvesting and processing farm produce with inappropriate or inferior equipment, though government and have put in some effort in mechanizing farming practices in Nigeria, there is still a lot to do.
As a matter of fact, farmers in rural areas still use some old crappy method in producing rice as they have no access to enhanced machines and other equipment to speed up their production.
Another big challenge is the unavailability of the fund; you surely need money to have your business running smoothly and rice production isn't an exception.
We often here government individuals or organizations allocating some funds for agriculture but how they are managed or injected to the system is what one cannot really tell.
Maybe farmers in the urban areas get good shares of those funds but many other farmers in other places are still struggling to get their rice production processes working.
The next challenge is farmers education; maybe our farmers are simply outdated and no longer have what it takes to keep up with the pace and demands in the industry. So it advisable that farmers should be trained in order to sharpen and keep their ideas fresh in the business.
Read Also: Steps to Start Palm Kernel Farm in Nigeria
Quality of rice produced; most Nigerian citizens prefer buying and consuming imported rice citing their reasons to the poor quality of rice produced in the Nigerian industry.
This is not far from the truth though, locally made rice is still a distance short in quality to what is achieved in other imported rice products.
The reason for this still goes back to the lack of funds and proper machinery. I can boldly say that rice farmers in Ebonyi state still use the ancient planting and harvesting method which tends to slow down the whole process.
Prospects and Potentials:
With all of these deficiencies in the industry, there are still lots of hope in the system given the recent willingness of government and other private bodies to input more into agriculture and rice farming precisely.
For instance, on March 23, 2017, world-bank agreed to inject $200 million into the Nigerian agricultural sector, assuming a good percentage is forwarded to the rice industry then we may end up boosting a massive increase of production in the sector.
The Nigerian rice industry may be able to produce sufficient rice for the countries consumption and even enough to export to other countries if we are to analyze it this way.
Read Also: How To Start Beans Farming In Nigeria
Before 2015 the industry was producing less than 5 million metric tons but given the massive injection of funds into the industry that same year the production increased to a massive 15 million metric tons in 2017.
We can now conclude that the rice industry in the next two years will certainly have a massive rise in its production level in the next two years or so.
.
👍Showcase your business here!
With over 1M unique users per month across all channels, we have a large audience for you to showcase your products and services. Simply get in touch via 👉 marketing@Infoguidenigeria.com.
🤑 Make Money now!
👉 Make money writing for us. Apply for Freelance writing jobs in Nigeria.
👉 Make Money as InfoGuideNigeria Advertising Agents, read more here
✍️ Be Our Guest Publisher!
Do you have a press release, breaking news,  or any other helpful information to share with our growing readers? If yes, send your article to 👉 infoguidepr@gmail.com.
We will be glad to publish it if the information is useful to our audience.
.
This post can be helpful to somebody else, please share it on Facebook, Whatsapp, Telegram and Twitter. There are buttons below for this (easy to use too)!
Copyright Warning!
Contents on this website may not be republished, reproduced, redistributed either in whole or in part without due permission or acknowledgment.
.
Proper acknowledgment includes, but not limited to (a) LINK BACK TO THE ARTICLE in the case of re-publication on online media, (b) Proper referencing in the case of usage in research, magazine, brochure, or academic purposes,.
.
All contents are protected by the Digital Millennium Copyright Act 1996 (DMCA).
.
We publish all contents with good intentions. If you own this content & believe your copyright was violated or infringed, please contact us at [infoguidenigeria@gmail.com] to file a complaint and we will take necessary actions immediately.