Politics
Problems of Godfatherism In Nigeria and Possible Solutions
It has become almost impossible in Nigeria for you to hold a political office in Nigeria without the influence of a powerful force behind you for their power, money, and influence.
Godfathers are generally defined as men or women who have the power and influence to personally determine both who gets nominated to contest elections and who wins in the election in the country as a whole.
👉 Relocate to Canada Today!
Live, Study and Work in Canada.
No Payment is Required! Hurry Now click here to Apply >>
Immigrate to Canada
Godfatherism is not just prevalent in Nigeria society, it is everywhere and has a different name in different societies and countries.
Read Also: Challenges Facing Democracy in Nigeria and Solutions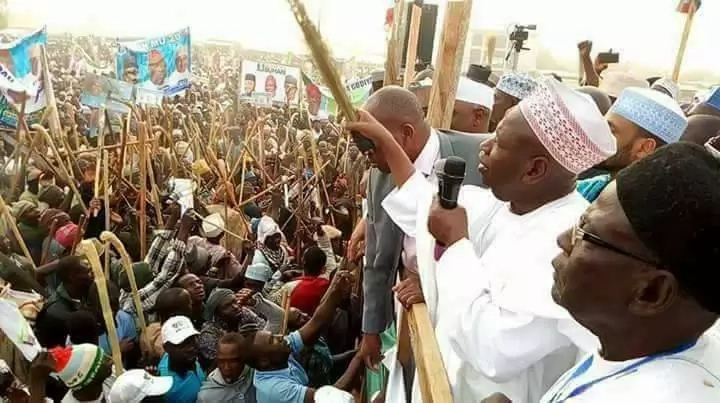 Godfatherism in Nigeria is a topic that has not been given enough attention until recently that it was exposed that Chief Chris Uba, was the estranged political Godfather of Chief Dr. Chris Ngige and among the political criminals that are behind elections or selection of most of our state governors and other lawmakers.
Apparently, it appears that majority of our state governors, senators, ministers are financed by such caliber of person and for those financed by their godfathers get into offices now have huge power in respective states.
Godfatherism is responsible for distorting the effective functioning of political parties, however, the issue is neglected by the political institutions charged with maintaining the sanctity of the system.
The word godfatherism has been affecting the political system and party arena since the country returned to a democratic state and has a negative reflection on the society, if a proper and right candidate is not elected to represent the citizens, such a society will lack the dividends of democracy and neglect why they vote, because most of the candidates who represent them are imposed by some elite in society.
However, since returning to the democratic state, godfatherism has been playing a very crucial role in Nigeria politics to determine the candidate that is eligible to contest in an election and also to win particular sit.
We have plenty examples of godfatherism in Nigeria, take a look at former governor of Lagos State Babatunde Raji Fashola, most people believe that he became the governor of Lagos state all because he was close to Asiwaju Bola Ahmed Tinubu.
Read Also: 10 Problems of Nigerian Politics and Possible Solutions
People believe that Asiwaju Bola Ahmed Tinubu is actually the godfather of APC in Nigeria and he gets to choose who is to be elected or nominated.
Godfatherism can also be seen as a particular group of individual in society that are wealthy, influential and strong in the environment that contribute to the development of any interest group or political party in society, which view them as a superiors individual, with such advantage they regard them as a strong elite and respect their authoritative decision both the masses and the rich because of their power.
They are different type of godfathers in Nigeria, they are some groups of individuals that do not have any intention for politics but want to contribute to political affairs and have a say in the community or society in using their resources to decide a particular candidate for a particular post, and make use of the opportunity to gain ground in the community that could help them to have a say in government and also recognize as one of the nobles in society of such particular environment and they are some that practice politics and also have mouth in the community or the society they residence but does not have the resources to aspire for political post, instead they make use of the mouth they have in the society to influence the society and candidate aspires for post.
Also some types of godfathers have high level of political participation in every aspect relating to politics, their political efficacy is high but they lack the practice strategic ideologies of politics, as result of this create room for some of the political gladiator to motivate them with money and utilize their manpower to wins election in different ward and eventual drop them after the election, most people in this group are the illiterates in the society.
Read Also: 10 Roles of Youths in Nigerian Politics
Effects of Godfatherism in Nigeria
Below are some areas in which act of Godfatherism has affected on the country or state:
1. Infringement on the Right of Citizens
certain people have made it their right to always get elected or pass it on to their family members as if it is a family heirloom.
Every citizen of this country has a right to contest for a post of his choice but godfather had snatched this right for their family alone. People that are qualified to rule are not given the opportunity.
2. lack of development in regions that are ruled by a selected few. There cannot be developed when the godfathers want all project to go thru them and those that don't benefit them are rejected or delayed unnecessarily.
3. Protection of power- power, popularity financial capability and influence, are the tools used to control and install people of their choice in power. So, they make sure nobody within their state get those things so that they cannot challenge their authority.
Read Also: Problems and Prospects of Democracy in Nigeria
How Can Godfatherism be Avoided:

1. A law should be made to forbid godfatherism in the state
2. The electorate should be properly sensitized that nobody has a monopoly of power and power does not belong to just one family.
3. Godfathers are not all bad but they are some that are just evil and those need to be removed.
4. Government at every level should also curtail the influence of money in politics by controlling individual contributions to political campaigns.
4. Political awareness campaigns should be embarked upon by National Orientation Agency (NOA), civil societies, mass media etc. on the harmful effects of using Nigerian youths by some unscrupulous politicians to achieve their selfish goals.
In summary, Godfatherism in Nigerian politics means that a politician may have sold his or her independence to a financier or party power-broker in order to win an election; thereby mortgaging the future of his or her electorates.
Read Also: 6 Reasons Why Nigerian Politics is STILL a Dirty Game
It very necessary for all Nigerians to stand and say NO to all political godfathers in the nation so as to completely eradicate poverty, unemployment, injustice, corruption, oppression, under development and insecurity to lives and properties.
👉 Relocate to Canada Today!
Live, Study and Work in Canada. No Payment is Required! Hurry Now click here to Apply >> Immigrate to Canada
👇👇👇👇👇
Information is Power!
Don't miss any valuable information or opportunity that can change your life, business, and family positively and permanently.
👇👇👇👇👇
👍Advertise your business on InfoGuideNigeria.com!
From just N9,999 per month, you can advertise your products and services to over 1,500,000 monthly users on our website. Click here to read more.
Copyright Warning!
Contents on this website may not be republished, reproduced, or redistributed either in whole or in part without due permission or acknowledgment.
.
Proper acknowledgment includes, but not limited to (a) LINK BACK TO THE ARTICLE in the case of re-publication on online media, (b) Proper referencing in the case of usage in research, magazine, brochure, or academic purposes,.
.
All contents are protected by the Digital Millennium Copyright Act 1996 (DMCA).
.



The images, except where otherwise indicated, are taken directly from the web, if some images were inserted by mistake violating the copyright, please contact the administrator for immediate removal.
.
We publish all content with good intentions. If you own this content & believe your copyright was violated or infringed, please contact us  for immediate removal.
🤑 Start Making Money from home today!
👉 Get the correct
FREE FOOTBALL PREDICTION
TIPS
and
Guides
today.
Click here