Economy
Problems and Prospects of Marketing Regulation in Nigeria
Problems and Prospects of Marketing Regulation in Nigeria. There is need for regulatory frame work for fair trade and consumers' protection in Nigeria, which is why marketing regulations is enforceable.
The purpose is to bring about a better condition of Nigerians through enhancing fair trading and competition, and as well protect the consumers in the market place.
👉 Relocate to Canada Today!
Live, Study and Work in Canada.
No Payment is Required! Hurry Now click here to Apply >>
Immigrate to Canada
Products actually come from the manufacturers to the wholesalers, and then to the retailers, down to the consumers, so within these levels of interactions there is relationship created that engendered competition among the parties involved.
It is in view of this competition among market participants toward profit making that lead to unfair marketing practices.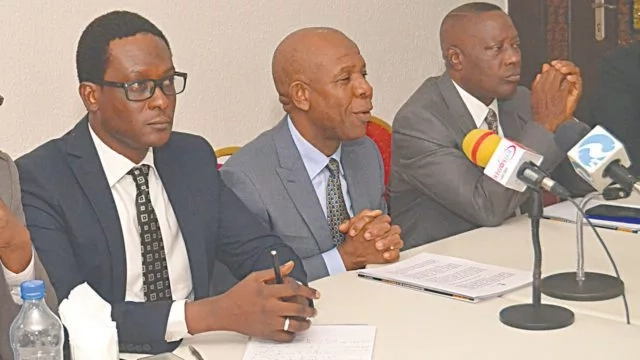 However, market participants, by marketing regulations are duty bound to guarantee customers protection, because marketing is to tell the customers what you offer, you will promise them safety and describe your product as one of the best in the market place, which will later induce the customer to buy your product.
And for such product description to be true and the promise to be fair and customer safety guarantee, there is need for marketing regulatory body to regulate and monitor some unwholesome practices of marketing professionals in the market place, and it is worthy of note that marketing professionals make promises in the market place, and no matter how near-truth such promises might be, if it is not truth, it cannot over-ride the guarantee protection as provided in the marketing regulation.
Marketing regulation takes into consideration every aspect of marketing business, but marketing is perhaps, the time where market participants can stray easily into the bad side of the marketing regulatory framework.
But truth cannot be changed, and the truth is that, marketer should not attempt in any way to deceive or mislead customers through marketing.
Read Also: 12 Most Common Dishonest Business Practices in Nigeria that is killing the Economy
What is marketing?
Marketing is a programme of action for business promotion and of goods and services in the market place, which in most cases will involve advertising and market research. It is this practice of marketing that induces customers to make purchase.
👉 Relocate to Canada Today!
Live, Study and Work in Canada.
No Payment is Required! Hurry Now click here to Apply >>
Immigrate to Canada
Definition of regulation
Regulations are laws and rules and directives put in place and monitor by the regulatory body that made the regulation to help check the unwholesome practice within the society.
Prospects of marketing regulation in Nigeria
1. Standardization of products and services
The control, as well as standardization of products and services is infact, one the major responsibilities of the regulatory bodies, they regulate and monitor the activities of marketing in a market place.
Goods and services are graded, to meet customers' satisfaction through exerting quality control of what product and services get to the market place. Marketing regulation is important, and is of great advantage both to the marketing professionals and the customers.
Read Also: Problems and Prospects of Marketing in Nigeria
2. Marketers are kept in check and balance
Marketing regulation is of great important in the Nigerian society. It helps keeps the marketers in check and balance, should they attempt to stray into misleading the customers into making purchase of their product and service.
Marketing regulation means a deeper appraisal and understanding of market place, where customers are the most important especially, where market participants are all out to make profit ahead of their fellow competitors in the market place.
In marketing regulation, customers are the focus; they must make sure that customers can afford a product that can ensure their safety. So the need of customers are put face.
3. New market discovery
To have edge over competitors, market professionals will love to embrace new development of expanding their frontier into new market place that was not tapped.
The truth is that there were some of the markets that were not tapped but with the formulation of rules and regulations, there was need for discovery of untapped market, most interestingly, from the perspective of technology angle.
Hence, there is in-road made into the untapped market by evaluating their existing market size, as well as comparing same to how they fit into the market place with others in the industry.
It is through exerting rules of marketing regulation that spurred marketers to take action and identified short comings and how to satisfy customers ahead of their competitors.
Read More: 4 Untapped revenue sources for Nigerian Governments apart from Oil
Problems of marketing regulations in Nigeria
A good number of marketers have wrongfully involved in marketing practices that can undermine the safety of customers. Sometimes they lack access to detailed information and regulatory guidelines hence, the problems of marketing regulation in Nigeria.
1. Negative effect on profit making:
Regulatory bodies make laws that regulate the activities of business in Nigeria. But, business owners will go out of their way from doing their businesses, if marketing regulation changes, as this will affect the way profit making is made in an organization, and often time, will also affect business competitiveness.
Whatever the case may be, businesses are obliged for strict compliance to marketing regulation if they must remain in market place.
2. High tax rate
Imposition of high tax rate to business organizations has posed a serious challenge to business owners; as a result, there is social change.
At times such imposition of taxes by regulatory authority on business organization can imposed grave problems to business owners, to the extent of making them loss interest in pursuing such businesses. Lack of interest in business, occasioned by high tax rate has led to under developed economy.
Read Also: The role of Taxation in the Nigerian economy
3. Political instability
Marketing regulation will often affect business organizations by the virtue of political circumstances within the society.
Regulating businesses under a normal political atmosphere will ensure business growth due to the fact that such market regulation will be seen as business-friendly hence, will help encourage the entrepreneurs, and as well promote business growth, but in the case of unfavorable political atmosphere, there will be some sort of things that will make difficult for marketing regulations to positively impact business environment hence, there will be some issues, such that will jeopardize the success of businesses.
4. Difficulty in securing loans
Marketing regulations can affect interest rate charged by commercial banks. Increase in the cost of securing loans from banks by business owners has discouraged owners of businesses from taking loans from banks to expand their businesses, this challenge has led to reduction in the numbers of thriving business in Nigeria, as businesses are deteriorating, even as productivity is low.
So this influenced interest rate has helped lead to inflation, as this does not occur well to businesses, and has in turn lead to decrease in customers' purchasing power, because no business survived at the instance of inflation.
Conclusions and Suggestions
It is of utmost important that the regulatory authorities study properly the market indexes in order to arrive at appropriate and quality regulations that will serve both the interest of the business owners and customers alike.
Moreso, the businesses and marketing professional should ensure that they comply strictly to the laid down marketing regulations in the country.
Please Share!
📢

We are hiring writers!
Article Writing Jobs
- We are hiring good freelance writers -
Click here to apply