Religion
10 Problems of Religion in Nigeria and Possible Solutions
Religion, a supposedly godly concept which basically should cultivate love, peaceful co-existence, patience, tolerance, forgiveness and so on. How come it has brought about so much death and vandalizing in our dear country Nigeria.
Religion is the belief in and worship of a supernatural controlling power, especially a personal God or gods. It is a particular system of faith and worship. Furthermore, religion is the way of life committed to by monks and nuns.
In fact, religion is any practice to which someone or some group is seriously devoted; i.e, faithfulness to a given principle -a conscientiousness. (The English dictionary).
Read Also: The Role of Religion in Nigeria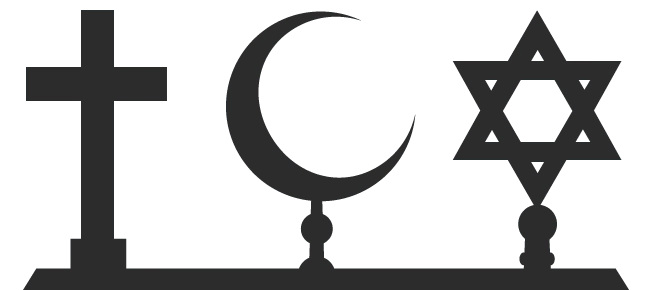 Forms of religion include: Christianity,Islam,Judaism, Eckankar ,Zoroastrianism, Buddhism, Hinduism, various African traditional worship, etc.
No doubt the two major and widely accepted religions in Nigeria are Christianity and Islam as they both claim a very large percentage of the population thus pushing the African traditional worship to a pale background.
Religious crisis in Nigeria has mainly been between these two major religions except for comparatively few skirmishes between traditional worshippers and Christians or Muslims (Islam practitioners) now and then.
Some foreigners who do business and reside in the country also practice their religions such as Hinduism and Buddhism by Indians and the Chinese with their own forms of worship. So far they do not cause religious problems and are relatively few compared with Christians and Muslims.
It is quite disheartening that Christianity and Islam who both believe in one supernatural God, the creator of Heaven and Earth and all that is therein, are the ones causing the religious problems in Nigeria.
Needless to say, while Christians belief in the Lord Jesus Christ, who preached love, Muslims belief in the Prophet Mohammed, who preached peace. Both religions claim these personalities will lead them to the Almighty God. What then went wrong?
Moreover, Christians and Muslims alike dominate the corridors of power, the civil service, para-military and military forces, corporate bodies, market structure and all facets of life in Nigeria as almost everyone claims to be a member of either of the two religions.
Since her independence on October 1st,1960,Nigeria has indeed come a long way and Nigerians have witnessed violence in its various forms: religious, ethnic, political and the likes.
In a country which is home to diverse cultures, beliefs, and tradition, each unique in its own way and adoring the country with beauty and colour, these acts of violence have resulted to the destruction of lives and properties.
Read Also: History of Religion in Nigeria (Before and After Colonization)
These violent acts, killings, vandalism, and religious biases are all crises arising from religious confrontations and thus constitute the problems of religion in Nigeria. The causative factors of these religious problems are thus:
1. Poverty
It is said that poverty is a disease. It can lead to death and destruction. The poor and impoverished cannot even feed properly and are daily exposed to hunger and malnutrition not to talk of proper clothing or shelter.
So what happens if a wealthy body of religious extremists offer these poor people food, gifts, houses and of course heavy money just to bear arms in order to kill and cause mayhem in the name of religion. I tell you; many of them will compromise with careless abandon.
Poor people are viable tools of violence in the hands of elite individuals or groups wishing to create conflict.
The high rate of poverty is a common cause of religious crisis as poor people have little or no access to proper education.
This makes it easy for poor youths and their elder parents to be indoctrinated with violent and murderous creeds which they accept hook, line and sinker.
It therefore shocks the senses that, in the name of religion, youths are made suicide bombers after being enticed with money for their families and assurance of heavenly reward.
This is predominantly practiced in the Islamic Northern part of Nigeria as we are all witnesses to the horrors of the Boko Haram extremist sect.
2. Mass Unemployment
The idle mind they say is the devil's workshop. Apart from the illiterate youths mentioned above, many idle educated youths are also used as tools to propagate religious violence. Idleness exposes them to violent doctrines thus, they become easily bribed and bought over.
3. Fear of Domination
Another problem of religion in Nigeria often arise when it seems that the dominant religious group in a particular domain will be eclipsed by another especially as a result of increase in population of the other religious group. An example is the frequent Jos religious crisis between Christians and Muslims.
It is not uncommon to find converts from one religion move over to their new-found faith and of course, this could lead to violence if there is no tolerance.
Even here in Southern Nigeria, news once went around that a cleric physically assaulted another cleric of a different faith because the former was losing congregants to the later. It is better imagined what could have happened had there been violent retaliation.
Further still, pastors are highly offended when congregants move to other denominations within the Christian fold. Religious skirmishes, even if not bloody also arise as a result of this.
4. Division Between Indigenes and Settlers
Religious conflicts usually arise between indigenes of a particular place and settlers especially if both sides belong to different religions.
This is why indigenes prefer settlers who practise the same religion as their own. However, most often than not, indigenes' and settlers' religions differ.
Already there is the crisis of limited resources; add to that religious problems and there is a catastrophe.
Read Also: Religious Organizations in Ilorin
5. Hypocrisy and Monetizing Religion
Today, many churches are known to emphasize on money. Even poor congregants are persuaded to part with money often.
Just of recent I heard on radio that the governor of Lagos State, Mr. Ambode was displeased with the frequency at which religious leaders invite public office holders including himself, to money raising functions of say 50 million Naira and above; whereas such invitees earn less than 500,000 Naira salary and are invited to donate multi millions of Naira on such occasions. This increases the chances that public funds will be stolen in order to meet up with such demands.
It was further stated that when such public figures walk in late to religious gatherings, the congregation is made to give them standing ovation on the prompting of the clerics while the ordinary congregants who got there early are not reckoned with.
Meeting such religious financial demands is one reason public officers steal public funds even if it is just to satisfy their own ego thus, further creating problems for the citizenry who would have otherwise benefited had such funds been put to their intended use.
However, the governor said he had been turning down many of such invitations; his excuse to them was that he had no money. But with many other public office holders all over Nigeria honouring such invitations, the resulting corruption is better imagined.
6. Religious Sentiments
A prevailing norm is that one religious group sees itself as superior to other types of religion. Such superiority complex fuels religious violence especially in Northern Nigeria.
Surprisingly some denominations within the same faith feel superior to one another.
7. Religious Prejudice
Many children and converts are basically indoctrinated to view people from other religions as evil or inferior. Such teachings lead many to eventually become fanatics and consequently, propagators of religious violence.
Read Also: The role of the Church in Politics, Democracy and Governance in Nigeria
8. Ignorance
In Nigeria, many people live in ignorance and will not even try to get clarifications on controversial issues before acting rashly.
Religious faithfuls will rather act on what they hear and go into violent acts at the slightest propaganda. Many take whatever they hear from their clerics as the absolute truth from God Himself.
9. Tribalism and Disunity
Shocking as this may appear, tribal sentiments abound in churches and mosques. I have heard several Muslims from Southern Nigeria say that the Fulani/Hausa Muslims from Northern Nigeria look down on them, regarding them as inferiors; some even say infidels.
In some Christian folds, there are also tribal sentiments and discrimination especially against other worshippers who are not of the same tribe as the church founder.
10. Deception
Another scenario is seen in some very new generation churches where many unemployed youths spend lots of hours in church services even during the working days forgetting to practice that bible portion that says show me your faith by your works.
They will do better to find gainful occupations as well as worship God. Otherwise the long term effect is that some of them too will become one of those clerics who want to extort congregants at all cost.
Having outlined the myriad of religious problems above, the following solutions can help bring religious bodies back to the true calling of God and benefit Nigerians at large:
1. Dialogue
It is better to always choose dialogue and mediation if any issue arises between religious groups or between indigenes and settlers with religious differences.
People should opt for roundtable discussions and peaceful protests rather. This will prevent religious crisis in Nigeria.
Where dialogue fails, it is better to go to the judiciary rather than engage in violence.
2. Job Creation
Youths should be taught and equipped with how to be successful entrepreneurs who will also be employers of labour.
This increases creativity and engages youth. Incentives, grants and low interest loans should be made easily accessible.
The government and wealthy individuals will do well to create more jobs and provide enabling environment for job creation with a view to reducing poverty rate thus drastically reducing or eradicating potential tools for religious extremists.
3. Sensitization
There should be continuous and widespread public sensitization on the importance of unity and peaceful co-existence in the country.
People need to understand the necessity of fact finding on controversial issues before taking actions; actions which should be lawful.
4. Preaching Sanctity Of Life
Clerics need to make faithfuls realise that every life is sacred. God is not to be portrayed as a God who takes pleasure in the death of his creation.
This doctrine is healthy and harmless. Therefore no one will think it is right to take another's life or destroy their properties for religion's sake.
5. Justice and Equity
Regardless of their religion, the Nigerian government should ensure that everyone is treated with respect and their individual rights upheld.
There should be proper modes of punishment for any person or clergyman that embezzles public funds or religious funds as the case may be.
Culprits found guilty of religious violence or killings should be punished accordingly to serve as deterrent to others.
Read Also: Religious Organizations in Ilorin
6. Improved Security
With the spate of killings in Nigeria where even whole communities are sacked, no doubt our security system is porous, disorganized and inefficient.
Community policing effectively supervised by the states and local governments is therefore the way to go. People who live, work and worship in a community will be down to earth with the realities on ground in their environment and if such constitute the local policing system, they can prevent and curtail religious crisis and other criminal acts through intelligence gatherings.
Our security operatives need to be well equipped and constantly kept abreast of modern international security practices.
It still baffles me to date how the deadly Boko Haram group amassed so much sophisticated weapons and recruitment without any law officer or military personnel catching wind of it on time.
7. Vibrant Government
The presence of a vibrant system of governance that involves the active participation of its citizens in decision making and law formulations regardless of religious affiliations will go a long way is reducing acts of violence.
8. Affordable and Accessible Education
Many can no longer afford quality education for their wards thus furthering illiteracy and ignorance. Wealthy individuals and the government should subsidize education at all levels, equip and enlarge public schools as well as build new schools where necessary.
Adequate qualified and well paid teachers should handle a reasonable number of learners for effective schooling. Widespread enlightenment will curtail religious fanatism and extremist tendencies.
9. Personal Religious Enlightenment
Religious faithfuls should take time to read and understand their holy books so as to be aware by themselves.
If Christians read the Holy Bible and Muslims read the Holy Quran for adequate understanding then less number of people can be swayed by extremist views.
I am confident that if these solutions are carefully effected and applied, further religious acts of violence can be prevented in our dear country.
Currently, the predominant religious problem in Nigeria is the Boko Haram insurgency, a violent and venomous group which contradicts their fellow Muslims and attack Muslims and Christians alike.
Sent from Samsung tablet
👉 Get Free

₦1,000

plus

5% - 15%

interests on savings and over

25%

return on investments: Create a Free Account on PiggyVest
.
👉 Invest in US Stocks such as Google, Netflix, Amazon etc. Get free

$100

worth of US Stocks. Signup here at Passfolio
Buy and Sell Bitcoin in Nigeria - Register for free on Luno
Click here to see the latest
Study Abroad Scholarships and Guides
Click here to see the latest
Jobs opportunities in Nigeria
.
Copyright Warning!
We work really hard and put a lot of effort and resources into our content, providing our readers with plagiarism-free articles, original and high-quality texts. Contents on this website may not be copied, republished, reproduced, redistributed either in whole or in part without due permission or acknowledgement.
Proper acknowledgement include, but not limited to (a) Proper referencing in the case of usage in research, magazine, brochure, or academic purposes, (b)"FAIR USE" in the case of re-publication on online media. About possible consequences you can read here: What are the consequences of copyright infringement? In an effort to protect our intellectual properties, we may report your website to Google without prior notice and your website be removed from search engines and you may receive a strike. All contents are protected by the Digital Millennium Copyright Act 1996 (DMCA).