Health
Punishment For Drug Abuse In Nigeria
Punishment for Drug Abuse in Nigeria – Drug Abuse: Offence, Consequences, Punishment
Every drug can be a panacea or poison. Every drug can cure or kill, heal or harm, depending on the use or abuse it is deployed to.  
Like a dagger, drug abuse hangs over the society. Like an ominous cloud of calamities, it hangs over so many lives, threatening to break and rain unpleasant consequences. It strangles families and communities for the abuse is always only a tip of the iceberg on the dangers it can spawn and spew.
The law was always going to recognize the morbid consequences of the misuse of drugs and act   to preclude or limit them.
Read Also: Punishment For Abortion In Nigeria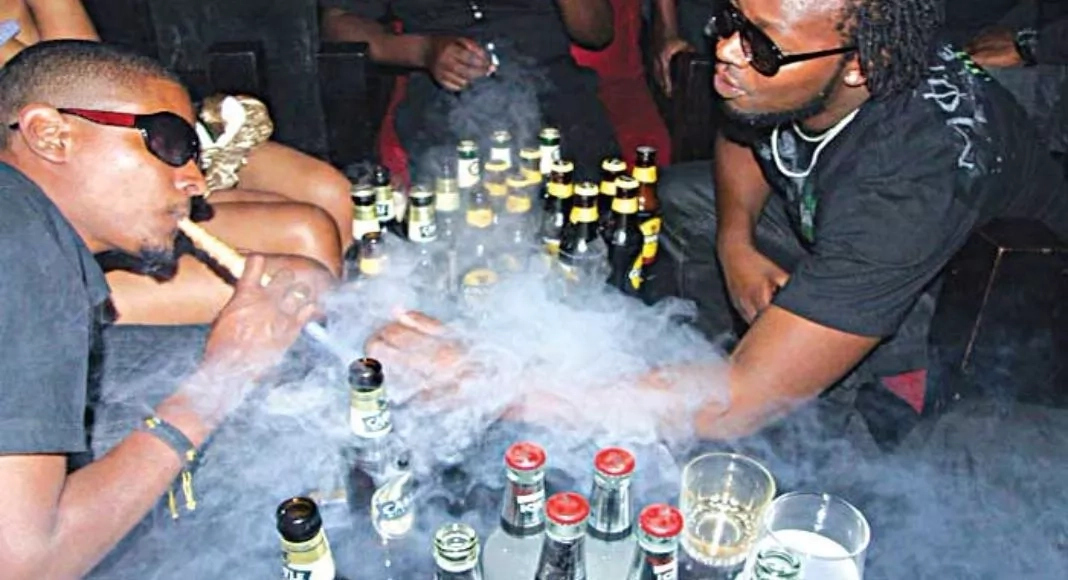 This is because very much like anything that is not subject to any kind of regulation, drugs when left unchecked and unregulated can become very big problems.
They can be used to  harm  oneself  or to harm others. One would think that it should ordinarily be no business of the law when a person chooses to harm himself or even to end his own life.
But as it is, the law protects and preserves   life, even from the owner of such a life. It is the reason the law criminalizes and punishes attempted suicide – the attempt to take one `s life.
Read Also: Punishment For Arson In Nigeria
What is a drug?
Simply put, this eminently important companion of man and combatant of many a disease, could be described as the elixir of life.
We will take from our dictionaries the definitions that relate drug to abuse.
The 7th Edition of the Oxford Advanced Learner `s Dictionary, International Student`s Edition, at page 451, defines "Drug" thus:
"An illegal substance that some people smoke, inject, etc for the physical and mental effects it has."
The Deluxe Ninth Edition of the Black`s Law Dictionary, at page   571,   says of   "Drug":
"A substance   intended for use in the diagnosis, cure, treatment, or prevention of disease. A natural or synthetic  substance that alters one`s perception or consciousness."
At page 572, the Dictionary defines "Drug abuse" as:
"The detrimental state produced  by the repeated consumption of a narcotic or other  potentially dangerous  drug, other than as prescribed  by a doctor to treat  an illness or other medical condition."
The New International Webster`s Comprehensive Dictionary of the English Language (Deluxe Encyclopedic Edition) at page 136 defines "Drug" thus:
"Any substance, other than food, intended for use in diagnosis, cure, mitigation, treatment,or prevention of disease in man or other animals. Or Any narcotic ;also any substance or chemical agent, exclusive of food ,employed for other  than medical reasons to obtain a given psychological  effect or to satisfy a craving "
Wikepedia has this to say on Drug abuse:
" Drug  abuse also known is a patterned use of a drug in which  the user consumes the substance in amounts or with methods  which are harmful  to themselves  or others ,is a form of substance-related  disorder.
Widely   differing   definitions   of drug abuse   are used in public health, medical and criminal justice  contexts. In  some cases criminal justice or anti-social behavior  occurs  \when the person is under the influence of a drug, and long term personality changes in individuals  may occur as well.
In addition to possible physical, social, and psychological harm, use of some drugs may also lead to criminal penalties. "
Read Also: Punishment For Bigamy Under Nigerian Law
The National Drug Law  Enforcement   Agency Act
The preamble to the Act is: "  An act to establish the National Drug Law Enforcement Agency to enforce laws against the cultivation, processing, sale, trafficking and use of  hard drugs  and to empower the agency to investigate persons suspected to  have dealings in drugs, and other related matters."
The preamble to the Act pretty sums up what   the   Act is all about. It is an Act targeted at drug abuse.
Section 1 of the Act establishes the National Drug   Law   Enforcement Agency which is the chief vehicle the law deploys in the battle against drug abuse.
Section 3 of the Act spells out the functions of the Agency. They include:
a. The enforcement and the due administration of the provisions of this Act;
b. The coordination of all drug laws and   enforcement  functions conferred on any person  or authority ,including Ministers in the Government of the Federation, by any such laws
c. Adoption of measures to identify, trace,freeze, confiscate or seize proceeds derived from  drug-related offences or property  whose value corresponds  to such proceeds;
d. Adoption of measures to eradicate illicit cultivation of narcotic plants and to eliminate  illicit demand for narcotic  drugs and psychotropic  substances  with a view to reducing human suffering  and eliminating financial incentives  for illicit traffic  in narcotic  drugs and psychotropic  substances ;
Section 20 of the Act prescribes Offences in relation to drug abuse and penalties
a. Any person who, without lawful authority(the proof of which shall lie on him) commits any of the following offences, that is to say –
b. Engages in the production, manufacture, extraction, preparation, offering for sale, distribution, sale, delivery on any terms whatsoever, brokerage, dispatch, dispatch in transit, ,importation or transportation or exportation of  any  psychotropic  substance contrary to the provisions  of the 1961 Convention   and its Protocols, or the 1971  Convention Against  Illicit Traffic in    Narcotic   Drugs and Psychotropic  Substances,1989;
c. Engages in the cultivation of opium, opium poppy, coca bush or cannabis plant for the purpose of the production of narcotic drugs contrary  to the 1961 Convention
d. Has in his   possession  or engages  or purchasers any  narcotic  drug or psychotropic substance for the purpose  of any of the activities enumerated in paragraph (a)  of  this  subsection;
e. Engages in the acquisition possession  or use  that such property  was  derived from any offence referred  to  in this  section;
f. Engages in  the possession of     equipment or material or     substance  listed in the Second  Schedule  of this Act knowing that such  equipment, material  or substance  are to be used in or for the illicit cultivation
g. Engages in the manufacture, transportation or distribution of equipment, materials  or of any substance listed in the Second Schedule to this Act  knowing that such equipment,material or substance are to be used in or for the illicit cultivation, production or manufacture of narcotic drugs or psychotropic substances;
h. Engages in the management, organization or financing of any offences under paragraphs (a) to (f) of this subsection;
i. Engages in the conversion or transfer of property knowing that such property  is derived from any offence  under this subsection;
j. Engages in the concealment or disguise of the true nature, source, location,  disposition,  movement, rights  with respect to or ownership  of property  knowing that such property is derived  from any offence  referred to in this section, shall be guilty of an offence under this Act  and subject to the provisions of   subject (3) of this section, be liable on conviction to the penalties provided in   subsection(2) of this section.
Read Also: Punishment For Currency Offences In Nigeria
The penalties for offences under subsection (1) of this section shall:
a. In respect of an offence under paragraphs (a)(b),(d),(e),(f) and (h), be imprisonment for life;
b. In respect of offences under paragraph (c),(g) and (i) ,be imprisonment for a term not less than fifteen years and not exceeding twenty-five years
c. The Federal High Court before whom an accused in being convicted may in addition  to the punishment prescribed in subsection (2)  of this section ,make an order requiring an offender  to undergo measures such as treatment ,education, aftercare, rehabilitation or social integration.
d. From the above provisions of the Act, it is obvious that the law reserves its penultimate punishment -life imprisonment – for offences that border on drug abuse. It also imposes jail terms of not less than fifteen years but not less than twenty-five years on some drug offences.
This would of course depend on the degree of the drug offence. It is the law that delineates these degrees and designates the punishment for each degree of offence.
Agboola  v Federal Republic of Nigeria [2018] All FWLR(Part 919)127 C.A
Abiodun   Agboola   a commercial driver was arrested by operatives of the National Drug Law Enforcement Agency (NDLEA),when a black nylon bag  suspected  to be cannabis sativa(Indian Hemp) was found in his vehicle. He alleged that the bag was given to him by one Abbey. He denied knowledge  of the contents of the bag.
He was arraigned before the Federal High Court, Illorin  on a two-count charge of unlawful trafficking in 8.6kg of cannabis sativa, contrary  to and punishable by section 11 of the same National Drug Law Enforcement Agency Act. He pleaded not guilty to the charge. At the close of the trial, the court  found the appellant guilty as charged.
He was convicted and sentenced to 5 years inmprisonment on the first count and 15 years on the second count .He appealed to the Court of Appeal.
In dismissing his appeal, the court held that the ingredients  the prosecution must prove in a charge of possession or knowingly trafficking in dangerous drugs are:
a. That the substance is Indian Hemp     (Cannabis Sativa).
b. That the substance was in possession of the appellant and
c. That the substance was in the appellant`s possession to his knowledge and without lawful authority.
Highlights
a. The law seeks to regulate the use of drugs.
b. The law does not treat drug offences with kid gloves. It reserves the punishment of life imprisonment as well as jail terms of between fifteen and twenty-five years.
Read Also: Punishment For Offences Of Ordeal, Witchcraft, Juju, Criminal Charms In Nigeria
 Remember:                
a. That as a Nigerian citizen under Sections 25,26 or 27 of the 1999 Constitution, your fundamental rights are guaranteed under Sections 33 to 46 of the same  Constitution .
b. That the Constitution guarantees you equal rights, obligations, opportunities   and easy accessibility to court under Section 17.
c. That com works with a team of lawyers to inform you of your rights, obligations and opportunities under the law.
Buy and Sell Bitcoin in Nigeria - Register for free on Luno
Click here to see the latest
Study Abroad Scholarships and Guides
Click here to see the latest
Jobs opportunities in Nigeria
.
Copyright Warning!
We work really hard and put a lot of effort and resources into our content, providing our readers with plagiarism-free articles, original and high-quality texts. Contents on this website may not be copied, republished, reproduced, redistributed either in whole or in part without due permission or acknowledgement.
Proper acknowledgement include, but not limited to (a) Proper referencing in the case of usage in research, magazine, brochure, or academic purposes, (b)"FAIR USE" in the case of re-publication on online media. About possible consequences you can read here: What are the consequences of copyright infringement? In an effort to protect our intellectual properties, we may report your website to Google without prior notice and your website be removed from search engines and you may receive a strike. All contents are protected by the Digital Millennium Copyright Act 1996 (DMCA).