Legal Aids
Punishments For Kidnapping Under Nigerian Law
Kidnapping is a serious crime in Nigeria. In this article, we will review the consequences and punishments for Kidnapping under Nigerian law.
It started like a joke. When it lost its mirth   quality, it  then morphed into something   more than the coincidence of a few    scattered crimes, some merely spawned by chance.
When it lost that too, kidnapping became a terrifying kaleidoscope of many vicious crimes which in extreme cases ended in the murder of its helpless and hapless victims.
Read Also: Punishment For Terrorism Under Nigerian Law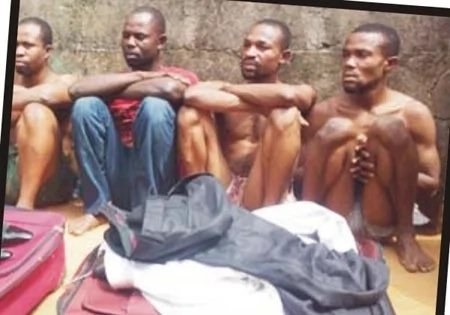 As Nigerians watched, alarmed, kidnapping spread across the country until it became a favourite  pastime of criminals and terrorists alike: Victims were kidnapped and ransomed for money, held as sex-slaves, forced to be fighters, or simply killed.
Expatriates, come to work in Nigerian multinationals, have also fallen victim much to the international   embarrassment of the giant of Africa.
Grotesquely, as  the Nigerian government at all levels rallied to quell the storm of kidnapping and  bring kidnappers to  book, new and more terrifying modi operandi emerged and one thing became clear- the kidnappers were determined to keep their cash-churning venture going and flummox Nigeria`s  security forces.
The law acting as an equalizer, a deterrent, a protector, and an instrument of social engineering   had to step in and intervene, for prosecutors, the courts, and the state faced the uncomfortable spectre where the punishment for kidnapping was grossly disproportionate with the proceeds of the crime, the suffering of the victim and the trauma of families.
So, many law-making institutions toughened their anti-kidnapping laws, more than one denounced kidnapping as a capital offence to drive home the gravity of this iniquitous   crime.
Read Also: Punishments For Cultism In Nigeria Under Nigerian Law
The law defines kidnapping and punishes it

Kidnapping in its purest form is a vicious  vortex of many crimes. This is because  in a solitary crime of kidnapping could be webbed the crimes of conspiracy to commit armed robbery, armed robbery, conspiracy to commit kidnapping, kidnapping, illegal possession of firearms, assault, battery,false imprisonment  attempted rape ,rape, attempted homicide, homicide. Yes, all these terrible crimes can   be committed in the act of   kidnapping.
 The Deluxe Ninth Edition of the Black`s Law Dictionary, at page 948, defines kidnapping thus:
"The crime  of seizing and taking away a person by   force or fraud."
It further defines kidnapping for   ransom as, "The offense of unlawfully seizing a person and confining the person   usu. in a secret place, while attempting to extort ransom..This grave crime is sometimes made a capital offense. In addition to the abductor, a person  who acts as a go-between  to  collect the ransom is generally considered guilty of the crime."
On its own part, the 7th Edition of the   Oxford Advanced Learner`s Dictionary, International   Edition, at page 813,defines "kidnap"  as  " to take  somebody away  illegally and to keep them as prisoner, especially  in order to get money or something else for returning them."
Nigeria`s apex criminal legislation, the Criminal Code Act, condensed into criminal legislations   in different states of southern extraction unequivocally defines   and  criminalises  kidnapping  in keeping with the prescripts of  Section 36(12) Constitution of the Federal Republic ,1999(As amended) which requires that an offence and its penalty be  subject to  a written law before a person is punished thereunder .
Section 364 of the Criminal Code Act provides thus:
"Any person who –
a. Unlawfully imprisons any person, and takes him out of Nigeria without his consent; or
b. Unlawfully imprisons any person within Nigeria in such a manner as to prevent him from applying to a court for his release  or from discovering  to any other person the place where he is imprisoned, or in such  a manner as to prevent  any person entitled  to have access to him from discovering the place where he is imprisoned is guilty of a felony and is liable to imprisonment for ten years.   
  Not to be outdone, the Penal Code Act applicable in Northern Nigeria, including the Federal Capital Territory, Abuja, defines kidnapping in Section 271 and punishes same in Section 273.
Read Also: Punishment For Assault Under Nigerian Criminal Law
Section 271 of the Penal Code Act provides thus:
"Whoever takes or entices a  person , under fourteen years of age if a  male or under sixteen years of age if female, or any person of unsound  mind out of the keeping of  the lawful guardian of such person  without the consent of such guardian or conveys that person beyond the limits of the Federal Capital Territory, Abuja, without the consent of someone legally authorized to consent  to such removal is said to kidnap such person.
Section 273 of the Penal Code Act provides thus:
"Whoever kidnaps  or abducts a person   shall be punished with imprisonment for a term which may extend to ten years  and shall also  be liable   to fine."   
Thus,  between the Criminal Code Act and the Penal Code Act, the heinous offence of kidnapping bears a minimum 10-year jail term
10-year jail  term not enough.
 As kidnapping gained  in number   and notoriety  across the country with its attendant crippling effect on economic activities and tremendous suffering on victims and their families, most law-making institutions across the country  got busy. Their aim was to make anti-kidnapping laws more stringent by increasing the severity of the punishment.
Matters came to a head on  September 28,2017,when the Nigerian Senate passed into law  the Kidnapping, Abduction Act, which particularly specified a 30-year jail term for anyone caught colluding with an abductor to receive ransom for any person wrongfully confined.
The Act also stipulated  a  sentence on death for anyone whose   kidnapping activities led to the death of any person.
A couple of states followed suit and even   went further than jail terms.
Read Also: Punishment For Impersonation Under Nigerian Criminal Law
Lagos State.
On January 5, 2017, the Lagos State House of Assembly passed the Law to Provide for the Prohibition of the Act of Kidnapping and for Other Connected Purposes.
In this law, the death sentence was stipulated for kidnappers whose victims die in their custody and life sentence for kidnappers whose victims do not die in their hands.
Life imprisonment was also stipulated   for anyone who makes an attempt to kidnap another person. The law also prescribed a mammoth 25-year jail term   for anyone found guilty  of threatening to kidnap another person through phone call, email , text message or any other means of communication.
The law also prescribed a 14-year jail term for any person who knowingly  or willfully allows or permits his premises ,building or  a place  or belonging  to which he has control of, to be used  for the purpose of keeping a person kidnapped.
In 2013, the Edo state government  also prescribed the death penalty for kidnapping. The current administration in Cross River state also passed a law prescribing the death penalty for kidnapping. Delta, Rivers, Anambra   states also prescribe the death penalty for kidnapping.
Kidnapping considered in the case of Okashetu   v.  State (2016) All FWLR (Pt. 861) 1262 S C.
In this case, the appellant was arraigned   at the High Court of Delta state, Asaba , on a five-count charge of conspiracy to commit armed robbery, armed robbery,  conspiracy to  kidnap  and  illegal possession of fire arms.
The appellants and others at large  allegedly conspired to kidnap one  Mr. Galvagni  Renzo. After the trial, the appellant was discharged and acquitted  on the crimes of conspiracy to commit armed robbery and armed robbery, but  convicted on the three counts of conspiracy  to commit kidnapping, kidnapping  and illegal possession of firearms.
He appealed to the Court of Appeal without success. A further appeal to the Supreme Court was also greeted with failure.
Dismissing the appeal, the Supreme Court held that in order for the prosecution to succeed under a count for the offence of kidnapping, it has to prove the  following facts beyond reasonable doubt:
a. That the victim was seized and taken away by the accused person
b. That the victim was taken away without his consent.
c. That the victim was taken away without lawful excuse.
The offence of kidnapping is complete when the victim is carried away against his wish.
The Supreme Court then reaffirmed the seven-year sentence placed on the appellant by the High Court.
Kidnapping is a grievous crime
Kidnapping is an unforgivably grave crime and everything must be done to excise it from Nigeria. The very stiff penalties might rankle some members of the Human Rights Community but placed side by side with the iniquity of kidnapping no one can argue against justification for the penalties.
Read Also: Punishment For Rape In Nigeria
Always Remember:
a. That as a  Nigerian citizen under Sections 25,26 or 27 of the 1999 Constitution, your fundamental rights are guaranteed under Sections 33 to 46 of the same Constitution.
b. That the Constitution guarantees you equal rights, obligations, opportunities   and easy accessibility to court under Section 17.
c. That InfoGuide works with a team of lawyers to inform you of your rights, obligations and opportunities under the law.
Buy and Sell Bitcoin in Nigeria - Register for free on Luno
Click here to see the latest
Study Abroad Scholarships and Guides
Click here to see the latest
Jobs opportunities in Nigeria
.
Copyright Warning!
We work really hard and put a lot of effort and resources into our content, providing our readers with plagiarism-free articles, original and high-quality texts. Contents on this website may not be copied, republished, reproduced, redistributed either in whole or in part without due permission or acknowledgement.
Proper acknowledgement include, but not limited to (a) Proper referencing in the case of usage in research, magazine, brochure, or academic purposes, (b)"FAIR USE" in the case of re-publication on online media. About possible consequences you can read here: What are the consequences of copyright infringement? In an effort to protect our intellectual properties, we may report your website to Google without prior notice and your website be removed from search engines and you may receive a strike. All contents are protected by the Digital Millennium Copyright Act 1996 (DMCA).