It has become a known fact by psychologists that motivation cannot be thought of without emotions being considered, in the same way, emotions cannot be thought of without motivation being put into consideration.
Overtime, a lot of reasons have been believed to be responsible for motivation, some of them include the will, instinct, needs, drives, goals and threats. However, most recently emotions are believed to play a major role in determining motivation.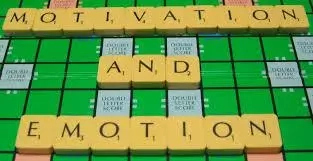 What is Motivation? Motivation has quite a number of definitions, but for the purpose of this article we'll look through just a couple of definitions.
Motivation is the term that is usually used to explain the reason behind the behaviours that are exhibited by people. It is the reason for people's actions, desires and behaviours.
Motivation is an internal or external factor that is responsible for the stimulation of the desire and energy in people to be continually committed to a job or to make an effort to attend a goal.
Motivation also involves the biological, emotional, social and cognitive forces that activate behaviour.
Motivation can be divided into intrinsic (internal) and extrinsic (external) motivation.
Intrinsic motivation is the desire to look for new challenges that will help analyse one's capability. Its driving force is interest in the challenge. Usually, intrinsic motivation is sustained for a long time, its effects also are long lasting. However, achieving this type of motivation takes a long time and usually requires lengthy preparations.
Some examples of intrinsic motivation is when a student studies diligently not just to pass an exam but to gain mastery of the course of study he is involved with.
Extrinsic motivation on the other hand is the desire to carry out tasks majorly because of the reward afterwards, it is the opposite of intrinsic motivation.
An example of extrinsic motivation is competition, competitions encourage people to carry out tasks because of the prize involved and not merely for the love of the task.
What is Emotion? Emotion is a state of feeling that usually results in psychological and physical changes that influence our behaviour. A lot of times, emotions are the driving force behind motivation.
Emotion is an affective state of consciousness in which joy, sorrow, fear, hate, or the like is experienced, as distinguished from cognitive and volitional states of consciousness.
The word emotion is of French origin, it was gotten from the French word émouvoir, and it means to "stir up".
Emotions possess five elements, they are:
Cognitive appraisal: Shows an evaluation of events
Bodily symptoms: These are the psychological symptoms of emotional experiences
Action tendencies: Directs motor impulses
Expression: This most times accompanies an emotional state, it reveals the intention of action.
Feelings: The subjective experience of emotional state once it has occurred
There are three basic relationships between motivation and emotion, and they are
1. Emotions possess motivational properties of their own
2. Emotions go hand in hand with motives
3. The motives of motivation and the arousal of emotion both activate behaviour.
Emotion and motivation are related in two major ways
How are emotions and motivation related?
It is normal for humans to carry out actions that they believe will bring them happiness and a whole lot of positive emotions.
With this in mind it becomes obvious that emotions are a form of reward for certain motivated behaviour. As a result of this, it can be said that emotions also have an effect on motivation in the sense that they bring about an increase in the possibility of a certain behaviour being exhibited at a certain time.
Behaviours that have brought about reward when performed by an individual will be easily exhibited by an individual when the individual finds himself in such a situation.
Few examples of this include:
A young man will be more motivated to work-out if working out has in anytime helped him get a lady he desires.
A student will be more motivated to read inspirational books if the knowledge he gained from reading inspirational books in the past made him sound intelligent and learned in the sight of his peers and tutors alike.
A long distance runner will be well motivated to take lots of water if the amount of water that he took in the past helped him avoid dehydration and made him win a long distance race.
A young singer will be motivated to stay clear of a cold weather if the clarity of his voice in the past is very well associated with feelings of euphoria on stage.
A military officer will be motivated to put on full body amour when going into a battle against a hostile opposition if being completely covered had saved his life in previous encounters with a hostile opposition.
Secondly, emotions have a direct impact on motivation in the sense that emotional experiences are a powerful influence on motivation.
Emotions have an impact on motivation intrinsically, this is a more favourable form of motivation to the person being motivated because it leads to a total dependence on self. I
n this type of emotional influence on motivation, an assignment or task to be carried out gives the executor of the task some sense of dignity and pleasure hereby leading to a level of motivation.
This kind of emotional influence on motivation is usually experienced by sportsmen, athletes, clergymen, musicians, artistes, academicians, parents especially mothers, computer nerds and school counsellors.
Some examples of this are
A football goalkeeper will more often than not put in his best performance into a football match not necessarily because he will get paid at the end of the game but because he enjoys not conceding goals.
A musician will most likely put up an epic performance on stage because of his love for the stage and the spotlight and not due to the fat check that is expected afterwards.
The emotional connection that a computer nerd feels with his computer will motivate him to spend long hours at a stretch fiddling with his computer.
A mother's emotional attachment to her baby serves as a strong motivation to ensure the baby has all he needs even in the face of lack.
This post can be helpful to somebody else, please share it on Facebook, Whatsapp, Telegram and Twitter. There are buttons below for this (easy to use too)!
Copyright Warning!
Contents on this website may not be republished, reproduced, redistributed either in whole or in part without due permission or acknowledgment.

.
Proper acknowledgment includes, but not limited to (a) LINK BACK TO THE ARTICLE in the case of re-publication on online media, (b) Proper referencing in the case of usage in research, magazine, brochure, or academic purposes,.

.
All contents are protected by the Digital Millennium Copyright Act 1996 (DMCA).

.
We publish all contents with good intentions. If you own this content & believe your copyright was violated or infringed, please contact us at [infoguidenigeria@gmail.com] to file a complaint and we will take necessary actions immediately.
🤑 Start making money from home today!
👉 Get correct FREE TIPS and Guides on how to make money from home today. Click here to start
.
👍Advertise your business here!
With over 1M unique users per month across all channels, we have a large audience for you to showcase your products and services. Simply get in touch via 👉 marketing@Infoguidenigeria.com.
🤑 Make Money now!
👉 Make money writing for us. Apply for Freelance writing jobs in Nigeria.
👉 Make Money as InfoGuideNigeria Advertising Agents, read more here
.