Education
Relationships Between Science And Technology
The word 'science and technology' is a common and sensitive everyday word which tends to throw you off balance whenever it is time to highlight their differences or similarities to a younger brother or sister. Both fields are intertwined and also dependent on each other, holding a form of symbiotic relationship.
Science
According to Webster's New Collegiate Dictionary, Science is "knowledge attained through study or practice," or "knowledge covering general truths of the operation of general laws, as obtained and tested through scientific methods [and] concerned with the physical world."
👉 Relocate to Canada Today!
Live, Study and Work in Canada.
No Payment is Required! Hurry Now click here to Apply >>
Immigrate to Canada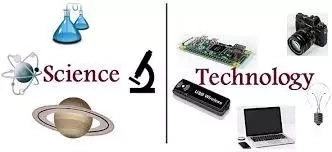 Science makes use of the scientific method to explain every event of nature in a reproducible form, this enables continuity. Science is usually divided into two major fields which are :
Natural sciences: This is the study of the natural world.
Social sciences: This is the systematic study of human behavior and society.
The major goal of science is to explain every event of nature through a series of systematic investigative process that involves observations, experimentation, hypotheses formulation and a convincing conclusion. Science seeks to find an explanation for every event that occurs in the natural world.
Major probes and study of important events of the universe has ultimately led to some significant discovery and development i.e the discovery of artificial fertilizer made global human population growth possible by making food readily available to a steadily growing population. Around the same time, the structure of the atom and its nucleus was discovered.
In addition, antibiotics was discovered through articulated scientific studies. This vital discovery helped improved health and also increased life expectancy.
Technology
While technology according to Wikipedia is the "collection of techniques, skills, methods and processes used in the production of goods or services or in the accomplishment of objectives, such as a scientific investigation."
It can also be defined as the usage and knowledge of tools, techniques, crafts, systems or a method of organization in order to solve a problem or create an artistic perspective.
👉 Relocate to Canada Today!
Live, Study and Work in Canada.
No Payment is Required! Hurry Now click here to Apply >>
Immigrate to Canada
Humans use of technology dates back to as early as when humans began to convert natural resources into simple tools i.e the discovery of how to make and control fire and the invention of basic farm tools, the invention of the wheels and later on the introduction of the printing press , the telephone, and the Internet, have all made life less stressful with communication much more easier.
Technology has helped improve more advanced economies. Even with it's numerous advantages, most technological processes generate pollution which is harmful to humans and other living organisms. The major purpose of technology is to help produce something which doesn't exists or has not been created.
The Relationship Between Science and Technology
The major goal of science is to organize and expand knowledge by forming and testing hypotheses based on available and relevant data while the goal of technology is to apply scientific knowledge for the production of goods and services or improving techniques used in science.
Many people regard technology as an offspring of science but this viewpoint can not be validated as their relationship has become more symbiotic in nature.
Science involves critical observation, formulation of hypotheses and testing or experimenting while Technology needs science to advance the goods it produces.
Even with technology's reliance on science, these days, none of the steps in the scientific method can be accurately accomplished without the means of modern technology, this highlights the degree of interdependence between the two disciplines.
Both science and technology are a basic aspect of human activity, and are fundamental to human lives and comfort. Neither science nor technology holds a key position, rather they both work together for the mutual benefit and growth of each other.
Technology does not lay claims to 'truth' in the same way as science does, what validates technology therefore is 'success' not 'truth'.
Scientific knowledge and methods themselves provides a major source of input into the growth, development and success of technology and its output.
Science also seeks to find explanations and reasons as to why some technological processes were successful or unsuccessful.
Technological practices, processes, knowledge and outputs can also provide a more easier and efficient mechanisms for scientists to make excellent observance of the scientific methods.
A notable instance is the development of technological instruments with the ability to enhance the observation, record keeping and experimentation capabilities of humans such as the telescope, microscope and several other laboratory equipment which made it easier for science to successfully explain a wide range of natural phenomena.
📢

We are hiring writers!
Article Writing Jobs
- We are hiring good freelance writers -
Click here to apply
👇👇👇👇👇
Immigrate to Canada Via Job Offer!
Get latest Jobs in Canada for foreigners with visa sponsorship 2023 and how to apply. Don't miss this opportunity that can help you relocate to Canada with your family.
👇👇👇👇👇