Job Description
Respiratory Care Job Description and Duties, Roles/Responsibilities, Qualifications
Respiratory care job description: Read this article to see the respiratory care job description and duties, roles/responsibilities, and qualifications.InformationGuideNigeria
The practice of diagnostic cardiopulmonary evaluation and respiratory therapy treatment applied to patients with inadequacies and abnormalities of the cardiopulmonary system is the focus of the allied health profession known as respiratory care. It involves pertinent patient, family, and public education.
👉 Relocate to Canada Today!
Live, Study and Work in Canada.
No Payment is Required! Hurry Now click here to Apply >>
Immigrate to Canada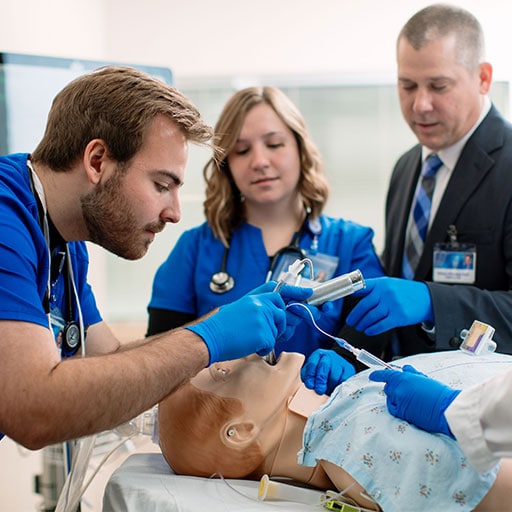 Research on the cardiopulmonary system, diagnostic tests including pulmonary function and sleep studies, research on the cardiopulmonary system, and neurophysiological studies about respiratory care are all included in the cardiopulmonary evaluation.
Read Also: Human Resources Manager Job Description and Roles/Responsibilities, Qualification
In respiratory care, particular testing methods are used to support diagnosis, therapy monitoring, and research. This is taken to mean measuring blood gas analysis, ventilatory volumes, pressures, and flows, among other relevant physiologic monitoring.
Aerosols, inhaled medications, environmental control systems, humidification systems, ventilatory support, bronchopulmonary drainage, pulmonary rehabilitation, cardiopulmonary resuscitation, and airway management, which may include emergency endotracheal intubation, are some examples of respiratory therapy techniques.JAMB Portal
Identifies, prevents, treats, investigates, and rehabilitates acute or chronic cardiopulmonary dysfunction by the application of scientific principles, resulting in optimum health and function.
Read Also: System Administrator Job Description and Roles/Responsibilities, Qualifications
To assess patients' respiratory health, create a respiratory care plan, and decide whether the recommended therapy is suitable, the respiratory care specialist reviews existing data gather new data, and makes recommendations for gathering data.
Initiating, carrying out, and altering the therapeutic and diagnostic procedures that have been prescribed. such as administering medical gases, humidification, aerosols, aerosol medications, postural drainage, bronchopulmonary hygiene, cardiopulmonary resuscitation, supporting patients who are being mechanically ventilated, maintaining artificial and natural airways, performing pulmonary function testing, hemodynamic monitoring, and other physiologic monitoring, and collecting samples of various bodily fluids.
Read Also: Technical Writer Job Description and Roles/Responsibilities, Qualifications
Conveys necessary information to other members of the healthcare team and records it in the patient's medical record and on other forms. assembles, calibrates, and inspects the required equipment.How to Buy TikTok Followers using Cryptocurrency?
Uses problem-solving techniques to locate and fix issues with respiratory care equipment. Shows the right interpersonal abilities to collaborate effectively with clients, families, staff, and colleagues. accepts instructions, keeps professional ethics, preserves confidentiality, doesn't discriminate, etc.
They are found in almost every aspect of today's healthcare services and treat a variety of conditions such as asthma, emphysema, cystic fibrosis, and others.
They are professionals who care about their patients and coworkers. Their analytical and technical abilities are also outstanding. It is a rapidly growing profession that is also highly competitive.
They have a bachelor's degree before entering medical school. After completing medical school and residency, a license and certification to practice medicine are granted.
Responsibilities of a Respiratory Care

Patients with respiratory or cardiopulmonary issues should be questioned and examined.
Consult medical professionals when determining a patient's condition and creating a treatment plan.
run diagnostic procedures.
Treat patients with a range of techniques.
Track and document the progress of your patients.
Diagnosing and treating conditions affecting the heart, lungs, brain, diabetes, and gastrointestinal tract as well as hypertension, diabetes, and various heart, brain, cardiopulmonary, and other conditions.NYSC Portal
Treating lung illnesses, severe allergies, some sleep difficulties, and breathing problems.
Administering and interpreting diagnostic tests, such as pulmonary function tests, analyzing patient histories, and determining the level of risk that patients have been exposed to, such as asbestos and tobacco smoke.
Getting lung or chest wall lining samples by angiographic imaging and other specialist methods.
Evaluating the resilience of patients to the stress brought on by surgery, collaborating with surgeons to develop breathing management techniques, and perhaps keeping an eye on patients' status as they undergo surgery.
Advising surgeons on the risk statuses of patients and suggesting interventions.
Administering vaccinations to safeguard people against illness.
Obtaining advice from other doctors.How to Recharge GOTV using First Bank USSD Code
Creating, testing, and researching new drugs or treatments.
Using interventional procedures from other medical specialties, such as balloon angioplasty, stent implantation, and tiny needle biopsies, to keep the airways open.
Duties of a espiratory care

By planning and administering medically prescribed respiratory therapy, the patient's pulmonary function is restored, pain is relieved, and life is supported.
Meets the goals and needs of the patient while also providing quality care by performing pulmonary function tests, assessing and interpreting evaluations and test results, and determining respiratory therapy treatment plans in consultation with physicians and by prescription.Romantic Love Messages
Assists patients in carrying out their treatment plans and maintaining their quality of life by administering inhalants, operating mechanical ventilators, therapeutic gas administration apparatus, environmental control systems, and aerosol generators.
Performs bronchopulmonary drainage, assists with breathing exercises, and monitors physiological responses to therapy, such as vital signs, arterial blood gases, and blood chemistry changes, to administer respiratory therapy treatments.
Treatments are directed by aides, technicians, and assistants.
Evaluates the effects of a respiratory therapy treatment plan by observing, noting, and evaluating the progress of the patient and recommending adjustments and modifications.
Consults with physicians, nurses, social workers, and other health care workers to complete discharge planning; participates in patient care conferences.
Assures that the therapeutic plan is followed after discharge by designing home exercise programs and instructing patients, families, and caregivers on how to use them.
Outpatient or home health follow-up programs are recommended and/or provided.
Charts in patient and department record to document patient care services.
By keeping information confidential, you can maintain patient trust while also protecting hospital operations.Good Morning Love Messages
Maintains a safe and clean workplace by adhering to procedures, rules, and regulations.
Adheres to infection-control policies and protocols to protect patients and employees.
Provides information and develops and implements in-service training programs for respiratory therapy staff.
Complies with federal, state, and local legal and certification requirements by researching existing and new legislation, anticipating future legislation, enforcing compliance, and advising management on appropriate actions.
Read Also: House Manager Job Description and Roles/Responsibilities, Qualifications
Roles of a respiratory care
Respiratory care practitioners work with adults, premature infants, and geriatric patients in surgical services, air and ground transport, multi-disciplinary nutrition teams, emergency departments, neonatal/pediatric intensive care, and medical, cardiac, and surgical intensive care in acute care hospitals.
Practitioners can work in a variety of settings, including the diagnostic pulmonary laboratory, bronchoscopy laboratory, long-term acute care units, hyperbaric oxygen (HBO) units, or as a traveling therapist, home respiratory therapist, or pharmaceutical sales representative.JAMB Result
Responsibilities daily include various respiratory care modalities in the treatment of pulmonary diseases as well as advanced critical care procedures.
Respiratory care qualifications/skills
Oxygen administration
Resuscitation by cardiopulmonary resuscitation.
Mechanical ventilator administration.
Drug administration to the lungs.
Cardiopulmonary systems are being monitored.
Lung function testing.
Respiratory care salary structure in USA
What is the average salary for a Respiratory Care Practitioner in the United States? As of September 26, 2022, the average Respiratory Care practitioner' salary in the United States is $66,589, but the salary range typically falls between $60,396 and $71,873.
Read Also: Community Manager Job Description and Roles/Responsibilities, Qualifications
Types of Respiratory Care
Intensive care.
Acute treatment (hospital)
Emergency treatment.
Adult.
Pediatric.
Outpatient care/home care
Respiratory care practitioners use diagnostic tests to determine the specific pulmonary condition affecting a patient and then treat them accordingly.
Check JAMB Result
Check and Confirm: How much is Dollar to Naira
👉 Relocate to Canada Today!
Live, Study and Work in Canada. No Payment is Required! Hurry Now click here to Apply >> Immigrate to Canada
👇👇👇👇👇
Information is Power!
Don't miss any valuable information or opportunity that can change your life, business, and family positively and permanently.
👇👇👇👇👇
👍Advertise your business on InfoGuideNigeria.com!
From just N9,999 per month, you can advertise your products and services to over 1,500,000 monthly users on our website. Click here to read more.
Copyright Warning!
Contents on this website may not be republished, reproduced, or redistributed either in whole or in part without due permission or acknowledgment.
.
Proper acknowledgment includes, but not limited to (a) LINK BACK TO THE ARTICLE in the case of re-publication on online media, (b) Proper referencing in the case of usage in research, magazine, brochure, or academic purposes,.
.
All contents are protected by the Digital Millennium Copyright Act 1996 (DMCA).
.



The images, except where otherwise indicated, are taken directly from the web, if some images were inserted by mistake violating the copyright, please contact the administrator for immediate removal.
.
We publish all content with good intentions. If you own this content & believe your copyright was violated or infringed, please contact us  for immediate removal.
🤑 Start Making Money from home today!
👉 Get the correct
FREE FOOTBALL PREDICTION
TIPS
and
Guides
today.
Click here