Education
Scope Of Business Education In Nigeria
Here in this post, we are going to discuss the scope Of Business Education In Nigeria. We hope you find reading this very informative.
The importance of business education cannot be overestimated in the Nigerian development context. Nevertheless, in this article, I will be considering the scope of business education, this, in essence, will help in uncovering the actual concept of business education and perhaps, why Nigerians should embrace the discipline, particularly in their everyday life. Now let us look at what business education is all about.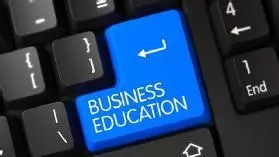 What Is Business Education?
One of the popular definition of business education is that, the discipline is a broad array of college courses, which are meant to be taught, and students of different ages can actually be taught about the fundamental principles of business. And some of these courses includes:
business management, and
business law, and
entrepreneurship, and
economics, plus
computer courses, like; web design among others.
One can actually study business education wherever he wants to, for example, a good number of schools and universities in Nigeria have business education in their curricula.
Nevertheless, if someone wants a more in-depth business-related education, such individual can choose to go to a business school or good still, pursue a business degree in a college, where business is the key subject of education.
Types Of Business Education Programme:
Business education comes in different forms
-At Primary Level:
As we have mentioned earlier in this article, business education comes in different shapes and various forms. For instance, in secondary business education, there are subjects, such as:
-keyboarding and
-computer science
These subjects are taught right from the very early years.
-At Secondary Level:
In subsequent, there are some subjects that are more complicated, like in the case of;
-economics and
-accountancy,
These subjects are actually introduced in middle school year and they are being taught all the way via post primary or high school.
-At Undergraduate Level:
The undergraduate business education in tertiary institutions include all kinds of undergraduate degrees in the discipline of business, for example;
-business administration, and
-commerce, and
-economics, and
-management, and
-accountancy, and
-business science, and
-finance among others.
-At Postgraduate Level:
The postgraduate level of business education is a kind of programme that provides students, who seek a postgraduate degree in business education an in-depth and scientific view on business principles and business elements.
Just like an undergraduate degree programme, postgraduate degree programme can as well, be that of either business in general, or it can be about one of the many fields of business education.
Students can decide to choose a specific aspect of the study, for instance, that of non-profit organisations or the one of marketing research.
Doctoral level:
Doctoral business education focuses much more on the scientific areas of business, instead of focusing on the practical.
Having said that, some doctoral degree programme does focused on the applied aspect of research. Apart from all that I have listed here in this article so far, there is also another option of learning about business via separate business courses in colleges.
The option is only suitable for those students, who may want to get only, the most important basics and as well, get them fast.
Now that I have talked about what business education is, let me now tell you why business education exists and why business education is important.
What Are The Objectives of business education?
Since there are quite a number of business education programmes in Nigeria, which I may love to talk about in this article, I will rather limit my focus only to the general business education taught in Nigerian schools. That out of the way, the major objectives of business education include:
1. Assisting students to gain knowledge on what business is all about by teaching them different business-related subjects and courses.
2. Teaching students on how to deal with finances, and taxes as well as, other business-related issues.
3. The development of the analytic as well as, the evaluation of skills when it comes to taking a decision on business-related matters.
4. Giving the students a theoretical base for future entrepreneurship.
5. Providing students with useful skills, which they can apply to other areas of life rather than business, for example, computer science and/or keyboarding.
6. Engaging them in responsibilities that prepare the students for their adult life, especially in the capitalist society like Nigeria.
7. Explaining to the students the possible problems and also pitfalls they may likely to come across when engaging in their own businesses.
8. Encouraging them to be much more interested in business.
After studying a good course of business education, every student should earn all the necessary skills that will make their lives worthwhile in a consumerist society, and also they should understand the way and how things work in business and why they work in business.
The students should be able to make sure that, their own sound assessments and their decisions are correct, especially when it comes to business.
The Important Of Business Education:
What is the importance of business education? And why is business education that important? Anywhere, first of all, as I have said earlier, business education gives the students the necessary skills that will make them live in today's society.
In years back, we might not have been interested in business education. However, as the day goes by and the economy changes, even education has to change as also.
In fact, without some of the basic business education, we might not have known how and why the Nigerian economy works or why things cost few naira.
We perhaps, would not have been productive members of society in the first instance, as we would not have the requisite theoretic base of education.
Quality business education can actually make an individual more competitive in the marketplace, either as an employee or as an entrepreneur.
It does help an individual to avoid some grave mistakes in business, and as well, save a lot of money when engaging in one's own business.
Interestingly too, business education has the capacity to make an individual more creative, and teach him to think outside the box in order to achieve your goals via unique methods.
As a matter of necessity, every person needs business education if he actually wants to be able to function in this modern society.
It is the business education that provides the required theory, it also explains this through practice as well as, helps in raising new generations of skilful, and intelligent plus responsible citizens.
Hence, should you want to become better at a business or perhaps, you just want to learn a new useful skill, then there is a need to consider business education.
Conclusion
Business education is a broad array of college courses, which are meant to be taught, and students of different ages can actually be taught about the fundamental principles of business.
📢

We are hiring writers!
Article Writing Jobs
- We are hiring good freelance writers -
Click here to apply
👉 Relocate to Canada Today!
Live, Study and Work in Canada.
No Payment is Required! Hurry Now click here to Apply >>
Immigrate to Canada