Driving Jobs
Economy
South-South Geopolitical Zone in Nigeria, its States and their Economic Activities
Comprising of 6 states in a relatively small stretch of land, the South-South geopolitical zone is the economic mainstream of Nigeria, as it is the site of the country's number one resource – Crude oil.
It is located strategically at the point where the Y tail of the river Niger joins the Atlantic ocean, through the gulf of Guinea. Also in addition to oil and gas, the region also provides significant natural resources such as silver nitrate, coal, glass sand, timber, kaolin, quartzite, etcetera. It also has huge potential in agriculture and tourism.
👉 Relocate to Canada Today!
Live, Study and Work in Canada.
No Payment is Required! Hurry Now click here to Apply >>
Immigrate to Canada
The six member states in the South-South are; Akwa Ibom, Cross River, Delta, Edo, Rivers, and Bayelsa. Here in this article, we'll be providing you with information on the States in the South-South geopolitical zone and their economic activities.
Read Also: Top 10 Most Popular Hotels in Akwa Ibom State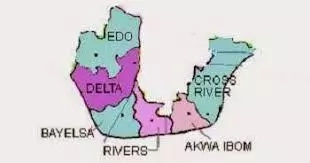 Akwa Ibom
Covering a land area of about 7,081 Km² (2,734 Sq mi), and with a population of over 5 million people, Akwa Ibom is one of the oil producing States in the Niger Delta region of Nigeria. It was created in 1987 by General Ibrahim Babangida from the former cross river state.
The state's capital is in Uyo, and has over 500,000 inhabitants. The State boasts of an airport, and 2 major seaports on the Atlantic ocean, with a proposed construction of a world-class seaport – Ibaka Seaport – at Iron.
Recently, there was also the construction of an ultramodern 30,000 capacity sports complex, with modern world-class facilities.
The arena, known as the Godswill Akpabio international stadium, is shaped like the famed Allianz arena, home of German football giant's, Bayern Munich. The state is also home to a world-class library/information centre – The Ibom library.
The major cities in the State are; Uyo, Ikot Ekpene, Iron, Abaki, Etinan, Ikot Abasi, Etcetera. While the major ethnic groups in the state are; Ibibio, Annang, Eket, Obolo, and Iron.
As earlier mentioned, the major economic activity in the state is oil and gas exploration and production, but there is also huge potential in tourism. It is worth noting that the state is currently the highest producer of oil and gas in Nigeria.
👉 Relocate to Canada Today!
Live, Study and Work in Canada.
No Payment is Required! Hurry Now click here to Apply >>
Immigrate to Canada
Read Also: Edo govt embarks on beekeeping for 200 youths
Edo
The mid-western region was a division of Nigeria from 1963-1991, and it was known as the Bendel State. This region was formed in 1963 from the Benin and Delta provinces of the western region, and it's capital was Benin city. It was renamed a province in 1966, and in 1967, when the other provinces were split up, it remained territorially intact, becoming a state.
Edo State was formed from this region on the 27th of August, 1991. The population of the State is set at approximately 4 million people, and the state covers a total land area of 17,802 km² (6,873 Sq mi).
The State is made up of 3 major ethnic groups; Edo (Binis), Esan and Afemai (Owan/Etsako), with Akoko Edo. The State boasts of a zoological garden – The Ogba Zoological garden – Okumu national park (home of forest elephants, buffaloes, chimpanzees, and other forms of wildlife),.
The Benin moat – structures built around the city to ward of enemies, said to be the most impressive city walls in southern Nigeria – Igun bronze casters and crafts centre, Igun (home of Benin's master bronze craftsmen), Nifor estate, and the Victor Uwaifo art gallery, Benin. Economically, the state is endowed with mineral resources like limestone, clay, chalk, marble, crude oil and natural gas.
The economic activity of the state revolves around these resources. The state is also actively involved in agriculture and bronze casting, which it is very popular for.
Read Also: How to Prepare Native Soup Eaten In Rivers State
Rivers
Named after the many rivers that border it's territory, Rivers state was part of the Oil Rivers protectorate from 1885 till 1893, when it became part of the Niger coast protectorate.
It was later merged with the chartered territories of the Royal Niger company to firm the colony of southern Nigeria in 1900. In 1967, with the split of the eastern region, the state was formed.
And, in 1996, it lost territory to form Bayelsa state. The state covers a land area of 11,077 Km² (4,277 mi²), and is the 26th largest state in Nigeria. It has a multicultural, multilingual population of about 7 million people, with diverse ethnic groups such as Andoni, Ekpeye, Ibani, Ndoni, Okrika, Ogoni, Etcetera.
These groups are spread across the 23 local government areas in the state. The state also boasts of major tourist attractions like the Port-Hartcourt tourist beach, Isaac boro garden, Rivers state museum, zoological garden, Port-Harcourt, statue of King Jaja of Opobo, Okrika aquatic stadium, Finima beach, etcetera.
Predominantly an oil producing state, Rivers accounts for over 40% of Nigeria's crude oil and food production. And, there are 2 major refineries and seaports in the area, as well as a plethora of industries. The state is also actively involved in agriculture. A major supplier of wealth to the nation, Rivers boasts of a GDP of $21.07 billion, and a per capita income of $3,965.
Read Also: Delta State Govt Urges Military to Stop Insurgency In North-East
Delta
With an estimated population of about 4 million people, Delta state is an oil and agricultural producing state in the south-south geopolitical zone in Nigeria. The state occupies an estimated land area of 17,687 Km² ( 6,833 Sq mi), and has its capital at Asaba, with Warri as its economic nerve centre.
Delta state was carved out of the former Bendel state on 27, August 1991. It has a diverse ethnic population with various linguistic stocks such as; Anioma, Eka, Isoko, Urhobo, Itsekiri, Etcetera.
The state boasts of the Abraka turf and country club (which annually hosts an international Polo competition), River ethiope source, Kwale game reserve, Chief Nana's palace living history museum, Koko, leisure paradise amusement park, Ekpon, Mungo park house, Asaba, Bomadi beach party resort, etcetera. Economically, there are various solid mineral deposits within the state such as industrial clay, silica, lignite, kaolin, tar sand, limestone, etcetera.
The state also has a huge deposit of crude oil, and is also one of the highest producers of petroleum products in the country. Oil and gas exploration and production drives the economy of the state.
Read Also: Credibility of Tribunal Justices questioned by group
Bayelsa
Created on 1st, October 1996 By General Sani Abacha, Bayelsa is located on the lower southern part of the Niger Delta region, and has it's capital in Yenagoa.
The name Bayelsa is short for three former local government areas in the region – Brass, Yenagoa, and Sagbama. It is a multiethnic state comprising of 10 languages, and several ethnic groups including Kolokunu, Ekpetiama, Igbiran, Atissa, and Bisemi.
The state is however, mostly occupied by the Ijaws. The state occupies a total land area of 21,110 square Kilometers and has just 8 local governments.
It boasts of Nigeria's first oil well in Oloibiri, Ox-Bow lake, Mungo park residence, Akassa wildlife forest, Akassa slave transit camp and tunnel, Okpoama beach, mangrove creeks, etcetera.
Economically, its people are actively involved in fishing, farming, lumbering, palm oil mining, etcetera. However, oil and gas exploration and production forms the bulk of its economic activity, with the state accounting for over 30% of Nigeria's oil production.
Cross River
Deriving its name from the cross river (Oyono) which passes through the state, Cross river is a coastal state in the Niger Delta region of Nigeria.
Occupying a land area of 20,156 square kilometers, the state was created on 27, may 1967 from the eastern region by General Yakubu Gowon. In 1976, it had it's name changed to Cross river by General Murtala Mohammed.
In 1987, Akwa Ibom state was excised from it by General Ibrahim Babaginda. It has it's capital in Calabar. Like many Nigerian states, Cross river is a multiethnic region with groups such as Efik, Ejagham, Bette, Yala, Igede, etcetera.
Four major languages – French, Efik, Bekwara and Ejagham –  are also spoken in the region. The state boasts of the Calabar museum, Cross river national park, Mary Slessor building, Ikom monoliths, Calabar drill monkey ranch, Amber tinapa resort, etcetera. It is also blessed with Nigeria's most beautiful scenery.
Economically, Cross river has an abundance of crude oil, limestone, kaolin, clay, and salt, and it's economic activity revolves around these resources. It also has a huge potential for tourism.
Read Also: Cross River State farmers decries non-inclusion in FG's Loans
Conclusion
The South-South geopolitical zone in Nigeria is the home of Nigeria's crude oil resource, and as such is the major economic hub of the nation.
Although relatively untapped, it also has huge potential for agricultural and tourism investments. Nigeria is a blessed nation ethnically and naturally, and the South-South geopolitical zone of the country showcases this.
We hope this article has been helpful in informing you about the South-South geopolitical zone in Nigeria, it's states, and their economic activities. Let us know.
👇👇👇👇👇
Immigrate to Canada Via Job Offer!
Get latest Jobs in Canada for foreigners with visa sponsorship 2023 and how to apply. Don't miss this opportunity that can help you relocate to Canada with your family.
👇👇👇👇👇