Cooking Tips
How to Prepare Native Soup Eaten In Rivers State
Native soup is commonly seen in River State. Growing up in Port Harcourt, I was opportune to eat some of their indigenous dishes including this though i can't say the history of the soup.
I had to get recipes from my Ikwerre friends which turned out great. I didn't have to visit a restaurant again when i felt like eating this soup; i prepare it at home to my satisfaction. It is a healthy and nutritious dish that comes with all sorts of assorted seafoods
I am going to show three recipes for Port Harcourt Native Soup using different ingredients.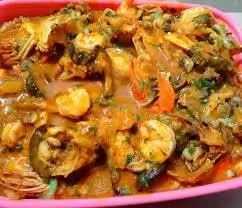 Ingredients for Preparing of Native Soup

a. 2 large pieces of tilapia fish
b. 4 pieces of crabs
c. Half cup of crayfish pieces
d. A cup of chopped jumbo shrimps
e. A cup of Isam (periwinkles)
f. 2 tablespoons of cocoyam thickener
g. 1/2 cup of chopped uziza
h. A small bulb of onion
i. Seasoning cubes
j. A tablespoon of crayfish powder
k. A cooking spoon of Palm Oil
l. A teaspoon of dry pepper
m. A scotch bonnet pepper
n. Salt to taste
 Direction for Preparing of Native Soup
a. Wash and boil your cococyam , peel the skin and pound to a smooth paste using mortar and pestle
b. Wash and boil your sea food in a separate pot with salt, stock cubes, onion and the scotch bonnet pepper and 1 or 2 cups of water
c. When seafood starts to boil , add the crayfish pwder and pieces and leave to simmer for 1 mins
d. Pick out your seafood and then add the cocoyam paste , leave to boil to dissolve
e. Add the palm oil and the uziza leaves and leave to simmer for 1min
f. Then return back the seafood into the pot and allow to simmer for another 1 mins , stir until its well incorporated then remove from heat
Recipe II
Here is another method with different ingredients
Ingredients for Preparing of Native Soup II

a. Tilapia (or any other type of fish)
b. Mussels
c. Ngolo (clams)
d. Large Shrimps
e. Periwinkles
f. Prawns
g. Crayfish
h. Fresh pepper – ata rodo or chilli
i. Chopped red onion – 1/4 of an onion
j. Salt
k. 3 pieces of Cocoyam – to be used as a thickener
l. Palm Oil
m. Knorr Cubes
n. Scent Leaf – basil or efinrin
Directions for Preparing of Native Soup II
a. Wash the cocoyam and boil until tender, peel the skin and pound to a smooth paste
b. Wash the fish and cut into 3 or 4 pieces
c. Wash the seafood and set aside
d. Slice the onions
e. Blend 2-3 pieces of fresh ata rodo (scotch bonnet/habanero pepper).
f. Roughly blend the crayfish
g. Pour the red oil in a clean dried pot and place on heat to heat up
h. Then lower the heat and add the fish to slightly fry
i. Then add the fresh pepper and crush the knorr cube into the pot. Add a little quantity of water just enough to cover the pot content , cover pot and allow to cook
j. Carefully keep out the fish to prevent it from breaking, and then add the medley of seafood. Allow to cook until the shrimp and prawn turns pink and the mussels and clams have opened. This indicate they are cooked
k. Also take out the shrimp, prawn, mussels and clams so as not to overcook
l. Add the cocoyam paste to the fish stock , leave to boil to dissolve completely then add the grounded crayfish,
m. Stir and taste for salt and seasoning
n. Put the cooked fish and seafood back into the pot and shake pot in a circular motion
o. Add the freshly chopped scent leaves., bitterleaf, utazi or uziza are also alternatives
Recipe III
Ingredients for Preparing of Native Soup III
a. Meat
b. 10 pieces of stock fish ear (nti okporoko)
c. 2 cups of sliced uziza leaves
d. 2-3 cubes of maggi or knorr
e. 2 medium size dry fish
f. Cocoa yam as thickener (see image)
g. 15-20cl of palm oil
h. 1 cup of ground crayfish
i. Salt and pepper to taste.
j. 1-2 cups of periwinkles
k. 1-2 cups of ngolo
l. two handful of fresh prowns
m. 2 spoons of ofor (alternative thickener)
Directions for Preparing of Native Soup III
a. You might want to start by parboiling the shrimps, wash and parboil with a small pot, add half cup of water, a cube of maggi and a pinch of salt, allow to boil for up
b. Parboil your meat with 2 cubes of maggi , onion , salt and a sachet of onga classic
c. Wash and slice the uziza leaves
d. Soak the dry and stock fish in hot water , wash and thoroughly debone
e. Grind the crayfish and pepper
f. When the meat is almost done, add the washed dry and stock fish. Once they are well cooked and the water is almost dried. About one cup left , add 5 to 7 cups of water , palm oil and the grinded crayfish
g. Boil soup for another 10 minutes, and then add the salt, maggi, the ngolo and the cocoyam paste. Leave to cook for 8-10 to dissolve. If after dissolving , the soup is still watery, add the ofor
h. Cook for 3mins , add the periwinkles, prown and lastly the uziza leaves
i. Simmer for another 5 minutes
Information is Power!
Don't miss any valuable information or opportunity that can change your life, business, and family positively and permanently.
👇👇👇👇👇
For Latest updates on News, Jobs & Business Ideas, and Opportunities.
Copyright Warning!
Contents on this website may not be republished, reproduced, or redistributed either in whole or in part without due permission or acknowledgment.
.
Proper acknowledgment includes, but not limited to (a) LINK BACK TO THE ARTICLE in the case of re-publication on online media, (b) Proper referencing in the case of usage in research, magazine, brochure, or academic purposes,.
.
All contents are protected by the Digital Millennium Copyright Act 1996 (DMCA).
.
The images, except where otherwise indicated, are taken directly from the web, if some images were inserted by mistake violating the copyright, please contact the administrator for immediate removal.
.
We publish all content with good intentions. If you own this content & believe your copyright was violated or infringed, please contact us at [infoguidenigeria@gmail.com] for immediate removal.
🤑 Start Making Money from home today!
👉 Get the correct
FREE FOOTBALL PREDICTION
TIPS
and
Guides
today.
Click here
.
👍Advertise your business here!
With over 1M unique users per month across all channels, we have a large audience for you to showcase your products and services. Simply get in touch via 👉 marketing@Infoguidenigeria.com.
🤑 Make Money now!
👉 Make money writing for us. Apply for Freelance writing jobs in Nigeria.
👉 Make Money as InfoGuideNigeria Advertising Agents, read more here
.