Agriculture
5 Steps to Start Livestock Farming In Nigeria
Here in this post, we are going to bring to you Steps to Start Livestock Farming In Nigeria. We hope you find this article informative.
Are you interested in starting a livestock farming business? Whether you want to start a cattle farm or poultry farm or any other livestock farm, read on to discover the exact steps you should follow.
So much emphasis is being laid on economic diversification these days in our country Nigeria. And the one sector that's been mentioned constantly alongside it is the agricultural sector, and that for good reasons.
Read Also: How to Improve Local Breed of Livestock in Nigeria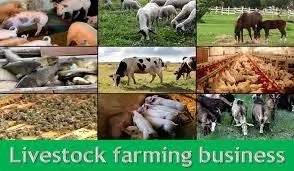 Agriculture, in times past, was the mainstay of the Nigerian economy before oil came on board. Apart from our natural endowments in the sector, food remains the first need of man and no country can be regarded as great which cannot feed its citizenry, besides it's a well-known fact that as long as humans exist, there will always be need for food.
Livestock farming is one of the fastest growing parts of the agricultural economy. According to research, it accounts for one third of Nigeria's agricultural GDP, providing income, employment, food, farm energy, manure, fuel and transport and also a major source of government revenue.
Livestock Farming Definition
Livestock farming or animal husbandry is the rearing of animals for food and for other human uses
Livestock are domesticated animals raised in an agricultural setting to produce labor and commodities such as meat, eggs, milk, fur, leather, and wool.
Read Also: Problems and Prospects of Livestock Industry in Nigeria
Types Of Popular Livestock Farming In Nigeria
There are several types of livestock farming, but these are the popular ones practiced in Nigeria are:
Poultry farming especially chicken, turkey duck, guinea fowl, geese and quails
Fish farming especially catfish
Pig farming
Snail farming
Cattle farming
Goat farming
Rabbit farming
Steps to Start Livestock Farming In Nigeria
So finally if you want to start livestock farming, follow these steps to make the process easy.
1. Decide on the animal to rear
So are you going to rear poultry birds, cow, goats or snails. The first step to start livestock farming is to choose the type of animal to rear.
Before you do that, you have to understand things like their advantages and disadvantages, cost of starting and profitability.
Here's what you should know about each type of the above-mentioned livestock farming:
Poultry farming: Poultry farming is a viable business anytime, any day. … Apart from rearing chicken and turkey though, you may decide to go into egg production (layers breeding), meat production (broilers breeding), chicken breeding (hatchery) or poultry feed production or even poultry equipment manufacturing.
Pig farming: According to Vanguard piggery should be practiced because pigs produce more meat from lower amount of feed of any livestock.
They give birth quite fast, with as many as 24 piglets in a year. They are also very resilient; and have the least mortality rate of any livestock.
It also has a lot of untapped revenue in the form Sausage, ham, bacon etc.
Fish farming: Fish farming is also very viable. If you are just starting out then I'd recommend you start catfish and tilapia because they are suitable to Nigeria's climate, they grow quickly also and has a huge market.
Read Also: 8 Ways to Improve Livestock Farming in Nigeria
You can also rear carp and salmon.
Snail farming: Snail farming in Nigeria is considered to be one of the most lucrative agribusiness you can start with low capital. You can earn from it in a short time. The farming of land snails is called heliciculture.
There are several types of snails but the best to use for a snail farm are the Achatina Achatina and Archachatina Marginata.
Cattle farming: Of all the above mentioned livestock farming, this is the most expensive and also the one that brings in the big bucks as a fully grown market size cattle can be sold for N200,000 and above.
Cattle is reared mostly for its meat. It also produce milk, its blood and bone meal can be used as fertilizers and also feeds for livestock, the faeces (dung) can also be used as manure etc.
The different breeds of cattle in Nigeria are the Borgou, Sokoto, Nigerian Savanna Muturu, Ngaundere, Biu, White Fulani, Yola, Ketuku, Djali , Azaouak, Kuri , Nigerian Forest Muturu, Red Fulani, Shuwa, N,Dama, and Banyo.
Goat farming: Experts estimate that annual goat meat sale is at N20 billion with a possibility of growth if the supply increases.
Although the smell is unpleasant, the demand for goat meat nonetheless hasn't. It's also quite lucrative.
Rabbit Farming: You can rear rabbits not only for meat but also for their fur which is used for clothes manufacturing and the skin which is used for leather production. There's always a market for rabbits.
2. Decide on a scale of production
After deciding on the animal to rear, you should now decide on your scale of production.
Are you going to practice on a small scale or a large scale basis?
Read Also: How to Start Rabbit Farming in Nigeria
3. Put together a business plan
Yes if you are starting a commercial livestock farming then you need to put some thought into the business and take time to outline how your business will operate.
Your business plan should answer questions like:
What type of animal you want to rear as discussed above.
How your business will make money
The things you need to start.
How much you need to run your business say monthly.
Who your customers are
The different ways you would reach your customers.
How you will be unique and appeal to your customers.
What your biggest challenges are and how you intend to go about them.
Most people start businesses without a business plan. It is however very important for success.
4. Put together the necessities
The next thing you need to do is to start putting together all the necessary requirements you need to start.
Irrespective of the type of livestock farm you want to do, you would need the following:
Land/housing: you would need to get a land that would be able to contain the amount of livestock you want to rear.
Maybe a land with lots of grass, or a pen or hen house. It all depends on the type if livestock you want to rear.
Maintenance equipment: Feeders, drinkers, water trough etc. You also need to put together all the other tools you need to run your farm effectively.
The breeds: You need to buy the best breed of livestock to start your farm with.
Feed: Feed is very important for the sustenance of your farm and that also include clean water.
Manpower: You also need to employ the necessary labour to run your farm effectively
Expertise: Depending on your scale of production, you should do well to consult with experts like veterinary doctors etc.
Read Also: 6 Steps To Start Layer Poultry Farming In Nigeria
5. Learn and network
The last but not the least step is to expand your knowledge on your business by attending trainings, taking courses and joining relevant associations that would boost the growth of your business.
Many people usually ignore this step and that may be why they fail.
Information is Power!
Don't miss any valuable information or opportunity that can change your life, business, and family positively and permanently.
👇👇👇👇👇
For Latest updates on News, Jobs & Business Ideas, and Opportunities.
Copyright Warning!
Contents on this website may not be republished, reproduced, or redistributed either in whole or in part without due permission or acknowledgment.
.
Proper acknowledgment includes, but not limited to (a) LINK BACK TO THE ARTICLE in the case of re-publication on online media, (b) Proper referencing in the case of usage in research, magazine, brochure, or academic purposes,.
.
All contents are protected by the Digital Millennium Copyright Act 1996 (DMCA).
.
The images, except where otherwise indicated, are taken directly from the web, if some images were inserted by mistake violating the copyright, please contact the administrator for immediate removal.
.
We publish all content with good intentions. If you own this content & believe your copyright was violated or infringed, please contact us at [infoguidenigeria@gmail.com] for immediate removal.
🤑 Start Making Money from home today!
👉 Get the correct
FREE FOOTBALL PREDICTION
TIPS
and
Guides
today.
Click here
.
👍Advertise your business here!
With over 1M unique users per month across all channels, we have a large audience for you to showcase your products and services. Simply get in touch via 👉 marketing@Infoguidenigeria.com.
🤑 Make Money now!
👉 Make money writing for us. Apply for Freelance writing jobs in Nigeria.
👉 Make Money as InfoGuideNigeria Advertising Agents, read more here
.