Quarry business is a lucrative business, and important sub sector in the Nigerian construction industry. Quarry products are used for building, structures like houses and road construction.
Quarry is one of the solid minerals found in Nigeria, and investing in quarry business can be profitable to anyone, who wishes to start quarry business in Nigeria.
Many people have acknowledged quarry as granite and it is found in some states in Nigeria, for example, if one travel to plateau state, there is quarry there, or you may decide to go to Enugu state, there also, one can find quarry.
Read Also: How to Start a Quarry Business in Nigeria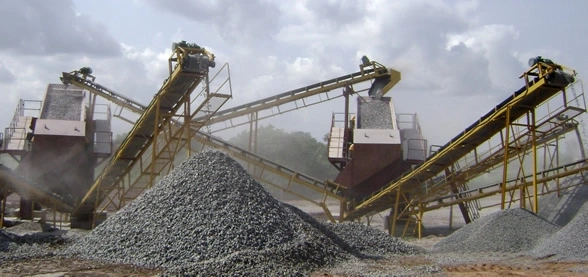 Quarry can be found in a good number of states in Nigeria, even in Ekiti state there is quarry. Any state endowed with this solid minerals stand a better chance of generating enormous revenue from quarry business into the government purse, because quarry in these states are in large quantity, I mean in large and commercial quantity.
Hence, in view of the viability and lucrativeness of quarry business, some Nigerian have indicated interest, and have seen the need to start and run quarry business.
However, to start quarry business in Nigeria would mean that you have enough funds to invest in the business, for example, some millions of Naira are worth the setting up of quarry business in Nigeria.
Read Also: 25 Popular Mining Companies in Nigeria
However, the amount of money require to start quarry business depends on the scale you hope to operate, whether you want a large scale or small scale investment. Whichever way, before you start quarry business, there are certain things you should put in place or take into consideration, and before we discuss these things, let us know what quarry is:
What is quarry?
Quarry is a land mass from which rock and stone and other materials that can be used for building or construction purposes are found. It is a part of the land endowed with stone and rock.
Meaning of Quarry Business
Quarry business is a type of business whereby, large rocks is crushed and broken in order to produce sand, gravel that are used for building and construction purposes.
Quarry business owners explore the quarry with a view to crush it, produce sand and gravel in order to sell them to the end users like construction firms.
Things to Consider Before Starting Quarry Business in Nigeria:
 1. You need quarry machines
You should remember that quarry is simply a particular land mass, made up of rock, this rock would have to be crushed or broken into pieces of granite before selling them out to your customers, who are into construction work or building of any kind.
Therefore, in view of this fact what you will need will be quarry machines that will help in breaking or crushing the quarry into sand and granite, the machines should include; excavation, carriage trucks par loader, crusher, etc.
Read Also: Top 20 List Of Mining Companies in Nigeria and their Websites, Phone Numbers and Address
2. You need to purchase or lease rocky land
Like I said earlier, quarry is found in some states of the federation, so you can go to one of these states endowed with quarry, for example in Ekiti state, you can buy the quarry for the period of time you want to do the quarry business. It could be one year or two years, or three years, up to five years or ten years.
It will be up to you to decide on how many years you want to produced granite and sell as raw materials for construction workers.
3. You need technical knowledge
Technical knowledge is the next requirement in starting quarry business. This is very crucial in running quarry business, and will ensure success and productivity.
This means that you have to employ the services of technical expertise to assist in the production of granite for construction and building purposes. For example, this technical expertise could be found in china.
Read More: How to Start Cement Business in Nigeria
4. You need effective leadership and management
Business cannot thrive without effective and efficient management of resources, and this statement must be understood by anybody who needs to start quarry business in Nigeria.
Once logistic to start quarry business have been put in place, it is expected that these resources be effectively managed in order to achieve the goal of setting up quarry business.
In other words, human resources, machines and other material resources need to be efficiently managed. This also means that, you will employ staff who are knowledgeable and skillful in those areas of concern, and those areas you want them to serve.
5. You need effective marketing structure and strategies
These aspects of effective marketing structure, as well as efficient strategies are very essential in doing quarry business successfully. This will determine the level at which you will succeed or fail in quarry business.
You may have the most experience staffers, your assets or your machines may be of high quality, and you might have produced the best quality of granite, but if you do not put in place a good and effective marketing strategies and structure, you may likely not succeed in quarry business in Nigeria.
Other thing to take into consideration before starting quarry business:
There are some essential things that you should consider before starting quarry business in Nigeria. These include the following; your company should be a registered company.
There should be exploration information about everything from geo surveying to those important findings. Your lawyer should sign a form called 'attestation form, which is also an application form.
Read More: 10 Ways to Promote Your Business in Nigeria
This form should be filled by your layer and not you. Your statement of account may be required but one important document you should not forget is that there will be need for you to provide bank reference, capability finance, and this should come in a different format that does not resemble your statement of account.
Another document will be perimeter survey of the quarry and coastal survey. And before you venture into quarry business formally, these documents must be submitted to the Ministry of solid minerals, but this will be done by your lawyer, who is vested with the knowledge of the business before approval is made for exploration.
More so, individual can lease a land that is endowed with quarry for a particular number of years, sometimes, the minimum of ten years is allowed.
🤑 Start making money from home today!
👉 Get correct FREE TIPS and Guides on how to make money from home today. Click here to start
.
👍Showcase your business here!
With over 1M unique users per month across all channels, we have a large audience for you to showcase your products and services. Simply get in touch via 👉 marketing@Infoguidenigeria.com.
🤑 Make Money now!
👉 Make money writing for us. Apply for Freelance writing jobs in Nigeria.
👉 Make Money as InfoGuideNigeria Advertising Agents, read more here
✍️ Be Our Guest Publisher!
Do you have a press release, breaking news,  or any other helpful information to share with our growing readers? If yes, send your article to 👉 infoguidepr@gmail.com.
We will be glad to publish it if the information is useful to our audience.
.
This post can be helpful to somebody else, please share it on Facebook, Whatsapp, Telegram and Twitter. There are buttons below for this (easy to use too)!
Copyright Warning!
Contents on this website may not be republished, reproduced, redistributed either in whole or in part without due permission or acknowledgment.
.
Proper acknowledgment includes, but not limited to (a) LINK BACK TO THE ARTICLE in the case of re-publication on online media, (b) Proper referencing in the case of usage in research, magazine, brochure, or academic purposes,.
.
All contents are protected by the Digital Millennium Copyright Act 1996 (DMCA).
.
We publish all contents with good intentions. If you own this content & believe your copyright was violated or infringed, please contact us at [infoguidenigeria@gmail.com] to file a complaint and we will take necessary actions immediately.