It is important to have a good place to work. An Office is a place where Clients and Business Owners can organize Agreements that would lead to an effective and conducive work.
When one has a Business, there is need to have an Office for convenience, confidential and professional reasons. An Office must be well furnished to boost the confidence and comfort of Clients. There are things required in an Office, which are of the following:
1. Office Furniture
In an Office, there is need for desks and chairs for clients, for comfort and use. Desks can be used to place documents and any form of paper work used for work.
Read Also: Top 20 equipment you need in an office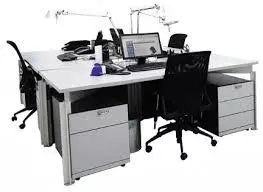 Other Office Furniture needed in the Office are File Cabinet, Overhead and Work Lighting, Bookcases, Conference table used to discuss during staff meetings, and also Office Decorations, to beautify the workplace to make it attractive and comfortable for Clients.
2. Office Equipment
Office Equipment include Fire Proof safe which should be used to keep valuable items to be protected against fire, theft or any form of loss.
Others are Pocket Calculators, Desktops, Work table, and Wall White Board and Markers which is used to give presentations, seminars or portfolio assessment of performance at work.
There should also be Paper shredder, Wastebasket, recycle Bin, which are used to discharge sensitive documents. Photocopier which is used to duplicate documents.
There is need also as part of Office equipment to have an alarm system, to detect smoke, theft or fire. There should be a Fire extinguisher used to stop sudden fire while a first aid kit used to help to provide aid services to injured staff at the office.
3. Adequate Power Supply
There is need for an Office to be able to provide uninterrupted power supply. This is to provide adequate lightning to provide convenience and comfort to Clients, when at the work place.
When there is power supply, an Office can function properly and any form of work can be conducted smoothly without any hitch. In Nigeria, where light is not always constant, there is need for alternative like the use of generators, to generate power.
Read Also: Cost of Starting a Welding Business in Nigeria and Equipment
4. Computer Soft Ware
This include Word Processing software, virus protection software, accounting software, Desktop Publishing, Contact Management software, Website building and Maintenance software, Payment Processing software, E-commerce software, and Inventory Management Software.
These are available in the computer for its functionality. The Computer Software ensures effective work management, in an Office.
5. Computer Hardware and Accessories
This is what is seen as part of external parts of a Computer. This includes a Desktop and Monitor, Keyboard and Mouse, Printer.
Also to add is a Modern which is used as a connectivity tool for Internet services, to the Computer, CD writer, Power Point Projector, Digital  Camera which can be found attached inbuilt, in front of a Computer.
Accessories complimenting Computer Hardware include Surge Protector, which is used to protect Computer devices from Electrical Power Surge or being over heated, and Scanner used to duplicate Original documents.
Read Also: Problems and Prospects of Public Administration in Nigeria
6. A Kitchen Cabinet
This is very necessary for both small and big offices. The kitchen Cabinet should be located in the office but away from the working desks and waiting area for Clients.
If preferred, a separate corner where staff can take a break to make Coffee, Tea or Snack during a lunch break is advisable.
A Kitchen Cabinet should include Tea cups, Mugs, Tea bags, Beverages, Cutlery, Snacks, Plates, Soap and a Washing sink for cleaning up.
7. Communication
This includes having Telephone lines. This could be in form of a desk telephone or a mobile line instead. There should be internet services to allow the office to have access to research Information for work, sent Documents or mails through email.
Information or documents can be sent through fax machine or by mail post depending on the preference. There should be an answering machine, or a tape recorder used to keep messages missed or not attended soonest.
Having Cellular Phones with internet features allows for Video Conferencing to talk to Clients anywhere in the World, easier and faster.
A Pager can be used to call staff on an errand to allow for Sanity in an Office.  There should be a network router in form of a wireless network which could provide internet services to Computers in the work place.
Read Also: Price of Projectors in Nigeria
8. General Office Supplies
This include Business cards used as means of advertisements to give clients for work, Envelopes, used to send letters by posts outside the office, stationery like Pencil, Pens, Eraser, and Paper.
Other include Imprinted advertising specialties, Postage stamps, used for sending letters, Printing cartridges used  to add colour to produce document, CD and Floppy disks, cleaning supplies used for washing floors, windows and all parts of the Office, Printing Paper, Fax Paper, and Note Pads. Other include File folders, Staplers, and Scissors, used for paper work in the Office.
9. Storage
This is to allow data to be saved on the Computer, when there is a power outage or shutdown. It allows the office time to off Computer down properly so as there is no loss or damage of document, saved on the Computer. Storage equipment used is Backup drive or Personal Server.
This is particularly used to backup and helps to protect data. This drive uses cloud-based services which helps to serve documents or pictures, even if there are deleted permanently from the Computer.
The Drive copies files automatically, having an in-house backup in place. External and Personal Drive can also be used as storage, in the Office and are relatively affordable.
This Storage equipment is used also to serve Business information, in case of Computer failure.  Another is the Uninterrupted Power supply device known as the UPS.
This device keeps the device on when there is Computer shutdown or Power cut. It enables for data to be safely saved, and switched off properly.
10. Fire Safety and Security Alarm System
Fire Safety Alarm System is an installed device built into the office to detect fire that occurs. The Alarm goes off, when there is threat of smoke, and electrical surge that might cause great disaster to the Office Building.
There is need for Persons of the Office to be properly trained on how to respond to Fire Drills, when it occurs. This is to avoid unfortunate accidents.
This is also common as well for Security Alarms Systems, used to alert the Security firm, contracted to ensure safety or the Police of an Office invasion to crimes like Theft or Arson etc.
Read Also: LG air conditioner price list in Nigeria
Conclusion
A well-furnished Office brings about a conducive environment for work. It will boost the Brand image in question, where Clients will love to come visit, enable convenience and comfort, suitable for a workplace.
Key Notes: Fire, Safety, Office, Computer, Storage, Business, Security, Alarm, Information, Equipment, Communications, Hardware, Software, Work
References
The Entrepreneur, Office Essential Checklist >www.Enterpreneur.com> Accessed On 22nd May, 2018.
The Balancesmb, 17 Items You Need to Set Up An Efficent Home Office, A Checklist For Setting Up Your Home Office>Thebalancesmb.Com> Accessed On 22nd May, 2018.
.
👍Showcase your business here!
With over 1M unique users per month across all channels, we have a large audience for you to showcase your products and services. Simply get in touch via 👉 marketing@Infoguidenigeria.com.
🤑 Make Money now!
👉 Make money writing for us. Apply for Freelance writing jobs in Nigeria.
👉 Make Money as InfoGuideNigeria Advertising Agents, read more here
✍️ Be Our Guest Publisher!
Do you have a press release, breaking news,  or any other helpful information to share with our growing readers? If yes, send your article to 👉 infoguidepr@gmail.com.
We will be glad to publish it if the information is useful to our audience.
.
This post can be helpful to somebody else, please share it on Facebook, Whatsapp, Telegram and Twitter. There are buttons below for this (easy to use too)!
Copyright Warning!
Contents on this website may not be republished, reproduced, redistributed either in whole or in part without due permission or acknowledgment.
.
Proper acknowledgment includes, but not limited to (a) LINK BACK TO THE ARTICLE in the case of re-publication on online media, (b) Proper referencing in the case of usage in research, magazine, brochure, or academic purposes,.
.
All contents are protected by the Digital Millennium Copyright Act 1996 (DMCA).
.
We publish all contents with good intentions. If you own this content & believe your copyright was violated or infringed, please contact us at [infoguidenigeria@gmail.com] to file a complaint and we will take necessary actions immediately.