Shopping
Top 20 equipment you need in an office
When you want to set up an office, it is best to ensure you have all the necessary equipment to make your day-to-day activities to be easy. To some people, setting up an office is like a fairy tale, probably because of their ignorance about which office equipment and technology to use.
Having complete office equipment will help you work effectively and productively. But you need to know what is what and which is which when you want to furnish your office.
👉 Relocate to Canada Today!
Live, Study and Work in Canada.
No Payment is Required! Hurry Now click here to Apply >>
Immigrate to Canada
You need to prioritize your checklist so that the most vital essentials that comprise your business requirements are first taken care of.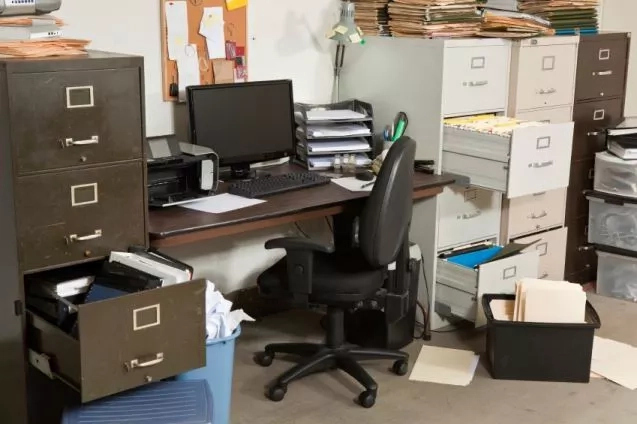 The reason you should equip your office according to the type of business you are doing is because what is important to one business will not be as essential to another.
But your priorities should be based on computer network and telephone system regarding the fact that communication is the key to a lot of businesses' ability to make more sales.
See Also: 30 Essential Kitchen Items List for New Home
List of items that need to be prioritized when you want to set up an office includes:
A Computer: A computer is usually the most essential tool you need in your office for typing important information. If you use a desktop you need a monitor to view all of your information, but if it is a laptop you use in your office, it is portable enough that you can easily move it about. The new technology allows easy connection of WIFI to the internet without cords.
High Speed Internet Access: Days are gone when a dial-up connection is being used in the office; now the situation has changed to a broadband connection to enable you work effectively.
👉 Relocate to Canada Today!
Live, Study and Work in Canada.
No Payment is Required! Hurry Now click here to Apply >>
Immigrate to Canada
A Paper Clip: A paper clip is a tiny piece of wire that holds pieces of paper together. If you have to keep large amounts of paper together, you need a bulldog clip that is much bigger and works better. A paper clip temporarily keeps papers together, but a stapler does it permanently. However, one thing with stapler is that when you want to disconnect the papers you need to look for a stapler remover. Paper clip holders make it easy for you to pick all the paperclips with a magnet when you drop all of them.
A Pair of Scissors: You need scissors in the office to cut paper or other objects and to open packages. Buy a pair of scissors that is of best quality and keep on your office desk. You can then use it to safely and easily cut paper or any other soft material.
Business Cards: You need business cards that bear your name and contact information on them to give to people. You can even share them at meetings or any other gathering.
Framed Photos: If you have photos of loved ones in the office, you can easily gaze on them when you feel lonely. They remind you of wonderful moments you shared with them, and that makes your work days more bearable.
A Fax Machine: The function of a fax machine is to take a piece of paper, copy it and send the image over a phone line to another fax machine in a different office. The image is then received and copied onto another piece of paper to be read at the other end.
A Printer: A printer is used in the office for information from the computer to be printed onto a piece of paper.
A Photocopier: A photocopier is a machine that copies a piece of information from a paper whether text or image. A photocopier is used to make many copies of the same paper.
A Calculator: A calculator is a tiny piece of electronic device you can use in the office to solve mathematical problems.
A Desk Lamp: This is a special lamp that stays on top of a desk and directs the light downward onto what you are doing.
A Calendar: The calendar is used in the office to know the date and the day it is today. The desk calendar is used by many to see their schedule in order not to forget meetings and events they have to attend.
A Clip Board: A clip board is a tiny piece of wood or plastic with a clip at the top so that you can attach the paper to it and write while standing.
An Appointment Book: An appointment book is a small book that enables you to keep task of everything. Inside the appointment book is usually a calendar filled with your schedule and other important information that you need such as phone numbers of other people.
A Chair: You need a comfortable chair in your office. You can sit on the chair before buying so that you can make a better choice.
Uninterruptible Power Supply (UPS): The UPS is used to back up your desktop computer whenever the electricity goes out, and provides you with useful time to save your work and safely shut down your equipment.
Software: Word processing, spreadsheet and email management, are some of the software applications you need in your office. You need to create a list of the software you will need in your office so that you don't also pile up irrelevant ones on your desk.
Carbon Paper: Carbon paper is a bluish paper that is used to make a copy of what you write. You will put it between two pieces of normal paper, and as you write on the top sheet of paper a copy of what you write will be made on the bottom sheet of paper.
A Hole Bunch: If you need to create holes on the left side of a paper so that the papers can be organized inside of a binder, you need a hole punch to be able to do that.
Cable TV: If you want to remain uptodate on new and event around your locality, you definitely need a cable tv. Apart from of getting news from cable tv, you also need some forms of entertainment while work is going on in your office.
Conclusion
The above list can help you set up a nice-looking and well-equipped office any time possible. Furnishing your office depends on what you need according to the type of job you do.
You can tell us what you know about furnishing an office and how the above article has helped you gain the knowledge of things you may need when you want to equip your office. You can use the box below for sharing your comment.
📢

We are hiring writers!
Article Writing Jobs
- We are hiring good freelance writers -
Click here to apply