This is a detailed post on fire safety. That is, causes of fire outbreak, prevention as well as tips on the effective use of fire extinguishers.
Mind you, the knowledge of fire safety is not only necessary for the prevention of fire outbreak in our homes. And offices. It is now becoming a necessary requirement for employment in most companies.
Follow me as I reveal some important fire safety tips:
What is Fire Safety
The term "safety" means freedom from injury, danger or loss. So, fire safety involves the various steps, techniques, measures, or methods to be taken to prevent fire from causing damage to our lives, environment and/or property.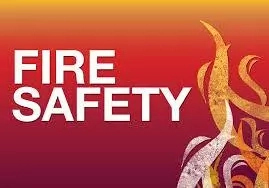 Causes of Fire Outbreak
The first tip on fire safety is to know the causes of fire outbreak. And so be able to prevent its occurrence.
Natural Causes: These are natural phenomena that brings about fire outbreak. For instance, thunder and lightening, earthquake, volcanic eruption, hurricane and so on.
Industrial Causes: oftentimes, fire disasters emanate from careless handling of machineries. Electric equipments, and careless attitudes of some employees. These includes but not limited to the following:
i. Neglect of defective electrical appliances and machineries.
ii.Careless discarding of cigarette stub.
iii. Leaking fuel hoses and gas valves.
iv. Accumulation of refuse in work areas.
v. inadequately ventilated work areas.
Domestic Causes
Carelessness at home also leads to a lot of preventable fire hazards. And these occur because some parents are too busy and do not devote time to teaching their wards simple safety rules. While some adults are just careless themselves(some parents inclusive).
Some of the causes of fire outbreak in homes includes:
Unsafe use of candles.
i. Careless discarding of cigarette stub/smoking on bed.
ii. Careless cooking habits like overheating of oil/fat, burning of food and so on.
iii. Leaking gas cylinder.
iv. Dual usage of one container for fuel and kerosene.
v. Refueling of generator set whilst running.
vi. power surge/fluctuations/short circuits.
vii. Hoarding of fuel at home.
viii. poor house keeping.
ix. placing halogen light near combustible materials.
Reason for Fire Spread
Oftentimes, fire disasters are caused by our carelessness. But, the rate at which it spreads is mostly dependent on the materials around. Lack of fire fighting structures, and responsiveness of the people around.
Now, let's look at some of the factors that quicken the spread of fire when there is fire outbreak.
i. Large inventory of combustibles.
ii. Combustible furniture and fabrics.
iii. Delayed discovery.
iv. Lack of fire fighting structure.
v. Flowing oils, fats and hydrocarbons.
vi. Raid burning of dust deposits.
vii. Opening in the floors and walls.
Fire Prevention
Like I said earlier, most of the fire incidents that occur in homes and workplaces are often preventable. But occur because of carelessness.
Here are some fire safety tips to help you prevent fire outbreak in your homes and offices:
i. General tidiness, proper waste disposal and proper keeping of combustible material. These are the first measures to preventing fire disaster in our homes and offices.
ii. proper discarding of cigarette stubs, not smoking in bed and obeying "No Smoking" signs.
iii. Gas delivery pipes, and cylinders must be checked regularly to avoid spills.
iv. Flammable liquids should be properly stored.
v. Machineries and electrical equipments should be kept in the best conditions to avoid sparks.
vi. Spark arrestors should be installed in vehicle entering areas with highly flammable materials.
vii. Fire extinguishers should be installed in fire hazard areas in homes and offices.
viii. A firm should endeavor to train all its staff on simple fire safety tips and the use of fire extinguisher.
ix. Parents should also train their wards on simple fire safety tips and the use of fire extinguisher.
Tips On How To Use A Fire Extinguisher
Fire disaster is better prevented than fought. However, in the case of fire outbreak, the most reliable equipment to curb the menace remains the "fire extinguisher"
But, to be able to use this equipment effectively. You must adhere to certain rules. Below are some important tips on the effective use of the fire extinguisher:
Colour Coding
For easy identification, colours have been allocated for all portable fire extinguishers. See the coding below;
a. Carbon-dioxide (CO2): Black.
b. Dry Chemical Powder (DCP): Blue/Red.
c. Foam extinguisher: Cream white.
d. Water/Gas: Red.
Applications Of The Fire Extinguishers
a. Carbon-dioxide (CO2): usually comes in a black portable container of 5kg and 10kg. While the 15-30kg are usually on wheel trolley.
It acts as a flame inhibitor for type B fire (flammable liquids such as oil, gasoline, kerosene etc). And type C fire (electrical equipments such as wiring and motors).
For electrical fire, it is advisable to cut off the supply first. Then use CO2 extinguisher to quench the fire.
b. Dry Chemical Powder(DCP): usually comes in blue or red portable container of 1kg, 2kg, and 9kg. While the 75kg comes on wheel trolley. It acts as a smothering agent for all fire types except gas fire having explosive risk.
c. Foam Extinguisher: Usually comes in cream White portable container of 9litres, 50litres, and 75litres. It acts as a smothering agent but also has a cooling effect.
And it is usualy directed on top of burning substance. Unlike other types of fire extinguishers that are directed at the base of the fire.
d. Water: usually comes in red portable container of 9litres. It acts as a cooling agent that absorbs heat from fire. However, it is not to be used on electrical equipments.
Advantages Of Portable Fire Extinguisher
i. They are light in weight.
ii. Can easily be operated by one person.
iii. They are reliable if well maintained.
Hope You Found These Tips On Fire Safety Helpful.
Encourage Us By Leaving Insightful Comments.
And If You Have Another Tip To Add To These Ones, Kindly Drop It In The Comment Section.
Thanks.
Click here to see the latest
Study Abroad Scholarships and Guides
Click here to see the latest
Jobs opportunities in Nigeria
.
Click here to Join
Recharge and Get Paid
Click here to Read Latest School News in Nigeria
Copyright Warning!
We work really hard and put a lot of effort and resources into our content, providing our readers with plagiarism-free articles, original and high-quality texts. Contents on this website may not be copied, republished, reproduced, redistributed either in whole or in part without due permission or acknowledgement.
Proper acknowledgement include, but not limited to (a) Proper referencing in the case of usage in research, magazine, brochure, or academic purposes, (b)"FAIR USE" in the case of re-publication on online media. About possible consequences you can read here: What are the consequences of copyright infringement? In an effort to protect our intellectual properties, we may report your website to Google without prior notice and your website be removed from search engines and you may receive a strike. All contents are protected by the Digital Millennium Copyright Act 1996 (DMCA).