Agriculture
Agricultural Practice In Tanke, Ilorin Kwara State And How To Improve It
Since time immemorial, we have always been hearing the chants of "go back to agriculture " from both the government and all other people who claim to have the interest of the country at heart.
What is most disturbing now is that we as a whole have not heeded these chants. Instead, we have chosen to remain as stubborn as we have always been, focusing all our manpower and attention on oil. This, I must confess is disheartening.
Some weeks back, I was en route the city of Jos from Ilorin (where I currently reside), where I passed through jebba, Mokwa, Minna, Kaduna before reaching my destination. And I must say that I noticed a large amount of variations between all these cities.
Read Also: 10 Best Business Opportunities In The Agricultural Sector In Nigeria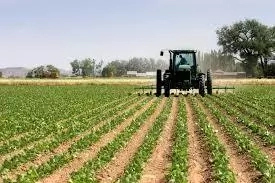 As we passed through, a variation in the utilization of land in the respective cities was observed. While lands laid fallow in Ilorin and Jebba, they were used for agricultural purposes in Mokwa, Minna and Kaduna.
This was as we encountered numerous farmlands on which different crops – both food and cash – were cultivated. On a side note, I would say that this has added a whole lot of advantages to the north.
Even if all the above mentioned cities are situated in the north central zone of the country, some are still located closer to the north than others. So what exactly does this prove?
If I were to be the judge in this case, I'd say that the agricultural practice in the tanke community of Ilorin, Kwara state is in an extremely poor state.
Especially when this is compared to the inhabitants of the northern part of the country. I do not understand why Kwara state can only boast of Shonga farms and a few others as their biggest. Well, could it be as a result of some of these reasons?
Read Also: How To Export Agricultural Produce In Nigeria
Lack of mechanized equipment
In our present day Nigeria, farmers are only limited or viewed as the old man or woman that takes their hoes and cutlasses to till the ground.
But then, it is more than that. In advanced nations, agriculture is practiced with the use of machines – tractors, planters, harvesters and so on. But no, Nigeria and by extension, Kwara is not advanced.
No startup capital
The thing is, no matter the kind of business you want to practice, there is always the need to have a startup capital, including agriculture.
But given the clime we find ourselves in, it is very hard to find startup capital and it serves as a limiting factor to most people in Kwara state.
The fact that most commercial and microfinance banks have a not too favorable loan structure is not helping matters at all.
Are Kwarans selective?
When you tell an average Nigerian child that he/she would become a farmer upon growing up, you're likely to hear a rejection.
While this is common mostly amongst children, don't you think it could have been a part and parcel of them till they grow of workable age.
This could be why most of them prefer to be mechanics, electricians, carpenters, vulcanizers, roadside vendors than be farmers.
Read Also: How To Start An Agricultural Training Workshop In Nigeria
The stigma that comes with agriculture
It is a wrong general belief that if you do not have a "white collar job", you are not relevant. Even if I stand against the totality of that belief, it is unfortunate that a whole lot of people have taken it to heart.
And more disheartening is the fact that many people have failed to ventured into agriculture because of the stigma that comes with not having a white collar job.
There would be no point stating out what exactly limits agriculture in these areas if we won't be recommending ways and strategies on how to improve it.
The truth is no one person can improve the practice of agriculture in Kwara state. Everybody has to get involved in the act and offer their own quota before any of such improvement would take effect.
First on the part of the government:
Provision of loans and grants for intended farmers
As we earlier mentioned lack of capital as a limiting factor, the provision of loans and grants by the governments would definitely go a long way to improve this practice in this area.
If loans are provided to the intended farmers, it would enable them start up something in that line, rather than just sit at home wishing they had more money.
The loan should have a very flexible structure, or should be a grant, else it won't be different from the very  rigid bank loans.
Holding agricultural conferences
The government could take it upon themselves to hold agricultural conferences. This would be targeted at sensitizing people about agriculture and showing them how to begin if they are interested. If this is done regularly – maybe quarterly -, it could go a long way to ignite people's interest in the practice.
Provision of arable land to intended farmers
One other thing the government could do is provide lands for people who have interest in farming. This would be so they don't have to go through the stress of searching for and acquiring land for farming, as they could be eventually frustrated out of the process. So if the government readily provides land, the agricultural practice would be improved.
Read Also: How To Start Agricultural Machinery Business in Nigeria
On the part of citizens:
Have a change of mentality
If you ask me, I think all the citizens have to do in this case is to change the totality of the way they see agriculture. Trust me when I say that agriculture is not a dirty job.
Agriculture is a sure source of income as virtually 99.9% of everybody needs food. Hence, you don't have to worry about your targeted market.
If citizens could just change their view about farming (including livestock farming), the agricultural practice would sure take an upward spiral.
To Investors:
Invest in Agriculture, It pays
I want to sound this to all investors that agricultural investments pay as much as every other sector. All one needs to do is just find the right person and crop of farm idea to invest in, and BOOM. This would give intended farmers to launch and improve the practice too.
Click here to see the latest
work from home jobs
Click here to see the latest
Jobs opportunities in Nigeria
.
Click here to Join
Recharge and Get Paid
Click here to Read Latest School News in Nigeria
Copyright Warning!
We work really hard and put a lot of effort and resources into our content, providing our readers with plagiarism-free articles, original and high-quality texts. Contents on this website may not be copied, republished, reproduced, redistributed either in whole or in part without due permission or acknowledgement.
Proper acknowledgement include, but not limited to (a) Proper referencing in the case of usage in research, magazine, brochure, or academic purposes, (b)"FAIR USE" in the case of re-publication on online media. About possible consequences you can read here: What are the consequences of copyright infringement? In an effort to protect our intellectual properties, we may report your website to Google without prior notice and your website be removed from search engines and you may receive a strike. All contents are protected by the Digital Millennium Copyright Act 1996 (DMCA).