The Business Overview
When it comes to aircraft charter business in Nigeria, we are looking at a capital intensive but highly lucrative business. this business targets the high-class in the society. People who like privacy, comfort, and luxury.
Aircraft charter business is all commercial aircraft business meant to provide privacy and comfort during air travels. It reduces the disappointments of flight cancellation and the inconvenience of flight delays. People who opt for this service also have the luxury of space and avoid that stress of public air travels.
👉 Relocate to Canada Today!
Live, Study and Work in Canada.
No Payment is Required! Hurry Now click here to Apply >>
Immigrate to Canada
Read Also: Nigerian Air Force Ranks And Their Symbols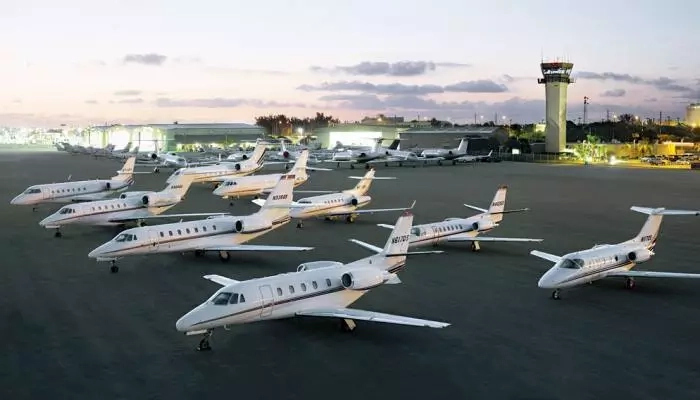 Profitability of Aircraft Charter Business In Nigeria
People and organizations who patronize the Aircraft charter business in Nigeria belong to the apex of the society. What that means is that you will be dealing with the high-class who have a taste for luxury and are ever-ready to spend to get it. So, being profitable in this business is not an issue.
It is very costly to charter an aircraft in Nigeria and once a client subscribes to your service, you are sure going to make huge profits. Even if you charter your aircraft once in a month, money fetched from such an endeavor can go a long way in transforming your financial life positively.
Read Also: 20 List of Airlines in Nigeria and Their Websites [DOMESTIC & INTERNATIONAL]
Your Target Market
Aircraft Charter Business is targeted at the following segment of the society:
1. Celebrities
2. Companies who wish to convey a large proportion of their staff.
3. Event management companies, especially while organizing A-list events, weddings, etc.
👉 Relocate to Canada Today!
Live, Study and Work in Canada.
No Payment is Required! Hurry Now click here to Apply >>
Immigrate to Canada
4. Football clubs, especially to transport their players and supporters
5. Logistics and management companies.
6. Rich and wealthy Businessmen and women who would rather fly private to catch up with business meetings on time and hold business meetings on board. With aircraft charter service, they can easily move across states and countries without much stress.
7. Tourism planning companies
8. Etc.
Because of the technicality of this business, it is required that you do a deep research on it and gain substantive knowledge on how it operates.
Several laws and bye-laws, rules and regulations exist in the aircraft charter industry. You need to be acquainted with these, to avoid failure.
Industry experts suggest that at least 3 months is required to have a good worldview of this business before you venture into it.
Since it is a highly capital-intensive business, you need to take your time and learn the ropes carefully to avoid any impending failure.
Read Also: 13 Steps to Book Arik Air Online in Nigeria
Choosing A Niche
There are several niches in aircraft charter business. some of them include aircraft rental for charter. Alternatively, you can lease out aircraft to be used for a longer period.
The number of fleets of aircraft you will purchase will depend on your financial power. Of course, you can always begin with one aircraft, and scale up with time.
Business Registration, Certification & Licensing
To run this business successfully, you may need to get a business permit registration and license from the Corporate Affairs Commission of Nigeria (CAC).
This will give your business a professional outlook and help you gain the trust of present and prospective clients/customers.
Getting A Functional Business Plan
It is your business plan that will give you an idea or a roadmap on how to go about this business. based on your feasibility study or studies and research, you will be able to compose a good business plan which shows the demand analysis of this business.
It will also give you a clue as to strategies to get faster returns on your investments as well as equipment and tools needed. There, you will also discover the taxes, levies, challenges and possible way-outs.
Read Also: 9 Functions of Nigerian Airspace Management Agency (Nama)
Conducting A Competitors (SWOT) Analysis
Every business is competitive and aircraft charter business is not left out. Before you venture into this business, take time to research on your competitors. From your research, based on SWOT (Strength, Weakness, Opportunities, and Threat) analysis, you will be able to evaluate how much they make, what challenges they face, how they advertise etc.
Get The Aircraft:
There are numerous aircraft manufacturers and dealers out there. See the several means of getting an aircraft in Nigeria below:
1. Fractional Aircraft Ownership Method
Also known as "aircraft sharing" or "aircraft partnership", it is a technique of buying an aircraft, not in full, but just a portion of it.
This implies collective ownership of an aircraft. based on a specific agreement reached by all members, the aircraft will be released for use by members in a rotation. This method of buying aircraft by fractional ownership helps to cut costs.
However, this method comes with own challenges. Most time, the aircraft may not be available for you to use when you have clients.
2. Lease Financing Option
Another way to own an aircraft is by lease financing options. With this method, you will be able to distribute the aircraft costs over a longer timeframe.
3. Bank Financing Method
You can also partner with your bank or get a loan from there to buy your aircraft.
Financial Implications Of The Business
Some of the costs you may have to incur in this business include the following:
The Cost Of The Aircraft: It costs at least $1million to get an aircraft. This, however, depends on the size as well as the features of the aircraft.
Cost of Maintenance: Aircraft is costly to maintain. This includes, but not limited to the costs of regular aircraft maintenance checks to ensure the safety of lives on-board, goods, and services.
Miscellaneous Expenditures: These includes Take-off and landing fees, Taxes as well as Legal fees and duties.
Management and Staffing
To run an aircraft business, you need to hire a good pilot, recruit cabin crew members, and also get other support staff who will help to successfully manage the business for you.
How much you will be paying each of these members of staff will depend on their qualification and experience. You will be able to know this from your feasibility studies and research.
Business Insurance
You need Insurance cover for your aircraft and other aspects of this business against eventualities. If you are sued, for example, you will need to present it. Also, aircraft business insurance will help salvage any liabilities during accidents. This insurance covers your staffs too as well as your passengers onboard.
Read Also: The Obligations of Airlines in Nigeria and Passengers' Rights
Parking Space
Here, I am referring to where you will store, park or keep your aircraft for daily business operations. Since you will not necessarily have to build an airport, the alternative is to rent a hanger in an airport where it will be protected from theft and damage.
Ensuring Profitability & Business Sustainability
Hire A Lawyer
Aircraft business is very risky and due to its complexity, you need to hire a lawyer who will help you with all the necessary paperwork in the Nigerian aviation industry. He or she will also help you to understand the laws, rules, and regulations governing the business in Nigeria.
Hire A Manager
Unless you want to run this business full-time, else, get an aircraft manager. It is either you hire a manager, or you commit the business to an aircraft management firm to help you run it, while you face other issues.
Get more business ideas here
📢

We are hiring writers!
Article Writing Jobs
- We are hiring good freelance writers -
Click here to apply
👇👇👇👇👇
Immigrate to Canada Via Job Offer!
Get latest Jobs in Canada for foreigners with visa sponsorship 2023 and how to apply. Don't miss this opportunity that can help you relocate to Canada with your family.
👇👇👇👇👇