Legal Aids
Armed Robbery Under Nigeria Criminal Law: Definition, Menace, Consequences, Punishment
Wherever persons come to live together   and share the same natural spaces and resources, stealing,    with or without violence, has always come to nestle with them as a rather strange bedfellow.
Nigeria has never been left out. Criminals taking liberty of the porous security situation have often had delicious   days taking on Nigerians for their lives and property, even for their security personnel and apparatus.
In it common to hear that armed robbers struck somewhere in the dead of the night   or even to experience it. In the most daring attacks, these armed robbers even strike during the day time. They leave behind them a trail of tears, trauma, blood and fear.
Read Also: Punishments For Kidnapping Under Nigerian Law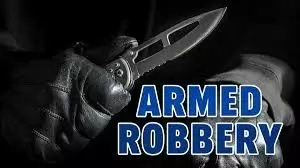 The law was always going to react proactively to quell the nightmarish vortex of crimes that armed robbery is. Thus a litany of legislation punishes armed robbery and all the corollary crimes that it can churn out such as culpable homicide, rape, stealing, assault, kidnapping et  all.
The law defines armed robbery
The 7th Edition of the Oxford Advanced Learner `s Dictionary, International Student`s Edition, at page 1267, defines robbery thus:
"The crime of stealing money or goods from a bank, shop/ store, person, etc., especially  using violence or threats.
The Deluxe Ninth Edition of the Black`s Law Dictionary, at page  1443  defines "robbery" as "the illegal  taking of property  from the person of another ,or in the  person`s presence ,by violence or intimidation; aggravated larceny."
It also defines "armed robbery" as "Robbery committed by a person carrying a dangerous weapon ,regardless of whether the weapon is revealed or used .Most states  punish armed robbery as an aggravated form of robbery  rather than as a separate crime."
Read Also: Punishment For Forgery Under Nigerian Law
 The collinsdictionary.com defines "  armed robbery as a robbery that is carried out by people carrying guns."
Another definition is to be found in duhaime.org>legal dictionary. There, armed robbery is defined as "Robbery committed   while the accused   is armed with a dangerous weapon.
Robbery (sometimes referred to as an aggravated form of theft   or larceny as it implies  the use of force)usually attracts a greater punishment in the criminal codes when it is accompanied by the use or a presence of a dangerous weapon.
One thing is immediately clear: that there is a difference between stealing and robbery and armed robbery. Simply put, stealing is the  unlawful taking of what belongs to another; when the taking is done with violence or threats, robbery is born.
When the robbery is done   with a dangerous weapon, the whole affair congeals into armed robbery. Thus, it is safe to say that in the   solitary crime of armed robbery is found  the constitutive crimes of stealing, robbery and illegal possession of firearms.
Nigeria`s premier criminal legislation the Criminal Code Act recognizes and criminalises  stealing, robbery and armed robbery.
Chapters 34- 36   o f the Criminal Code Act make commodious provisions relating to stealing, robbery and armed robbery.
Section 401 of the Criminal Code Act  defines  robbery thus:
"Any person who steals anything and, at or immediately  after the time of stealing it, uses or threatens to use actual violence to any person  or property in order to obtain or retain the thing  stolen or to prevent or overcome resistance to its being stolen or retained ,is said to be guilty of robbery.
Read Also: Punishments For Cultism In Nigeria Under Nigerian Law
Section 402 provides the punishment for robbery thus:
1. Any person who commits the offence of robbery shall upon conviction   be sentenced to  imprisonment for not less than twenty one years
2. If –
(a) any    offender mentioned in subsection (1) of this section is armed with any firearms or any offensive weapon  or any obnoxious or chemical materials or is in company with any person so armed; or
(b) at   or immediately   after the time of robbery  the said offender wounds any person, the offender  shall upon conviction be sentenced  to death.
Thus, clear as crystal, the law punishes armed robbery with death in Nigeria and no less. Such is the gravitas with which the law looks askance on the grievous crime of armed robbery.
It is no secret that Nigerian criminal law reserves its stiffest sanction for those crimes it considers   most callous. Its   stiffest sanction is the capital punishment. It is the pain of death, the sentence of death – the ultimate sanction. Thus, anyone who kills another under circumstances constitutive of culpable homicide suffers the punishment of death. Same goes for those armed during a  robbery operation.
As if the Criminal Code Act were not   enough, the Robbery and Firearms (Special Provisions)Act  further crystallizes the offence of armed robbery and the grave punishment it incurs.
Read Also: Punishment For Terrorism Under Nigerian Law
Section 1 of the Robbery and Firearms (Special Provisions) Act provides thus:
  Punishment for robbery
(1) Any person who commits the offence of robbery  shall upon trial and conviction under this Act, be sentenced to imprisonment for not less than 21 years.
(2 If:
(a) any  offender mentioned in subsection (1)  of this section is armed with any firearms or any offensive weapon  or is in company  with any person  so armed; or
(b) at or immediately before or immediately after the time  of the robbery  the said offender wounds  or uses any personal violence  to any person ,the offender  shall be liable upon conviction  under this Act to be  sentenced to death
(C) The sentence of death imposed under this section may be executed by hanging  the  offender  by the neck till he be dead or by causing  such offender  to suffer death by firing squad as the Governor  may direct.
Section   11 the   Robbery and Firearms (Special Provisions) Act is critical to the   understand  the  offence of armed robbery . It is the Interpretation section. It defines the following as used under the Act:
"Firearms" includes  any canon, gun, rifle, carbine, machine-gun, cap-gun, flint-lock gun, revolver, pistol, explosive or ammunition or other firearm, whether whole or in detached pieces;
"Offensive weapon" means   any article (apart from a firearm)made or adapted for use for causing  injury  to the person or intended  by the person having it for such use by him and it includes an air gun, air pistol, bow and Aitow, spear, cutlass, marcher, dagger, cudgel, or any piece  of wood, metal, glass or stone capable of being used as an offensive weapon.
Thus, for a robbery to be armed robbery, it must be done with an offensive weapon. This is a critical distinguishing factor between robbery and armed robbery. It is the very thin line between a twenty – one year sentence and a sentence of death.
Joseph Udoh   John  v  The State[2016] All FWLR(PART 840)1295.
In this case, the appellant was alleged to have committed robbery alongside two other accused persons while armed with dangerous weapons. Upon being arrested, they were arraigned in the High Court of Cross River State pursuant to Section 1(2) (a) and (b)  of the Robbery and Firearms (Special) Act,2004.The  trial court  gave its judgment, convicting the accused  person  and sentencing him  accordingly.
The appellant appealed without success. The   Court of Appeal, Calabar judicial division held that to establish the crime of armed robbery, the prosecution must prove the following:
That there was a robbery or series of robberies
That the robbery or each robbery was an armed robbery
That  the accused  was the robber  or was one of those who took part in the robbery.
Read Also: Punishment For Rape In Nigeria
Always Remember:
a. That as a Nigerian citizen under Sections 25,26 or 27 of the 1999 Constitution, your fundamental rights are guaranteed under Sections 33 to 46 of the same Constitution.
b. That the Constitution guarantees you equal rights, obligations, opportunities   and easy accessibility to court under Section 17.
c. That  Infoguidenigeria    works with a team of lawyers to inform you of your rights, obligations and opportunities under the law.
⚽ Start winning football betting today!
👉 Get correct FREE GG and Over 2.5 football prediction tips. Click here to join
.
👍Showcase your business here!
With over 1M unique users per month across all channels, we have a large audience for you to showcase your products and services. Simply get in touch via 👉 marketing@Infoguidenigeria.com.
🤑 Make Money now!
👉 Make money writing for us. Apply for Freelance writing jobs in Nigeria.
👉 Make Money as InfoGuideNigeria Advertising Agents, read more here
✍️ Be Our Guest Publisher!
Do you have a press release, breaking news,  or any other helpful information to share with our growing readers? If yes, send your article to 👉 infoguidepr@gmail.com.
We will be glad to publish it if the information is useful to our audience.
.
This post can be helpful to somebody else, please share it on Facebook, Whatsapp, Telegram and Twitter. There are buttons below for this (easy to use too)!
Copyright Warning!
Contents on this website may not be republished, reproduced, redistributed either in whole or in part without due permission or acknowledgment.
.
Proper acknowledgment includes, but not limited to (a) LINK BACK TO THE ARTICLE in the case of re-publication on online media, (b) Proper referencing in the case of usage in research, magazine, brochure, or academic purposes,.
.
All contents are protected by the Digital Millennium Copyright Act 1996 (DMCA).
.
We publish all contents with good intentions. If you own this content & believe your copyright was violated or infringed, please contact us at [infoguidenigeria@gmail.com] to file a complaint and we will take necessary actions immediately.