Job Description
Bar Manager Job Description, Roles/Responsibilities, Qualifications
Bar manager job description: Bar Managers collaborate with the staff, vendors, and bar owner to ensure that the business runs smoothly and profitably.
Who is a bar manager?
A Bar Manager, also known as a Pub Manager, controls the employees and operations of a bar, ensuring that it is clean, functional, and welcoming for customers to relax in.
👉 Relocate to Canada Today!
Live, Study and Work in Canada.
No Payment is Required! Hurry Now click here to Apply >>
Immigrate to Canada
Their primary responsibilities include scheduling personnel and creating shift calendars for them, handling and addressing customer complaints, and ensuring that the bar's inventory is well-stocked.InformationGuideNigeria
Bar managers keep their establishments operating effectively by handling day-to-day operations, managing resources and workers, and providing a safe, enjoyable atmosphere for employees and clients. These individuals are also known as pub managers.
Bar Managers are directly responsible for hiring, training, and firing employees, ordering and turning inventory, regulating labour, controlling waste, nightly accounting, marketing, visual, and general establishment upkeep.
Read Also: Mail Handler Job Description and Roles/Responsibilities, Qualifications
While a degree in restaurant management is ideal, Bar Managers are generally hired based on their employment history and length of industry experience.
Any candidate's chances of finding a higher-paid job will rise if they have certificates or a degree from a reputable school. Because there are so many moving components to handle, a Bar Manager must have excellent prioritisation, management, and communication skills.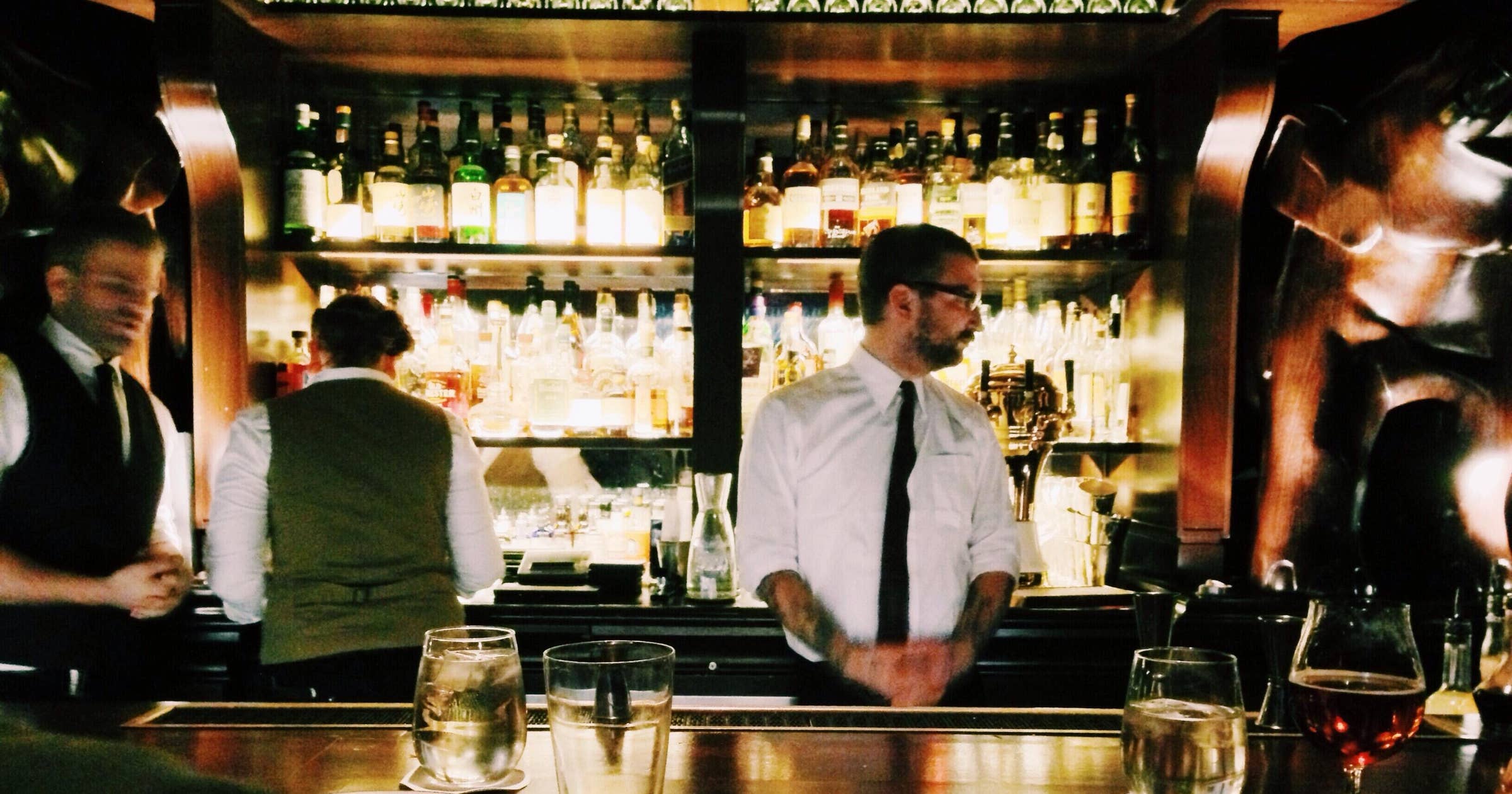 A bar manager is in charge of running a bar. They do a lot, from ordering merchandise to employing personnel, establishing a client base, and dealing with consumer concerns. They also arrange for the liquor licence and ensure that the crew is not breaking any rules.
A great bar manager will maintain a strong relationship with regulars and build a tempting reputation for the establishment as a buzzing hot spot.
👉 Relocate to Canada Today!
Live, Study and Work in Canada.
No Payment is Required! Hurry Now click here to Apply >>
Immigrate to Canada
They will never stop reviewing inventory and changing up available cocktails to maintain a new repertory. Being cautious is also important if you don't want to waste money on spilt booze or free beverages, let alone staff with sticky fingers.
Being a bartender is not a career in which you can simply sit back and watch the money come in. Dealing with drunken or too-talkative clients, duplicate or unfinished orders, and lengthy hours will give you a headache. However, being a bartender is more than simply a job. It is a lifestyle in which you invest your entire personality, as any bartender would attest.
Read Also: Cyber Security Job Description and Roles/Responsibilities, Qualifications
Responsibilities of a Bar manager

Recruit, conduct interviews, recruit and train new bar personnel
Manage consumer grievancesRomantic Love Messages
Promote the bar's daily, weekly, and monthly specials
Ensure personnel adheres to all food safety and control regulations
Create staff schedules based on anticipated consumer volume.
Managing the business side of the bar, including maintaining a valid liquor licence, negotiating with suppliers, taking inventory and reordering goods, managing budgets, and establishing objectives.Bar Manager Job Description
Employing and training personnel to deliver superior service to customers.
Creating efficient timetables and resolving issues swiftly to maintain adequate bar staffing during peak hours.
Implementing and implementing safety and quality measures.
Ensuring that licences are current and compliant with the law.
Working with a variety of staff and client personalities.
Participating in and organising promotional activities.
Defusing stressful situations between patrons or staff members to avert potential safety or legal difficulties, and, if necessary, expelling disruptive individuals.
Maintaining an enjoyable and secure environment for customers.
Maintains stock levels.3 Best Womens White Tank Tops in Nigeria and their Prices
Creates food and beverage menus
Determines employees' schedules.
Ensures that the bar is clean and well-stocked.
Monitors consumer activity and sales.JAMB Portal
Maintains a budget and tracks expenses.
Maintains drink recipe documentation.
Manages the organising of special events.
Effectively assigns duties to personnel.
Selects and acquires alcoholic beverages and other supplies.
Supervises employees, including bartenders, barbacks, and, in some instances, bouncers, wait staff, and/or kitchen personnel.
When required, hires, trains, promotes and punishes or dismisses employees.
Provides advice on décor and marketing, including social media and other types of exposure, in addition to selecting music and booking bands.
Establishes and maintains connections with vendors.
Utilizes point-of-sale tracking technologies and restaurant and bar management platforms.
Participate in regular meetings with bar owners
Recruit and train personnel to meet the bar's requirements.
Effectively schedule personnel to meet client requirements.
Communicate with suppliers to ensure adequate product inventory for the anticipated demand.JAMB Result
Resolve all employee conflicts promptly and effectively.
Ensure that all transactions and banking are executed without deviation.
Work the shifts necessary to suit the bar's demands. This might encompass evenings, weekends, and holidaysMost expensive car in the world 2022: Top 10 luxurious vehicles
Spend hectic evenings assisting diners to offer the greatest dining experience.
Manage the liquor and wine stock and create drink menus with fresh ingredients.
Inventory and order bar supplies, supervise front-of-house workers and assure food quality and timely service.
Manage front-of-house operations for a high-end wine bar and restaurant, including aiding with inventory and financial administration.Good Morning Love Messages
Perform standard bartender tasks, including client service in its entirety.
Direct all aspects of bartending, including ordering and inventory management.
Assist with shift movement according to seniority and by the bartender and culinary CBA.
Organize lounge entertainment, including the hiring of bands, karaoke, DJs, etc.
To guarantee the success of the organisation, both FOH and BOH staff must be educated on service standards and visitor interactions.
Assist with shop cleaning and organising.
Assume total responsibility for office administration, payroll, and employee training.
Maintain the facilities by assuring their safety, scheduling mechanical/electronic repairs, and adhering to stringent cleaning standards.
Develop communication and time management skills via interactions with workers and customers in a fast-paced service setting.
Convert from a handwritten ordering method to an automated restaurant POS system that reduces mistakes and boosts efficiency.
Coordinate seasonal and promotional events, including facility arrangements, decoration, talent booking, and the development and acquisition of POS.
Exhibit great quality assurance talents for a restaurant/bar with a large volume of customers while ensuring strong personnel retention after a management change.
Training all bartenders in the upselling of fresh, custom-made drinks.
Utilize upselling and suggestive selling strategies to enhance sales, income, and the visitor experience.
Participate in daily BEO meetings and collaborate closely with catering sales managers on all banquet-related services.
Develop opening and closing responsibilities for both sections, as well as extensive cleaning responsibilities for servers and dishwashers.
Read Also: Enterprise Architect Job Description, Roles/Responsibilities, Qualifications
Roles of a Bar manager

Bar Managers manage the day-to-day operations of the bar to ensure that it runs properly at all times. It is the job of the Bar Manager to keep the customers safe and entertained. Bar Managers are in charge of maintaining liquor licences and ensuring that personnel adheres to local laws and alcohol distribution legislation.
They are frequently responsible for hiring and training bartenders, as well as creating timetables to guarantee that enough individuals are working at the bar during peak hours.
Read Also: Nurse Job Description and Roles/Responsibilities, Qualifications
Bar manager job qualifications/skills
A high school diploma is required.
Restaurant or managerial experience, as well as a higher level of education, are often preferable.
Solid knowledge of company management and accounting basics.
Outstanding computing, problem-solving, and customer service abilities.
Outstanding communication and interpersonal abilities.NYSC Portal
The ability to de-escalate difficult circumstances and resolve confrontations.
Willingness to work during peak times such as evenings, weekends, and holidays.
Delegate duties effectively to optimise resources.
Decisiveness.
In a fast-paced, demanding setting, the ability to walk, stand, and occasionally handle heavy goods is required.
Read Also: Public Relations Job Description and Roles/Responsibilities, Qualifications
Bar manager Salary structure in USA
In the United States, the average salary for a bar manager is $52,500 per year, or $25.24 per hour. Most experienced professionals earn up to $72,500 per year, while entry-level occupations begin at $42,500 per year.
In conclusion, a bar manager will teach their employees frequently and thoroughly as well as provide an example of appropriate work.
Check JAMB Result
Check and Confirm: How much is Dollar to Naira
👇👇👇👇👇
Canada Immigration!
Relocate to Canada, USA, UK, Europe, Australia, and New Zealand with your family. See the Latest Oversea Jobs with Visa Sponsorship plus our EXPERT guidance and tips. Its FREE!
👇👇👇👇👇
👍Advertise your business on InfoGuideNigeria.com!
From just N9,999 per month, you can advertise your products and services to over 1,500,000 monthly users on our website. Click here to read more.
Copyright Warning!
Contents on this website may not be republished, reproduced, or redistributed either in whole or in part without due permission or acknowledgment.
.
Proper acknowledgment includes, but not limited to (a) LINK BACK TO THE ARTICLE in the case of re-publication on online media, (b) Proper referencing in the case of usage in research, magazine, brochure, or academic purposes,.
.
All contents are protected by the Digital Millennium Copyright Act 1996 (DMCA).
.



The images, except where otherwise indicated, are taken directly from the web, if some images were inserted by mistake violating the copyright, please contact the administrator for immediate removal.
.
We publish all content with good intentions. If you own this content & believe your copyright was violated or infringed, please contact us  for immediate removal.
🤑 Start Making Money from home today!
👉 Get the correct
FREE FOOTBALL PREDICTION
TIPS
and
Guides
today.
Click here