Education
A Survey Of Relevance Of Business Education Programme to Economic Development Of Nigeria
We will analyse a survey of relevance of business education programme to economic development of Nigeria. We hope you find this educating.
In this article, my work is to simply carry out a survey of relevance of business education programme, especially to the economic development of Nigeria.
Therefore, let's start by saying that, education as we all know, is undoubtedly the basic tool of economic growth, national development and technological advancement of every society.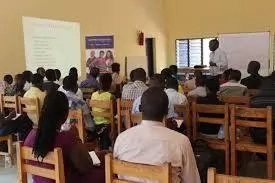 It is against this backdrop, that the government has decided to commit sufficient funds to ensure the provision of quality education for its citizenry.
This has also explained why the government has tailored its education policy towards ensuring that every one of its citizens has access to education. Education, in fact, is the rights of every citizen of any state or nation.
Having said that, it will interest all to know that, business education is a critical instrument of general education. It is involved in the impartation of business skills and orientation as well as, business knowledge for both personal development and national development.
Business education actually has to do with teaching students the very fundamentals of business, and business concepts, as well as, business theories, including processes of the business.
Put it another way, business education is a key aspect of the general education which of course, male emphasis on the importance of skills and competencies acquired for the purpose of using same in offices and other business-related career.
Accordingly, it is noteworthy to look at business education as that aspect of education that encompasses education for office occupations, education for business teaching, education for business administration and education for economic understanding.
And lest I forget, one most remarkable important feature of business education programme is that of making its recipients to create jobs and then function independently as employers of labour, and also as self-employed members of the society.
That out of the way,, the very principle of business education also embraces basic education for teaching occupation, and entrepreneurship, and business understanding, and office environment, as well as vocational practices.
Business education actually happened at various levels, that is, from primary school to secondary school and then to higher institutions of learning, with so much to do in the tertiary level.
Nevertheless, let me at this point, highlights some of the aims of business education at every level of education, and here they are:
-Development of basic skills for recipient personal use in the future
-Acquisition of the basic knowledge and skills of business education for career profiting
-Relation of the acquired knowledge and skills to national development
-Development of basic skills in office occupation and environment
-Provision of the needed background for the purpose of teaching  business subjects
-Preparation of students for further training in the area of business studies
-Provision of orientation and basic skills with which, students can start a life of working for those who may not have been privileged to undergo further training
Hence, for education to actually remain that veritable tool for socioeconomic growth and national development, and technology advancement, and as well, for the realization of these laudable goals of business education, then all the educational institutions and the system has to function maximally with respect to the global standards. Historically, however, business education in Nigeria was not a brainchild of the government.
Business education was actually birthed through private individuals and private organizations, who had private initiative, and this was the idea of a number of Nigerian entrepreneurs.
These persons were quick to understand the importance of business education, not only in their individual and personal engagement but also in the area of understanding how business education can boost national development and economic growth of Nigerian state.
Business education courses will build a strong foundation in recipients, who may wish to be in business occupation. Business education is that area of education that usually gives students, irrespective of their level of life, the needed skills, and values, and knowledge, and attitudes as well as, helps in the expansion of students' ideas.
At the Institute of higher learning for example, it does provide practical skills for recipients who may wish to move into and pursue their career in business.
The acquisition of this skill will avail recipients the opportunities of working as teachers, and lecturers, and managers, and accountants, and secretaries, and marketers as well as, business executives in various works of life. Business education, for the most part, provides excellent opportunities for most rewarding real-world learning experiences.
The programme also provides directions to particular or specific apprenticeship and also specific workplace destinations, including all other valuable information and connections that students may need to help them in exploring potential work and business opportunities available to them.
The business education is a discipline of study, is one of the most important instruments and tools that has helped in the achievement of the following objects:
-To gaining knowledge of business concepts via the study of various business subjects.
-To achieving business literacy, and financial literacy, and economic literacy as well as, digital literacy.
-To developing technological skills, such that will help in the overall organization's productivity.
-To developing teaching skill, which of course, would perhaps, enhance students' communication skill.
Impact Of Value Creation
Experts have, however, argued that business education's contributions have gone beyond imparting knowledge and skills into students, but has also influenced their lives by creating value in their personalities by making them understand:
-How the knowledge they have acquired is used by others: The teacher usually goes beyond teaching the students, he also shows them and as well, allow them to practicalize and witness what they have learned and how others are using their knowledge respectively.
-What the students are doing with the knowledge they have acquired: In this way, the lecturer is acting as a guardian with his students, by guiding them towards how and what exactly the students are doing with the knowledge.
This is absolutely important for both the teacher and his students since any form of a misguiding conception of the created value via communication can actually lead to hazardous effects.
Conclusion
In this article, however, we have been able to carry out a survey of the relevance of business education programme, especially to the economic development of Nigeria.
Hence, any reader can of necessity see to a large extent hoe relevance is business education to the economic development of Nigeria.
This post can be helpful to somebody else, please share it on Facebook, Whatsapp, Telegram and Twitter. There are buttons below for this (easy to use too)!
Copyright Warning!
Contents on this website may not be republished, reproduced, redistributed either in whole or in part without due permission or acknowledgment.

.
Proper acknowledgment includes, but not limited to (a) LINK BACK TO THE ARTICLE in the case of re-publication on online media, (b) Proper referencing in the case of usage in research, magazine, brochure, or academic purposes,.

.
All contents are protected by the Digital Millennium Copyright Act 1996 (DMCA).

.
We publish all contents with good intentions. If you own this content & believe your copyright was violated or infringed, please contact us at [infoguidenigeria@gmail.com] to file a complaint and we will take necessary actions immediately.
🤑 Start making money from home today!
👉 Get correct FREE TIPS and Guides on how to make money from home today. Click here to start
.
👍Advertise your business here!
With over 1M unique users per month across all channels, we have a large audience for you to showcase your products and services. Simply get in touch via 👉 marketing@Infoguidenigeria.com.
🤑 Make Money now!
👉 Make money writing for us. Apply for Freelance writing jobs in Nigeria.
👉 Make Money as InfoGuideNigeria Advertising Agents, read more here
.