Education
Business Education Curriculum In Nigeria
Here in this post, we are going to discuss business education curriculum In Nigeria. We hope you find this article informative and educating.
Business Education has a department, and the department is either under the Faculty of Education or Faculty of Education and Arts.
The department normally runs a 4 years degree programme, and the programme leads to the award of B.Sc (Ed) Degree in Business Education.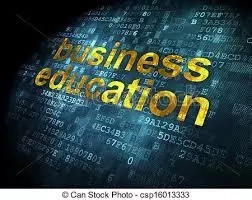 That out of the way, in this article, I will be focusing on the business education curriculum. Before then, let us understand what 'business education' and 'curriculum' is.
What Is Business Education?
Business education entails teaching students the very fundamentals, and theories, as well as, processes of business.
What Is Curriculum?
Curriculum is simply an integrated course of academic studies. Curriculum has synonyms such as; Course of Study, Curriculum, Programme and Syllabus. Having gotten some facts about the subject of discussion in this article, let us continue.
What Is The Philosophy Of Business Education?
Business education has a philosophy and a department in the tertiary institutions, the philosophy of the programme is actually derived from the NPE, that is, the National Policy on Education.
The Business Education department has a responsibility of enhancing the development of the programme's objections and below are some of the objectives:
Must inculcate the right kind of values and the right kind of attitudes for the survival of the recipients as well as, the Nigerian Society.
-Must train the minds of the recipients in order for them to understand the world around them.
-Must ensure that the recipients acquired the appropriate kind of skills, and abilities as well as, competencies both mentally and also physically have designed to help equip the recipients in order for them to contribute to the development of the society.
-Must inculcate national consciousness as well as, national unity in the people for better Nigeria.
-Must make sure that students have respect for the dignity of labour and also promote emotional and physical, as well as the psychological health of all recipients.
Having said that, the National Policy on Education has made provision, directing that, teacher education, particularly those offering National Certificate in Education NCE and also those in degree level understudying teacher education programmes be expanded so as to cater for the requirements of business education in country.
Goals Of The Business Education Programme
Specifically, the business education department has a duty of meeting the following mandates:
-Provision of graduate teachers for the purpose of teaching business education courses in Nigerian schools.
-Ensuring that, it Inculcates self-reliance in all the graduates, for the purpose of helping them to set up their businesses and also operate their businesses.
-Ensuring that, it researches into and as well, introduces innovative ideas in the teaching of business education in all the schools.
-Provision of opportunities such that can serve teachers to improving and also updating their professional competencies.
-Ensuring that there is a performance of educational service duties for the national education system in Nigeria.
-Enhancement of teacher's commitment towards teaching profession.
-Helping business education teachers by way of making them fit into the social life of their community and the Nigerian society, even as it also has a function of enhancing their commitment towards national objectives.
-Helps in furthering the spirit of acquisition and the spirit of creativity in business education teachers.
What Is The Scope Of Business Education?
In every department of the business education in a tertiary institution, there is the need for them to work in furtherance of the National Policy of Education directive as well as, making sure that, its objectives relate to the NPE offers in view of the certificates and degree options in the business education programme, for example;
-B.Sc (Ed) Accounting Education and
-B.Sc (Ed) Cooperative and Commerce Education.
What Is The Title Of Degree In Business Education?
The department of business education normally awards students degree of B.Sc (Education) in Business Education (A/c Education) option. Student are required to pass at least 120 credit units in order to earn a degree of Bachelor of Science in business education.
What Are The Requirements For Studying Business Education?
There are some requirements needed, should someone desire the study business education, and in this article, we are also going to look at some of these requirements.
Admission Requirements:
-Join Admission Matriculation Board JAMB or Unified Tertiary Matriculation Examination UTME
The higher institutions admission requirements, for example, the University admission requirements for a four-year degree programme in business education is that a candidate must have at least five credits in the senior secondary school certificate examination SSCE. In these admission requirements, English language and Mathematics are compulsory and must be obtained in not more than at least two sittings, including an acceptable cut-up point in the Joint Admission Matriculation Board JAMB or Unified Tertiary Matriculation Examination UTME.
Direct Entry Requirement:
-A candidate must have a pass at merit level in a relevant diploma course or NCE, that is, National Certificate in Education.
The candidate must also satisfy the o'level English language and Mathematics requirements, or has at least two passes in the relevant subjects related to the course of study at an advanced level, with satisfactory results in either senior secondary certificate examination  SSCE or general certificate examination GCE O/L or other approved equivalents requirements.
-A candidate must have passes in at least two relevant subjects and/or major subjects in the National Certificate in Education NCE, with satisfactory results in either Senior Secondary Certificate Examination SSCE or General Certificate Examination GCE O/level credit passes or something equivalent to the requirements mentioned above.
Additionally, a candidates who want to obtain  B.Sc degree in Business Education, but have Ordinary National Diploma OND, or National Certificate in Education NCE or other advanced certificates in business related field is qualified to earn admission into studying business education provided he has acceptable qualifications at least in relevant subjects at the senior secondary certificate examination SSCE level or its equivalent.
What Are Jobs Opportunities For Business Education Graduates?
There are jobs opportunities, for persons, who studied business education, and we are going to look at some of these jobs opportunities in this article too. For example;
-A graduate of Business Education can work anywhere, particularly in public services, such as;
-teaching, and
-administration, and
-banks, and
-industries, and
-book publishing houses, and
-foreign services, among other public services.
This enrichment programme is actually made available to every student of the department of business education, and it is also designed in order to equip the students with all-round education that are related to the field.
Some Stress Areas For The Programme (business education)
-Introductory/Fundamental Courses 0 and
-Business Education/Management Courses 1 and
-Technology/Communication Courses 2 and
-Mathematical/Statistical Courses 3 and
-Software Courses 4 and
-Business Courses-Law/Methods/Finance 5 and
-Training/Exposition Courses to Students 6
Some Stress Areas For The Programme (education)
-Sociology 1 and
-Psychology  2 and
-History 3 and
-Statistics 4 and
-Curriculum 5 and
-Technology 6 and
-Practical Teaching 7 and
-Methodology 8 and
-Research Project 9
System Grading:
That out of the way, let us now look at the grading system. In this grading system, I will love to consider that of university grading. Students' works have to be graded based on their performances, and the grading is done as follows, and this is done on a five-point scale:
% Score LETTER GRADE POINTS and
-70-100 A 5.00 and
-60 – 69 B 4.00 and
-50 – 59 C 3.00 and
-40 – 49 D 2.00 and
-40 – 44 E 1.00 and
 -0 – 39 F 0.00
Continuous assessment here carries about 30 percent weight of the marks that must be awarded to students in each course at the end of every semester. And this Continuous Assessment  comprises of;
-tests, and
-quizzes, and
-term papers and
-essays, provided they are approved by the Board of Examiners.
There is minimum passing grade for every course, including electives plus general studies, which is usually considered "E".
Hence, a student's cumulative grade point average can be determined by multiplying the credit load of each course by the points appropriate to the grade obtained for the course, then all courses are added and as well, divided by the total credit load of the students' courses.
And for instance, where there is a repeated course, the latest grade made in such a course can be used in the computations.
CGPA Degree Certificate:
-4.50 – 5.00 1st Class Honours Distinction and
-3.50 – 4.49 2nd Class Honours (Upper Div) Credit and
-2.40 – 3.49 2nd Class Honours (Lower Div) Merit and
-1.50 – 2.39 3rd Class Honours Pass and
-1.00 – 1.49 Pass Pass.
Conclusion
The department of business education normally runs a 4 years degree programme, and the programme leads to the award of B.Sc (Ed) Degree in Business Education.
📢

We are hiring writers!
Article Writing Jobs
- We are hiring good freelance writers -
Click here to apply
👉 Relocate to Canada Today!
Live, Study and Work in Canada.
No Payment is Required! Hurry Now click here to Apply >>
Immigrate to Canada
👇👇👇👇👇
Immigrate to Canada Via Job Offer!
Get latest Jobs in Canada for foreigners with visa sponsorship 2023 and how to apply. Don't miss this opportunity that can help you relocate to Canada with your family.
👇👇👇👇👇