Security
10 Causes of Insecurity In Nigeria And Solutions
Even the most die-hard fan of Nigeria cannot but acknowledge the seemingly helpless and insecure state of things in Nigeria.
From the incessant report of killings and attacks by herdsmen, to the increasing number of suicide cases.. small wonder embassies and foreign missions are posting huge revenue from Nigerians seeking to better their lot elsewhere.
👉 Relocate to Canada Today!
Live, Study and Work in Canada.
No Payment is Required! Hurry Now click here to Apply >>
Immigrate to Canada
But just as a few others out there who hold firm to the belief that all is not lost, I believe our obstacles aren't insurmountable and if we can earnestly look at the issues causing this insecurity critically, I believe we can turn things around and be proud of our home.
Read Also: 10 Causes of Insecurity in Nigeria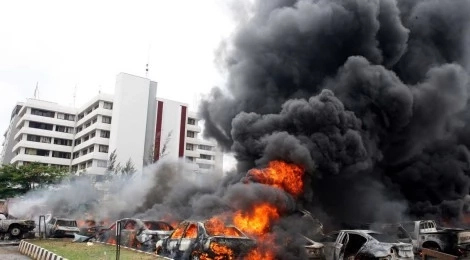 Below is my list of issues that need tackling to stem the growing insecurity in Nigeria:
1.Frequent ethnic clashes:
true! Nigeria is indeed diverse and with diversity, there's always a risk of clashes and crisis. Our diversity is however not a weakness but a strength.
Same is boring. What would life be if we were limited to only out own little world. It is however a pity that greedy people fan embers of conflict and war using the very thing that makes us unique. And this is usually for selfish gains.
Programmes such NYSC have helped in this regard. However, it is limiting in its implementation as it only caters for a certain class of people.
Programmes encouraging free movement and settlement should be mandated by the government and extended to include secondary education, trade and religion.
Another recommendation would be to stop the quota system and federal character system which at the moment is discriminatory and creates a sense of entitlement to certain groups.
Read Also: 10 Ways to Improve Security in Nigeria
2. Private sector dependency in foreign workforce
There has nothing that screams out "you have no future" to the youths more than the steady influx of foreigners into Nigeria, who in turn are given the best positions in companies replete with perks and incentives while the Nigerian youth is made to stand humbly, resume in hand begging for an opportunity in the same company.
It hurts indigenes. It shoots at their soul, their self esteem and government would do well to enforce a proper quota system. Just visit a typical Nigerian owner business and you can't but think  "am I in India"?
3. Reward and value system
Alot has to be said about a system that rewards academic excellence with a laptop, while rewarding nudity and deviant behavior with huge cash gifts and juicy endorsement deals.
Everytime this occurs, a message has been sent out. Your hardwork does not pay. Your academic ingenuity does not pay.
Our reward system needs to be evaluated. It needs to send out a positive message; a message that encourages hardwork and resourcefulness.
4. Outdated school curriculum
Let's face it; our schools aren't equipping our scholars with the tools needed to compete favorably with contemporaries from other countries.
Nigeria is facing increasing challenges in Agriculture, Information and technology, entrepreneurship and more and more we are dependent on those who have had the privilege of schooling outside this country to lead this process.
Our course content should increasing seek to meet out current needs head on. Of what use are subjects and courses that really have no significant advantage to the economy of Nigeria? Emphasis should be placed on courses like ICT, modern agricultural practices, alternative and renewable energy.
Read Also: 10 Problems of Insecurity in Nigeria and Possible Solutions
5. Slow judicial process
Virtually everyone I know will avoid anything that will take him or her to a courtroom. Fasttracking, a common practice in developed countries designed to ensure justice for the less privileged, does not exist in Nigeria. On the contrary, lawyers and judges seem to benefit a great deal from prolonged cases.
This situation combined with the regular harassment and illegal detaining by SARS is enough to create nightmarish insecurity in the hearts of any Nigerian.
The justice system needs to be held accountable and where possible service level agreements should be agreed upon.
This is a common practice in the private sector where each party to an objective is assessed on how quickly they get their end of the job done.
6. Lack of trust in our Health-care system:
It's no longer need that Nigeria is losing First best brains in the medical sector to other countries. This coupled with the fact that those saddles with improving this sector are the same people who run abroad for medical treatment. If this doesn't scream insecurity, I don't know what else does.
Our politicians need to show trust in our medical sector and this trust will only come from proper funding, provision of adequate medical infrastructure and proper remuneration of medical personnel.
7. Lack of financial support to start ups
Nigerian banks do nothing to encourage start ups. You can take that to the bank (no pun intended). Alot of ideas and innovations haven't seen the light of day due to lack of capital.
Take a trip to any bank and ask for a loan. You might as well just gift the idea to the bank because they'll ask you or everything from your eyebrow to your bellybutton.
Banks in Nigeria exist to support established businesses, not start ups. This needs to change. The way to do it is to have units within the banks meant to go after start ups, help with feasibility and buy into the idea with a percentage stake. Small businesses are what economies should be built on.
Read Also: 10 Problems of Security in Nigeria and Possible Solutions
8. Ailing power sector
Take a second to imagine this scenario; no power failure for the next 5yrs… the effect of this would be so great for the economy.
More businesses would spring up, more income saved from importation of generating sets, lesser production costs etc.
Government needs to hands off the power sector totally. Total privatization from generation to distribution. Some measure of control should be in place to check excesses but bottom line is; leave this sector totally in the hands of private companies.
9. Corruption
Nigeria hasn't fared well in this area according to reports of world bodies like the UN, transparency international. Nigeria cannot seem to escape that list.
My recommendation for this; public humiliation. People need to know what awaits them should they engage in any form of corruption; downright humiliation, public shaming, jail time.
Plea bargaining should be stopped. Anyone no matter the position in the society should be dealt with. Easier said than done I agree but it can be done.
10. Bad Labour representation
Lose your job in Nigeria and you're on your own. You can be laid with at anytime due to no fault of yours. Private sector players are using all the tricks in the books to avoid proper compensation and staff welfare. One popular trend now is outsourcing.
A consultant hired you and seconds you to another company. The consultant takes a big state from your income and gives you the rest.
In reality both consultant and company are owned by the same person/people. The result is; as an outsourced staff you cannot complain to the company you are sent to work for. This is one area where big corporations play dirty without running foul of the law.
Read Also: How to Start a Security Company in Nigeria
The Labour unions need to check this unwholesome practice by either removing the role of outsourcing firms or fixing the percentage fee that can be taken off a member of staffs remuneration. The Labour unions also need to push for proper worker compensation in the event of job loss.
We can only highlight and keep highlighting in the hope that one day we as a nation get it right. In the words of Barack Obama "yes we can".
👉 Relocate to Canada Today!
Live, Study and Work in Canada. No Payment is Required! Hurry Now click here to Apply >> Immigrate to Canada
👇👇👇👇👇
Information is Power!
Don't miss any valuable information or opportunity that can change your life, business, and family positively and permanently.
👇👇👇👇👇
👍Advertise your business on InfoGuideNigeria.com!
From just N9,999 per month, you can advertise your products and services to over 1,500,000 monthly users on our website. Click here to read more.
Copyright Warning!
Contents on this website may not be republished, reproduced, or redistributed either in whole or in part without due permission or acknowledgment.
.
Proper acknowledgment includes, but not limited to (a) LINK BACK TO THE ARTICLE in the case of re-publication on online media, (b) Proper referencing in the case of usage in research, magazine, brochure, or academic purposes,.
.
All contents are protected by the Digital Millennium Copyright Act 1996 (DMCA).
.



The images, except where otherwise indicated, are taken directly from the web, if some images were inserted by mistake violating the copyright, please contact the administrator for immediate removal.
.
We publish all content with good intentions. If you own this content & believe your copyright was violated or infringed, please contact us  for immediate removal.
🤑 Start Making Money from home today!
👉 Get the correct
FREE FOOTBALL PREDICTION
TIPS
and
Guides
today.
Click here