Here in this post, we are going to give you a break down of the cost of lathe machines in Nigeria. We hope you find this informative.
When we are talking about machining, it is simply one of the most vital and important methods of removing materials in the areas that has to do with technology of manufacturing.
Machining is actually a sort of collection of material working processes which has to involve other processes for example, drilling, and shaping, and sawing, and planning, and reaming, as well as, grinding among several others.
Read Also: Binding machine price in Nigeria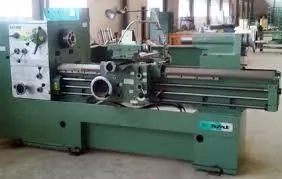 Machining is considered practically, one of the aspects of manufacturing of all metals including other materials like, plastics, and wood also.
Hence, one of the machines used during machining is known as the 'lathe machine'. Although, the focus of this article is in the area of cost of lathe machines in Nigeria, but we have to first of all, look at the machine, Lathe to really understand its usefulness and functions.
What Is Lathe Machine?
Lathe machine is normally used when working metals and other materials, such as, metalworking, and metal spinning, and woodturning, as well as, glass working.
The different operations that lathe machine can perform are listed below, for example, sanding, and cutting, and knurling, and drilling, including deforming of tools that are used in the creation of objects with symmetry about and around the axis of its rotation.
Read Also: Price of Tissue Paper making machine in Nigeria
When Lathe Machine Was First Develop
The very first lathe machine that hit the market, after it was developed was this two-person lathe machine. The machine was designed in Egypt, and that was sometime around 1300 BC.
Interestingly, there were some things that was achieved then, when the lathe machine was designed or set up. They were about two, firstly, the achievement was about the turning of the wood working piece manually, and was turned by the use of a rope; while the second achievement was the cutting of shapes in the wood, and this was achieved by the use of a sharp tool.
However, civilizations has brought about several modifications and improvements of lathe machine over the first two-person lathe machine developed earlier, which for the most part, are on the production of the rotary motion.
Having said that, the lathe machine can never be in use or functional except the following parts are complete in the lathe machine.
In other words, the under listed  lathe machine's parts are integrated together into a well functional lathe machine to give it its functional impetus., and briefly in this article, we will be looking at these parts very quickly before we consider the very focus of this article, which is the cost of lathe machines in Nigeria.
Lathe Machine Parts
Below are lathe machine parts;
Stand or Legs: Stand or legs are normally used to hold the lathe machine. They are also used to elevate the lathe machine bed to any working height.
Bed: Bed is considered as a horizontal beam, and this horizontal beam holds both the chips and also the swards.
Headstock: Another one is headstock, and it is containing the high precision bearings that normally holds the horizontal axle, and it is commonly called, the spindle.
Read Also: The Prices of Agricultural Machinery in Nigeria
Spindle: Now, the spindle! Spindle is known as the hollow horizontal axle, that has both the interior and the exterior threads on the inboard, and that is the point by which, the woodworking pieces are being mounted on.
Tailstock: In fact, tailstock is known as the counterpart of the of the part known as headstock, and it contains a non-rotating barrel which may slide in and slide out directly in accordance with the headstock spindle, which is parallel to the axis of the bed.
Carriage: Next is the carriage. Carriage is made up of a saddle and an apron, and it is normally used as a mount to the cross-slide.
Cross-slide: What is cross-slide? Cross-slide is simply a sort of flat piece which sits on the bed crosswise, and at the right angles, it can be cranked with the bed.
Tool Post: tool post is that part that sits on top of the cross-slide, and it helps in holding the cutting tool in place.
Tool Rest: And then finally, tool rest is the horizontal part in respect to the spindle and the tailstock, and it is from here that the hand tools are braced against and as well, levered into the work pieces.
The above are the typical parts of a standard lathe machine.
Types of Lathe Machines
We have various types of lathe machines, and i will love to discuss only four main types of lathe machines in this article.
Speed Lathes: – The most easily to design lathe machine, made up of headstock, and tailstock with a simple tool post. One can operate it in say 3 to 4 speeds. It has a very high speed spindle, and it is used for light machine works such as wood turning, and metal spinning as well as, metal polishing.
Engine Lathes: – This one is the most common of all types of lathe machines, designed only for both low and high power operations. The machine has various lengths, and about 60 feet of them. Engine lathe is available all most in all machine shops.
Read Also: How To Start Agricultural Machinery Business in Nigeria
Tool Room Lathes: Is a versatile lathe machine, known for its better accuracy and finishing. Its speeds are of wide range, and can give various kinds of feeds, and can be used to manufacture die.
Turret Lathes: Turret Lathe machine can be used for quick operations. It has different kinds of tool posts, which are mounted on a single structure. Once tools are set up on turret lathe machine, then expect the work to finish quickly.
Costs of Lathe Machines:
Below are the costs of lathe machines in Nigeria
HWACHEON  Cutex – 160. CNC Lathe Tool Holder Block Machine Shot Tooling cost N60
Machfit 60mm Shank Live Center Lathe Center for Mini Lathe machine cost N967
New VDI 40mm Shank1 1/2″ I.D Tool Holder CNC Lathe Tooling Machine Shop cost N125
NEW MTI Precision Live Center Morse Taper Steel Lathe Machine Revolving Tool cost N6042
South Bend Lathe Dovetail Bar Mount Machine Set Up Graduated Taper Attachment cost N130
Machifit 6mm Shank Live Center Lathe Center for Mini Lathe Machine also cost N2393
SECO Missing Hardware MV  JNR. 204 Lathe Tool Holder 1. 1/4″  Shank Machine Shop cost N55
Funas Lathe Milling Machine Forward –  Reverse Switch cost $35.00
Read Also: Hair Dryer Machines Price in Nigeria, Review and Where to Buy
Conclusion
That is all I can give about Lathe Machine. However, I have listed the prices of some of the lathe machines found in Nigeria.
Information is Power!
Don't miss any valuable information or opportunity that can change your life, business, family positively and permanently.
👇👇👇👇👇
Subscribe to Blog via Email
✍️ Be Our Guest Publisher!
Do you have a press release, breaking news,  or any other helpful information to share with our growing readers? If yes, send your article to 👉 infoguidepr@gmail.com.
We will be glad to publish it if the information is useful to our audience.
This post can be helpful to somebody else, please share it on Facebook, Whatsapp, Telegram and Twitter. There are buttons below for this (easy to use too)!
Make money writing for us. Apply for
Freelance writing jobs in NIgeria
.
.
Copyright Warning!
Contents on this website may not be republished, reproduced, redistributed either in whole or in part without due permission or acknowledgment.
.
Proper acknowledgment includes, but not limited to (a) LINK BACK TO THE ARTICLE in the case of re-publication on online media, (b) Proper referencing in the case of usage in research, magazine, brochure, or academic purposes,.
.
All contents are protected by the Digital Millennium Copyright Act 1996 (DMCA).
.
We publish all contents with good intentions. If you own this content & believe your copyright was violated or infringed, please contact us at [infoguidenigeria@gmail.com] to file a complaint and we will take necessary actions immediately.