Education is known by many as the bedrock of every society. It has been defined as facts, skills and ideas that have been learned.
Every human gets educated one way or another, formally or informally. There are tools, techniques, and processes that help us learn and these, collectively can be referred to as educational technology. This post seeks to highlight the role of educational technology in Nigeria university education.
What is Educational Technology?
Various definitions have been postulated due to its multifaceted nature. There is no single, acceptable definition yet. As far back as 1930s when the term was first put together, many definitions have sprung up.
Read Also: History of Technology in Nigeria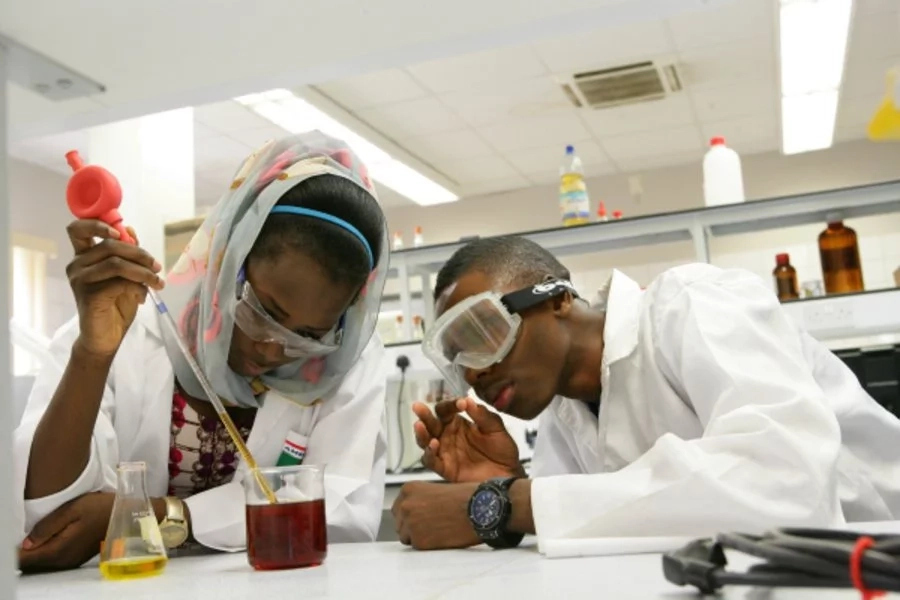 The tools and processes keep evolving just as their application to bring about education, hence the many perspectives of the term.
Some of these views have merged over time and for the purpose of this post, we'll take our definition from the Association for Educational Communications and Technology (AECT), the professional society for educational technology.
Educational technology is the study and ethical practice of facilitating learning and improving performance by creating, using, and managing appropriate technological processes and resources.
Education technology also known as Edu Tech or ET emphasizes communication skills and approaches to teaching and learning through the judicious use and integration of diverse media.
Practitioners in education technology seek new and effective ways of organizing the teaching and learning process through the best possible application of technological developments.
Tools of Educational Technology
As earlier stated, educational technology aids learning and teaching. It is not restricted to high-end technology but is inclusive of both simple material tools and theoretical foundations.
Simple tools like pens, pencils, white boards, drawing materials, cardboards, calculators, multiplication tables, charts and many others have contributed greatly to education. \
Machines like the typewriters, mimeograph, projectors and even more complex technological tools like auto CAD software used by engineering students all show the contribution and advancement of educational technology.
Read Also: Problems and Prospects of Educational Technology in Nigeria
Scope of Educational Technology
The scope of educational technology extends to all resources, both human and non-human, for the augmentation and development of education.
With new technology constantly being developed, educational technology today encompasses the following:
Instructional technology
Information and communication technology (ICT)
E-learning
Multimedia learning
Technology-enhanced learning (TEL)
Computer-based instruction (CBI)
Internet-based training (IBT)
Online education
Digital education collaboration
Computer-mediated communication
Multi-modal instruction
Virtual learning environments (VLE)
M-learning, etc
Human resources include:
Teachers
Instructional designers
Lecturers
Technical trainers
Technical writers
Web developers, etc
Nigeria as a developing country is making efforts to measure up to other countries in the area of technology. So far, not all of these educational technology tools are being employed in the education sector. Some however, are making impact.
Read Also: Top 20 technology companies in Nigeria
The Role of Educational Technology in Nigeria University Education:

1. Digital Literacy
Educational technology cannot be discussed without pointing out how it enhances digital aptitude of students and lecturers alike.
Many students in Nigeria tertiary institutions today who were not so privileged to have digital literacy before the University now know how important it is due to educational technology application in Nigerian Universities.
There's an array of resources online for doing assignments beyond what is obtainable in some libraries and lecturers today encourage such sourcing.
2. Curriculum Construction
For proper curriculum construction, there has to be a continuous evaluation of educational programmes and how they improve students.
Students, teachers, lecturers, and the entire education system has to be put into consideration as what students learn affects the development of society in general. Certain tools educational technology offer make this task easier for effective curriculum development.
3. Global awareness
The internet as a tool of educational technology plays a vital role in global awareness and this is something students in Nigeria higher institutions are now quite familiar with.
Foreign language departments now exist in schools and video conferencing made possible via educational technology can ensure that students of the course experience foreign cultures with ease.
Asides such departments, Nigerian students can easily get connected with people beyond the shores of the country through the various social media platforms, constantly learning global concepts. This also encourages multi-cultural literacy.
4. Administration Tasks
Educational technology eases administration tasks in various ways. They include course registration, online counselling of students, student support and a host of others.
It presents an effective and efficient way of collection, storage, organization, protection, and dissemination of students' information.
Read Also: Top 10 University of Technology in Nigeria
5. Feedback
There is a need for lecturers and the school generally to stay in the know about students' performance in all levels of education.
Educational technology provides many avenues of communication between lecturers and students. Most higher institutions in Nigeria have Information and Communication Technology (ICT) centres and some have fully adopted computer-based tests that give immediate results or feedback once completed.
6. Internet Skills
Most Nigerian universities now offer internet access to students and this is one of the major roles of educational technology in Nigeria university education.
Students develop good internet skills to utilize this advantage. Mandatory things like course registration, checking exam results and the likes also strengthen students' internet knowledge.
Internet skills thus developed aids research work and assignments which in turn improves the academic performance of students.
7. Virtual Learning
Educational technology has opened new areas in Nigeria university education such as e-learning. Some higher institutions in Nigeria offer online courses to students but one school that stands out in the total embrace of virtual learning is the National Open University of Nigeria (NOUN).
The school offers various courses like other universities and have successfully implemented online discussions, smart e-books, digitized lecture videos and audio materials as well as networking and collaboration tools, all modern products of educational technology.
Other exceptional contributions of educational technology in Nigeria university education include:
Ease of flow of information between students and lecturers.
Easy access to course materials.
Educational technology has created numerous platforms for healthy competition between students, both within and outside the country.
It makes publication of literary works easier.
Educational technology keeps students in Nigerian universities at par with students in other countries.
Audio-visual materials make it easier to communicate or teach large number of students as found in Nigeria universities.
Google documents, Microsoft spreadsheets and the likes make computing of student results easier.
Universities in Nigeria have websites that bear a bulk of information about the school and make these readily accessible.
Read Also: 10 Reasons Why Nigerian Graduates Are Not Employable
The possibilities educational technology presents to the education sector in Nigeria are numerous. Nigeria university education will continue to see improvements in learning outcomes as these new technology are adopted into the system.
Although it is capital intensive, if the necessary fund is expended, it will pay off in the long run and ultimately be beneficial to the nation and her economy.
Information is Power!
Don't miss any valuable information or opportunity that can change your life, business, and family positively and permanently.
👇👇👇👇👇
For Latest updates on News, Jobs & Business Ideas, and Opportunities.
Copyright Warning!
Contents on this website may not be republished, reproduced, or redistributed either in whole or in part without due permission or acknowledgment.
.
Proper acknowledgment includes, but not limited to (a) LINK BACK TO THE ARTICLE in the case of re-publication on online media, (b) Proper referencing in the case of usage in research, magazine, brochure, or academic purposes,.
.
All contents are protected by the Digital Millennium Copyright Act 1996 (DMCA).
.
The images, except where otherwise indicated, are taken directly from the web, if some images were inserted by mistake violating the copyright, please contact the administrator for immediate removal.
.
We publish all content with good intentions. If you own this content & believe your copyright was violated or infringed, please contact us at [infoguidenigeria@gmail.com] for immediate removal.
🤑 Start Making Money from home today!
👉 Get the correct
FREE FOOTBALL PREDICTION
TIPS
and
Guides
today.
Click here
.
👍Advertise your business here!
With over 1M unique users per month across all channels, we have a large audience for you to showcase your products and services. Simply get in touch via 👉 marketing@Infoguidenigeria.com.
🤑 Make Money now!
👉 Make money writing for us. Apply for Freelance writing jobs in Nigeria.
👉 Make Money as InfoGuideNigeria Advertising Agents, read more here
.