Economy
How to Achieve Food Security in Nigeria
Here in this post, we are going to bring to you 10 ways on how to achieve food security in Nigeria. We hope you find this article informative and incisive.
There are a number of ways by which, Nigeria as a country can achieve food security. However, before Nigeria discover oil, agriculture was the mainstay in this country, and that was what boost Nigerian economy then.
Today lesser attention has been given the agriculture, why? Because of oil. If the Nigerian government will shift its attention from oil and concentrate on agriculture like what it used to be, there would be an improvement.
Read Also: How To Start A Food Stuff Business In Nigeria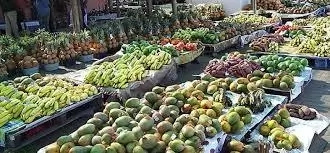 Before now however, Nigeria's foreign exchange earnings was directly dependent on agriculture, now imagine what the negligent of agricultural sector has cause Nigeria, it has cause the country nothing but socioeconomic and political woes.
This is unfortunate! Therefore, if Nigeria must improve or achieve its envisioned food security, then Nigeria must embark on the onerous task of building the country, and as well, achieve food security by making sure that, it revamp the country's agricultural sector.
Nigeria however, need a responsible and responsive leadership to achieve this. In fact, if you ask me, Nigeria needs economy diversification. Having said that, I will, in this article, be discussing some ways by which, Nigeria can achieve food security if embrace.
Read Also: Foods To Produce From Cassava
What Are These Ways By Which, Nigeria Can Achieve Food Security?
Below are some number of way Nigeria can toe to improve or achieve food security in the country.
1. Nigeria Should Work For Substantial Import Substitution For Some Goods Consumed In Nigeria
This is very important if Nigeria must improve or achieve food security. There are substantial reasons why the country should make sure it work to ensuring there is import substitution for goods, such as rice consumed in Nigeria, and other wheat as well as sugar, including provision, where there is gainful employment.
Drift or migration from rural to urban centers must be stemmed. This is a necessary option for Nigeria to achieve food security.
2. Nigeria Should As A Matter Of Necessity Encourage Modernized Agricultural Production
Another important option that will shoot Nigeria into achieving food security is to encourage modernized agricultural production.
Nigeria needs to create environment, such that will bring about shift from the present subsistence agricultural production to that of modernized agricultural production, that incorporate storage and processing. This quite a onerous task any responsible nation would love to pursue in order to improve its food security.
Read Also: How To Start Fast Food Joint In Nigeria
3. Nigeria Should Encourage Private Sector Through Government Incentive Support
No nation can succeed in nation building task, let alone to achieve food security without being private sector driven.
Today there is this new method of funding government programmes, it is called PPP. PPP means Public Private Partnership. This partnership is very necessary if Nigeria must improve or achieve food security.
Let Nigeria begin to get the private sector involve in its programmes, and should also be ready to give the necessary support and incentives.
4. Nigeria Should Concentrate On Land Conservation And Water Conservation
Land, as we all know is the principal factor of production. Put land aside, then you are not ready for agriculture. Land plays a major role in the agricultural production sector hence, there is need to conserve the available land for agriculture in the country.
The focus of the Nigerian government should be on the conservation of land and conservation of water. More so, there should be a departure, I mean radical departure from what that used to be, for example, the prevalent rain fed agriculture to what that is more needful now, such as irrigation farming system. Embracing this approach will help Nigeria achieve food security.
5. There Should Be Provision For Fertilizer At A Subsidized Price On The Part Of Nigerian Government
There is no doubt that fertilizer is more of a commodity so needed by farmers in order to grow their produce. In more cases, farmers will have to work rough soil severely and as well fertilize the soil for the purpose of growing their produce.
And in most cases too, the quantity of fertilizer needed by farmers can actually determine how much, in terms of money they are to invest in their agricultural production in the area of fertilizer procurement.
Procuring fertilizer by farmers could be capital intensive hence, there is need for the provision of fertilizer to Nigerian farmers at a subsidized price.
Read Also: How To Start Food Processing Business In Nigeria
6. Nigerians Should Compliment Government's By Engaging In Agricultural Production
Yes, it is one thing for the Nigerian government to encourage the departure from the prevalent subsistence agricultural production to that of the modernized agricultural production, which is practiced by nations, who aimed at achieving food security, and is another thing for Nigerian citizens to buy into this innovation.
There is a great need therefore, for Nigerian citizens to ensure they complement the Nigerian government's efforts of embracing modernized agricultural production by making up their minds to engage in it with the sole purpose of achieving food security in Nigeria. By buying into this idea, there would be employment creation and adequate food supply in the country.
7. Nigeria Should Be Ready To Improve Quality And Efficiency And Productivity And Others
No matter what kind of production one is into, quality really matters. Be that as it may, if Nigeria want to improve or achieve food security, Nigeria should be ready to make sure that there is improvement in agricultural production productivity, quality of agricultural production must be enhanced, and efficiency in the production must be achieved. Besides all these, farmer in Nigeria should be allowed access to markets, and credit and inputs.
8. Let Nigeria Concentrate On How To Reduce Post Harvest Issues On Farmers
Yes, this is another important aspect, of which, if embrace, will help Nigeria achieve food security. Hence, there is need therefore, for Nigeria to ensure that there is reduction of post-harvest issues on the part of the farmers.
9. Nigeria Should Educate Nigerian Farmers Properly
There is need on the part of Nigerian government to educate farmers properly. In doing so, advancements in technology should be the focus of such training.
Read Also: How To Start Food Packaging Business In Nigeria
10. Nigeria Should Make Provision For Adequate Supply Of Power For Farmers
Farmers do involved in processing as well as storage of their produce particularly those produce that are referred to perishable produce.
Conclusion
If Nigeria must improve or achieve its envisioned food security, then Nigeria must embark on the onerous task of building the country, and as well, achieve food security by making sure that, it revamp the country's agricultural sector.
This post can be helpful to somebody else, please share it on Facebook, Whatsapp, Telegram and Twitter. There are buttons below for this (easy to use too)!
Copyright Warning!
Contents on this website may not be republished, reproduced, redistributed either in whole or in part without due permission or acknowledgment.

.
Proper acknowledgment includes, but not limited to (a) LINK BACK TO THE ARTICLE in the case of re-publication on online media, (b) Proper referencing in the case of usage in research, magazine, brochure, or academic purposes,.

.
All contents are protected by the Digital Millennium Copyright Act 1996 (DMCA).

.
We publish all contents with good intentions. If you own this content & believe your copyright was violated or infringed, please contact us at [infoguidenigeria@gmail.com] to file a complaint and we will take necessary actions immediately.
🤑 Start making money from home today!
👉 Get correct FREE TIPS and Guides on how to make money from home today. Click here to start
.
👍Advertise your business here!
With over 1M unique users per month across all channels, we have a large audience for you to showcase your products and services. Simply get in touch via 👉 marketing@Infoguidenigeria.com.
🤑 Make Money now!
👉 Make money writing for us. Apply for Freelance writing jobs in Nigeria.
👉 Make Money as InfoGuideNigeria Advertising Agents, read more here
.