There are many foods you could produce from cassava and just like palm, cassava has many uses. Cassava is a very useful crop that has many foods derived from it.
Here, I am going to be narrowing the foods you can produce from cassava to Nigerian foods, because some certain species of cassava may serve special kinds of foods in other parts of the world.
👉 Relocate to Canada Today!
Live, Study and Work in Canada.
No Payment is Required! Hurry Now click here to Apply >>
Immigrate to Canada
In a cassava crop, the most useful part of it is the root, because that's where the main content is.
I would first be giving you some tips on how you can plant the shrub known as cassava before heading on to highlight the foods you could produce.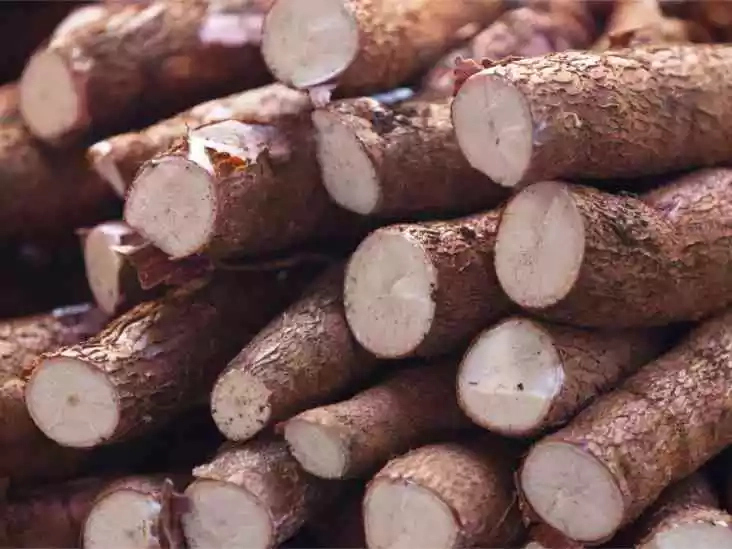 When planning to start cassava planting, you are expected to get a few things in place to enable you get the maximum harvest possible.
Here are the tips in starting cassava planting:
1. Find the Best Possible Site
Cassava is a crop that actually needs a good site to plant and the most preferable site for a cassava farm is an area with deep well drained loamy soil that has adequate rainfall and also warm & climatic areas.
2. Improve The soil
just in case you didn't find the best possible site for planting the cassava crop it would be a good idea to spend a little cash on improving the soil, these includes adding manure to the soil, preparing seed beds, and also planting the cassava crop along with the other crops.
3. Look for the Best Species of Cassava to Plant
Cassava crop has many species and depending on the climate and topography of the place you want to start the cassava planting, it would be wise to cultivate the best possible species.
The varieties you should be breeding are those with good food quality, good cooking abilities and those that are tolerant to pests, diseases and weed.
4. Choose A Healthy Cassava Stem
You might have chosen the best species of cassava stem, but you also need to consider planting the cassava rightly and at the right time of the year. This would enable you have bountiful harvest.
👉 Relocate to Canada Today!
Live, Study and Work in Canada.
No Payment is Required! Hurry Now click here to Apply >>
Immigrate to Canada
Now you have seen some tips needed for you to plant the cassava crop, now let us go to the main point that brought us here and that is, foods to produce from cassava.
Foods To Produce From Cassava:
Here I am going to present to you, nine foods you can produce from cassava in Nigeria, you may be familiar with many of them but some of the foods may sound strange
1. Garri
Garri is a very popular staple food in Nigeria that is produced from cassava. In order to produce garri, the cassava tubers would be uprooted, peeled, washed and grated, which then produces mash.
The mash would be placed in a porous container like a sack bag and weight would be placed on it for the liquid to be emitted. The mash would be kept within three days for it to ferment properly.
After that, it is then sifted and roasted by heating in a big bowl and it now produces garri.
There are basically two types of garri and they are the "white garri and yellow garri".
The only difference between the white and yellow garri is that the white garri is made exactly as explained above; while the yellow garri is prepared by frying the garri with palm oil, this then reduces the starch content in the garri.
Garri can be sipped raw after frying by adding water and maybe sugar, groundnut and milk to taste. Garri can also be prepared with hot water by mixing with a wooden stick till it becomes smooth and edible; it is then eaten with soup.
2. Fufu (Akpu)
Fufu is also a popular Nigerian staple food produced from cassava. It is eaten by many Nigerians.
To produce fufu from cassava, the cassava would be peeled and soaked into water for about 5 to 7 days to ensure that it is being softened.
After it is now soften the chaff would now be removed. You can then cook it and pound it to pulp.
Fufu can be stored for some time in a flask and is eaten with any soup of your choice. Fufu is a good substitute for pounded yam in Nigeria.
3. Amala
Amala is also similar to fufu, it is mostly cherished by Nigerians in the western region. It is a very important food gotten from cassava.
To produce Amala from cassava, the cassava has to be cut into various pieces and soaked within two to three days, then dried and grinded into powder.
The powder which is the flour is then prepared and eaten with a soup like Ewedu.
If you have never eaten Amala before, you can follow these methods and have a taste of it.
4. African Salad (Abacha)
The African salad when prepared and garnished with other ingredients is a very delicious food which is gotten from cassava.
In order to get African salad from cassava, the cassava has to be peeled off and then cut into very tiny pieces. It is then soaked in clean water for a night for the starchy liquid to be removed.
The pieces of cassava are then collected, dried and would now be due for eating.
African salad can be prepared by adding palm oil, vegetables and onions to taste. This kind of meal could be taken in the afternoon as brunch.
5. Cassava Tuber
Cassava tubers could be washed, boiled and eaten like yam, but care should be taken not to think that all cassava species could be boiled and eaten, because many cassava species are known to be highly toxic in that form.
That's why it is not common in Nigeria to see people boil cassava tuber to eat. Although it is one of the foods that cassava tubers could serve as.
6. Cassava Bread
Cassava bread is made from cassava flour and this is made purely from the cassava root and processed until it is a soft coarse meal.
The cassava flour has to be processed properly in order for it to be a good substitute for people looking for wheat free flour.
Cassava bread was introduced some time ago in Nigeria, but suddenly Nigerian bakeries cut down the production of cassava bread.
Cassava bread is similar to the normal bread; the major difference is that cassava bread is made from cassava flour.
7. Vegetable
Cassava leaf can be used as vegetable to make soup. In order to use the cassava leaf as soup, it has to be cooked properly for the toxin to be detoxified.
Nigerians enjoy the leaves of cassava as vegetable for soup. Cassava leaf soup can also be called by its native name "Saka" or pond.
8. Starch
Starch is a product that can be eaten as food made from cassava. Starch is a by-product of the garri process and it can still be useful for other applications.
It is commonly called Usi in Nigeria, to prepare Usi for eating, it has to be combined with a little palm oil, and then it would be heated until a starchy mass is formed.
Once that is done, your Usi is ready for consumption with any soup of your choice.
People in the South-South region of Nigeria enjoy eating Usi because it goes very well with a soup like Banga Soup.
9. Cassava Cake (Kosai Rogo)
This is just like what we call bean cake (akara) in Nigeria. In order to make cassava cake, the cassava tuber would be peeled and grinded, after that is done, the starch gotten from it would be prepared the same way Akara is made.
People in the northern areas usually prepare Kosai Rogo and sell in commercial quantities.
Now we have successfully taken a look at 9 foods that can be produced from cassava, this now has made us know that cassava is a very useful crop, so if you are planning to start a cassava farming business or maybe you want to produce foods from cassava this guide must have given you really good background.
📢

We are hiring writers!
Article Writing Jobs
- We are hiring good freelance writers -
Click here to apply