This article will let us know how to become a movie director in Nigeria. He or she is the chief person responsible for creative aspects of a project.
A movie director is an indispensable personnel in the making of any movie. He makes the big decisions on set and off set.
👉 Relocate to Canada Today!
Live, Study and Work in Canada.
No Payment is Required! Hurry Now click here to Apply >>
Immigrate to Canada
Who is a Director and What are the Duties of a Director?
Just as we said before, a director is the person on a film set who makes the big decisions. The director is basically in charge of bringing a story to life. He or she is the chief person responsible for creative aspects of a project.
Read Also: Top 10 Nollywood Directors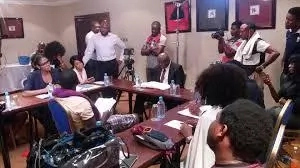 The director is tasked with making decisions on look, script, locations, costumes, special effects, and coaching. He or she literally directs the course of action on a set and in a film, controlling a project's artistic and dramatic aspects, visualizing the script, and guiding the cast and crew to make it all come to life. Movie directors select scenes, script versions and camera angles and mold these factors into a coherent movie.
A Director works closely with producers, actors, cameramen, make-up artists and set designers to direct a movie production.
Movie directors not only oversee all aspects of the production process – they also supervise the postproduction process that includes special effects, editing and more.
Some of their administrative duties include ensuring the movie stays within budget and on schedule and promoting the movie when it's completed.
Read Also: List of Movie Theatres and Cinemas in Nigeria
What are the different "levels" of directors?
There's a bit of a hierarchy in the directing department. The director, naturally, is at the top. Then there's a first assistant director (AD).
👉 Relocate to Canada Today!
Live, Study and Work in Canada.
No Payment is Required! Hurry Now click here to Apply >>
Immigrate to Canada
The AD supervises cast and crew, keeps track of time for the director, makes sure filming is on schedule, and is responsible for eliminating and minimizing hazards on set.
The key second AD (2AD) is in charge of tasks like moving the cast through hair, makeup, and wardrobe. Scheduling is this person's primary role, and he or she is in charge of call sheets and assisting the first AD as needed.
As movie sets get bigger, a third AD (3AD) is needed for directing extras and vehicles for background action for large crowd scenes.
Becoming a director a Nigeria
Step 1: Finish Schooling
Education is considered the basic building block of every career especially in the entertainment industry. I can't think of any Nigerian director, actor, actress or musician who hasn't been to school before.
Though some of them may not have been opportune to study up to the tertiary level but they definitely went to nursery, primary and secondary schools.
It is worthy to note that it is not the course you majored in while in the university that determines whether you get to be a director, actor, actress, or musician.
When it comes to the entertainment world, passion and talent supersedes educational qualifications. As a matter of fact, you don't even need a bachelor's degree in order to become any of those.
Read Also: 6 Steps To Start Acting Movies In Nigeria
All you need are the skills, talent, passion, experience etc. but this doesn't mean you shouldn't get a bachelor's degree if you are capable of doing that since it is a common requirement for this post, all I'm trying to say is that it is not a must.
If being a movie director is a future dream while you are still in school, you might want to consider starting now to build some basic experiences by joining school clubs such as the dramatic club, music club etc.
Taking part in acting while in school will also help you understand more about acting since you will be working hand in hand with actors and actresses in future.
Field of Study to consider while choosing your course in a university includes Fine arts, theater arts, communications or film arts etc.
You can attend a bachelor's degree program in film or a related field to attain this practical experience and to make useful contacts.
As a film student, you may study topics in acting, cinematography, directing, editing, movie production, screenwriting and sound design. Many programs require you to make one or more films before graduating.
Step 2: Complete an Internship
Apart from gaining practical experiences, partaking in an internship program will help build your directing resume especially if done with a prominent movie production firm.
This can give you the opportunity to learn from established directors and to see the intricacies of movie making. This step can be accomplished while you're still in school, since many programs encourage or require students to complete an internship.
Read Also: How To Produce A Movie In Nigeria
Step 3: Gain Experience
Gaining experience isn't hard to do. As long as you are passionate and up to get what you want, then you can.
Firstly, start watching movies more keenly. By this, I mean you shouldn't watch movies just for the entertainment part of it, but to learn and see those scenes with great captivation and to also try to think in the perspective of the director of such movie.
Try to count at least 15 mistakes in each film you watch. Look for acting errors, editing errors, storyline continuity errors, etc.
Develop your awareness of storytelling as you watch films. Try watching movies with the sound off and pay attention to how the story unfolds through images as well.
Or, you can also listen to the dialogue, soundtrack, and other sounds in a film to see how the story unfolds through what characters say.
Secondly, start directing short movies. To do this, you need to get a camera if you don't already have one. Although a quality camera will help you to produce better quality films, start with any camera you can find. Then, write your own screenplay or work with a friend who writes.
Get a group of friends together on the weekend and shoot scenes for a short film. Over time, you can edit the scenes together using a program like Adobe Premier. Making short films will force you to start learning the technical aspects of directing.
You'll need to know how to edit, write, and do everything else, too. Making your own short films will give you a chance to wear multiple hats and develop different skill sets.
Thirdly, it is important to note that as a new movie director, you may have to start small before moving on to larger film projects with bigger budgets. You have the option of creating independent films to help establish your reputation.
You'll need to direct your own films at some point, but you can gain further experience and networking opportunities by working in an assisting role for a more seasoned director.
You won't just start directing big movies instantly because no one will want to give his movie to a rookie to direct. This will change overtime as you gain more experience, more prominence. Also, you will need to focus on quality rather than quantities. One good film is better than four low quality films.
Read Also: History of Films in Nigeria
Step 4: Grow your audience
Your success as a director may depend on cultivating a devoted audience through your film style. As you translate your creative interpretation of a script into a motion picture, elements of your directing style may stand out and could garner you further acclaim.
How you delegate tasks to and communicate with your film staff can also influence your finished products. As mentioned earlier, you may need to start off with smaller production companies, but developing the right connections can help you reach your target audience.
📢

We are hiring writers!
Article Writing Jobs
- We are hiring good freelance writers -
Click here to apply
👇👇👇👇👇
Immigrate to Canada Via Job Offer!
Get latest Jobs in Canada for foreigners with visa sponsorship 2023 and how to apply. Don't miss this opportunity that can help you relocate to Canada with your family.
👇👇👇👇👇