Akamu (commonly called by the Igbos), Ogi (commonly called by the Yorubas) or Pap is Nigerian corn meal made from wet corn starch.
It has a distinctive sour taste that makes people crave it. It is processed from dry white or yellow corn. It is processed raw as akamu/pap/ogi which is then prepared with hot water and serve as a meal.
👉 Relocate to Canada Today!
Live, Study and Work in Canada.
No Payment is Required! Hurry Now click here to Apply >>
Immigrate to Canada
In this article, I will explain how to process the raw wet corn starch from dry corn but before that let us look at the health benefit of Ogi:
Read Also: 8 Best Yoruba Foods You Should Not Miss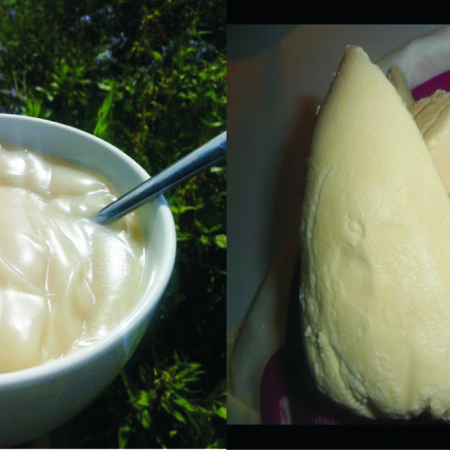 a. Corn pap is 100% natural; it has no additives or artificial content.
b. It is rich in potassium with no sodium makes it a perfect food for people with high blood pressure.
c. Good for nursing mothers as it helps for easy flow of breast milk.
d. It is very easy to digest because of its fine texture.
e. It is good for breakfast, because its texture makes it exert little stress on the digestive system.
f. It is a perfect food for athletes and footballers.
👉 Relocate to Canada Today!
Live, Study and Work in Canada.
No Payment is Required! Hurry Now click here to Apply >>
Immigrate to Canada
g. It is rich in nutrients as it does not undergo long processing.
You will need the following Ingredients for raw ogi:
a. 1.5kg dry corn
b. Lots of water
Read Also: How To Start Fast Food Joint In Nigeria
Tools For Making of Ogi:
a. Chiffon cloth: This is used for separating the wet corn starch (akamu/ogi/pap) from the chaff.
b. Muslin bag: use any tightly woven cotton, calico or canvass material whose weaves do not shift. If you have a sewing machine and can sew, you can make yours at home.
Salt bag can serve for this. Salt comes in muslin bags and it is perfect for this purpose. Wash thoroughly before using it. Salt and Akamu are worst enemy
c. Big and small bowls.
d. Blender
Notes on the ingredients
a. I got about 1.2kg Akamu from the 1.5kg dry corn.
b. Use a dry corn. Fresh corn won't give the right kind of starch for making akamu/ogi/pap.
c. Yellow dry corn is used for making yellow Akamu and white (off-white) corn is used for making the white Akamu.
d. Water is used in large quantity for soaking, washing and sieving the corn.
Note: Do not let salt come in contact with the corn, water and utensils so as not to spoil the texture of the Akamu as it may not thicken when you prepare with hot water
Read Also: How to Start Food Delivery Business in Nigeria
Directions For Making of Ogi

1. Wash the dry corn carefully and soak in a good quantity of cold water for 3- 4 days. Do not refrigerate so as to enable it undergo proper fermentation
2. Wash the corn and change the water on daily basics.
3. On the 3rd or 4th day, wash and blend till smooth. Some of the corn should be soft enough on the third day. You can check by biting into it , if not soft , soak for one more day
4. When blending add a good amount of water to help the blender Add a generous quantity of water to help your blender. Heavy duty grinders is just perfect for this purpose
5. Wrap the chiffon cloth over a big bowl and tie it up. It should be a big bowl just enough to accommodate the ogi and the water you'll use to rinse it
6. Sieve the blend rinsing as necessary till you are left with only the chaff. It is advisable to rinse small quantities of the corn blend at a time so that you will not be overwhelmed.
7. When you are done with rinsing all the corn blend, and you feel you can get more akamu from the chaff, blend it and rinse again. this happens when a kitchen blender is used you, but if it is the case of the heavy duty grinder, it won't be necessary
8. When done, remove the chiffon cloth and set the mixture (water and akamu) aside to settle for at least 3 hours.
9. After about 3 hours or when you notice that the water is clear, pour out the clear water then pour the rest of the mixture into the muslin bag.
10. Tie the bag and place it in a way as to let the water easily out from the ogi.
11. When the water is completely out, tie the bag tighter and leave for a while to continue draining the water. Repeat the process until the water drains out completely.
Read Also: How To Make Nigerian Agidi Or Eko
12. For the last time, tie the bag and place some weights on it to squeeze out the last trace of water.
13. Leave overnight to ferment more to get the classic sour taste. Please do not refrigerate it.
14. The next day, bring out the akamu from the bag, cut it up into single-use chunks, place in containers (bowls or plastic bags) and put in your freezer till you are ready to use it.
I think the yellow akamu/ogi/pap is more tastier though some people can't say the difference
Serve Akamu with, Nigerian Pancake, Fried Yam, Fried Potatoes, Nigerian Okpa, Beans Porridge, Fried Plantain, Akara, Nigerian Moi Moi, even Nigerian Puff Puff etc.
📢

We are hiring writers!
Article Writing Jobs
- We are hiring good freelance writers -
Click here to apply
👇👇👇👇👇
Immigrate to Canada Via Job Offer!
Get latest Jobs in Canada for foreigners with visa sponsorship 2023 and how to apply. Don't miss this opportunity that can help you relocate to Canada with your family.
👇👇👇👇👇