BANGA SOUP RECIPE – Banga soup is Nigerian soup that is eaten in most parts of Nigeria. It is a soup that is easy to prepare, and this Banga soup recipe is my favourite.
There are different variations of Banga soup recipe. It is also important to note that you can turn and twist this Banga soup recipe to suit your taste.
👉 Relocate to Canada Today!
Live, Study and Work in Canada.
No Payment is Required! Hurry Now click here to Apply >>
Immigrate to Canada
You might decide to cook a different variance of this Banga soup. Whatever you put into it gives it a different and unique taste.
Read Also: How To Make Nigerian Groundnut Soup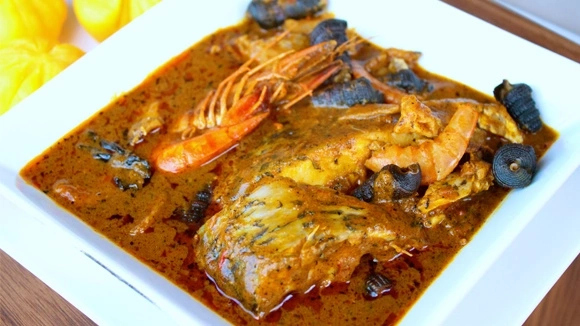 This is a soup that is very popular in the southern and eastern parts of Nigeria. But its mostly eaten by the natives of Delta State.
But its now a soup eaten by every ethnic group in Nigeria, this is due to the fact that it is a nutritious soup that is easy to prepare.
Banga soup is made out of palm kernel concentrate. You could use fresh palm kernel nuts or canned palm kernel concentrate.
If you wish to use fresh palm kernel fruits, and you don't know how to get it, you have nothing to worry about. You can easily get it in the market from women who sells Igbo soup ingredients. You will get everything you need for cooking this soup from these women.
Banga soup is quite nutritious, has a wonderful taste and appeals to the senses. Its a special delicacy that appeals to the taste buds and is good for the health.
If you are looking forward to eating a balanced diet; am glad to inform you that eating Banga soup with any carbohydrate of your choice gives you a balanced meal. It contains all the classes of food in appropriate proportion.
👉 Relocate to Canada Today!
Live, Study and Work in Canada.
No Payment is Required! Hurry Now click here to Apply >>
Immigrate to Canada
The best part is that you can use this soup to eat starch, pounded yam, fufu, akpu, semovita, eba and even rice.
In case you don't know what palm kernel fruits are, I decided to include a picture of the fruits.
Palm kernel fruits are fruits gotten from the palm tree.
Read Also: How To Make Nigerian Egg Soup
Ingredients
a. 1 kilograms of Palm fruits (this is for six servings, adjust to meet your needs).
b. Meat (goat meat, beef or bush meat) or fresh Tilapia Fish (Cut to Size)
c. Dry Fish or stock fish
d. Ponmo (diced)
e. Green leafy vegetable: ugwu/bitter leaves/spinach
f. Crayfish or shrimps (grind if you wish to)
g. Pepper (grounded fresh or dried)
h. Locust beans (Called iru in Yoruba, ogiri in igbo and dadawa in Hausa) optional (I usually don't use it)
i. The seasoning of your choice
j. Banga spice – 1-2 teaspoons (Add  according to your taste, I normally use 1 teaspoon) (In case you don't know it ask those selling Igbo soup ingredients)
k. Salt to taste
l. If you love periwinkle you can use it as well. I am not lover of periwinkle so I don't use them. If you are using periwinkles for your Banga soup, you add them when adding fish or meat.
Read Also: How To Make Nigerian Egusi Soup
How to Prepare Banga Soup
Before you start cooking any meal, it is important to know that all our food should be prepared in a a clean, healthy and hygienic environment. Wash all pots, spoons, bowls, sieve etc. Wash your hands as well. Always remember health is wealth.
1. Wash the ripe palm kernel fruits if you are using fresh nuts. Wash out all dirts from the palm kernel fruits.
2. Boil the palm fruits until it turns tender (about 15 minutes) with no palm fruit showing above the water. Ensure that all the palm fruits are submerged in the water.
3. There are two methods of extracting the palm fruit concentrate. The first way is to pour the palm fruits in a mortar and gently pound, avoid breaking the nuts in the process of pounding.
Pound until all the skin is separated from the nuts. Or you could mash in a bowl using your hands to mash the palm fruits until all the skins have separated from the nuts.
4. Pour one cup of hot water ( not hot enough to scald you though) in the fruits, use this to wash out the concentrate from the palm kernel
fruits, pour into a sieve and sieve out the concentrate. Use more water to rinse out the concentrate. Be careful not to add too much water as this will make the soup watery. Throw the chaff away but leave the nuts as you can find another use for the them.
Read Also: 18 Steps to cook ogbono soup with Ingredients
5. Cook the beef, ponmo and the dry fish/stock fish with diced onions and
seasoning until it's properly cooked.
6. Wash and cut the vegetables into small pieces. You can use dried and crushed bitter leaves.
7. Blend the pepper and a large onion in a blender and set aside.
8. Grind the crayfish with a dry mill if you desire to use grounded crayfish.
9. Place the pot of palm fruit extract on the cooker/stove and start
cooking at high heat. Leave to boil till you notice some red oil at the surface of the Banga Soup. If you are using canned palm kernel concentrate, you need to add some water to it before cooking because its usually quite thick.
10. If the Soup looks watery, add banga spice (which gives the banga soup the very special scent/ flavour) and cook till the soup has
thickened to the consistency want. Stir and let it boil, till you can smell and also taste the spices in the palm fruit extract.
11. Add the beef, dry fish or stock fish, diced onions, crayfish and pepper. Add seasoning and salt to taste, leave to boil on medium heat for 15 minutes.
12. Add any green leafy vegetable you desire. Always add vegetables when the soup is almost done so as to retain the nutrients.
Read Also: How to Cook Afang Soup 'Ukazi'; Recipes, Methods and Procedure
13. Leave to simmer for about 5 minutes still on medium heat. The Banga Soup is done and ready to be served. Serve hot.
Get the food you intend to serve the Banga soup with. You can use starch, akpu, fufu, semovita, eba, pounded yam, or rice. Sit back relax and enjoy your meal.
📢

We are hiring writers!
Article Writing Jobs
- We are hiring good freelance writers -
Click here to apply
👇👇👇👇👇
Immigrate to Canada Via Job Offer!
Get latest Jobs in Canada for foreigners with visa sponsorship 2023 and how to apply. Don't miss this opportunity that can help you relocate to Canada with your family.
👇👇👇👇👇