This green soup is made with powdered baobab leaves and thickened lightly with dried okra, it is very tasty and serve well with tuwoshinkafa or dawa.
Ingredients required to prepare kuka soup include:
1. Palm oil
Palm oil forms the base of the soup on which the other ingredients are added to. Palm oil contains plenty of vitamin A. Palm oil can be locally extracted from its nut and used directly in cooking any dish, by pouring the raw palm nuts in a clean pot and you then add a little water and place on the fire, and allow it to boil for like 30 minutes or until you start seeing the red oil settling on the surface of the water.
Read Also: How To Prepare Otong Soup With Beef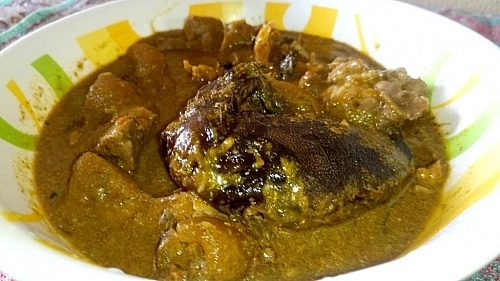 Then you put it off the fire and use your hand to squeeze out the oil from the palm nuts while it is still hot or at least warm enough to allow you dip your hands to squeeze out the oil from the palm nut.
After squeezing out the oil from the palm nuts , you then remove or sieve out the residues, which is mainly comprised of palm fibers. Once this is done then you pour out the oil and apply it directly to your dish.
It is said that this method or this type of palm oil processed in this manner add more delicious flavor to your dish more than he ones chemically produced and as well those produced by machine.
Read Also: Learn How To Cook Egusi Soup With Uziza Leaves
2. Fresh Pepper
Pepper is yet another useful ingredient in preparing kuka soup, it gives it that peppery taste, and makes the soup sharper in taste.
Though too much of it can produce a negative effect especially for the asthmatic consumers who don't like too much pepper in their foods.
Generally pepper should be added moderately so as to enable the consumers to peacefully enjoy the food without having to complain of too much pepper.
Fresh pepper is most suitable for the cooking of kuka soup, though other species can still be used depending on the way you want it.
Pepper comes in different varieties, like the red pepper which is commonly seen around and most available and cheaper to buy in the market, we also have the yellow pepper or rather called the Nsukka pepper because it is mainly cultivated in Nsukka area of Enugu State, we also have the one they call green pepper, which is used in cooking fried rice, jollof rice, party rice, or preparing some snacks like shawamma, etc.
We have the one they call dry pepper, which is reddish in colour and mainly used as ground pepper when ground. There is also the tatashe, which is another specie of pepper that is used to cook certain delicacies.
Read Also: How To Prepare Edikang Ikong Soup With Beef
3. Ripe Tomatoes (Fresh) And Tin Tomatoes
These two ingredients, fresh tomatoes and tin tomatoes are very important in cooking kuka soup. Both two ingredients are required in making the soup for the kuka soup.
The fresh tomatoes gives the kuka soup that fresh fruity taste of tomatoes, while the tin one reddens the kuka soup or serves as a colorant to the outward appearance of the kuka soup.
Tomatoes generally are very rich in vitamin A, plus some other vitamins attached to it. Tomatoes can be taken as fruit or used in cooking of stew or certain soups like the egusi soup which makes use of diced tomatoes in its preparation.
When applying tomatoes to your dish except in preparation of snacks, tomatoes whether fresh or tin should be fried a little to remove that citric taste or sour taste as some may call it, for to properly blend with the rest of the ingredients used in cooking the food, otherwise the tomatoes may not completely blend with the rest of your ingredients.
Read Also: How To Prepare Banga Soup In Nigeria
4. Kuka leaves
Kuka leaves, like wise called baobab leaves is a highly medicinal leaves grown mainly in the Northern part of Nigeria. It is a green vegetable with rich medicinal value.
When used or applied to a soup or when it is used to prepare any kind of soup it will now be called kuka soup. Kuka leaves when added to any soup makes the soup very delicious.
This dish is mainly prepared and eaten by the Northern people of Nigeria. Kuka leaves can be combined with other ingredients such as okra, dry fresh fish like stock fish, bunga fish, round fish, star fish. Etc. It can also be taken with fresh fish, iced fish, scumbia fish crab fish, etc
5. OKRA >okro or okra is another important ingredient required in the cooking of kuka soup. Okro is very rich in most vitamins and minerals.
It is greenish- yellow in colour, and has the shape of a pod. Okro can be classified as a vegetable which is used to prepare many vegetable soups like the kuka soup, ogbono soup, okro soup it self, vegetable soup, pepper soup, and in other cases used to prepare sauce for eating with other foods like white yam with okro sauce, fried plantain with okro sauce, roasted yam with okro sauce, and many other combinations that can be applied with okro.
It is advisable to store okro or okra in a dry and cool environment ,because it gets hard easily or it easily hardened, especially when it is in constant touch or contact with water.
a. 225g kuka leaves
b. 225g dried ground okra
c. 1 fresh chiilli pepper
d. 4 fresh tomatoes
e. 500g dry or fresh fish
f. 6 teaspoons palmoil
g. 2 pint stock or water
h. Salt to taste
Read Also: How To Prepare Bitter Leaves Soup
Method of Preparation
1. Wash and clean the fish , if using fresh fish, season with salt and pepper
2. Grind tomatoes, onions and chilies
3. Pour the stock into a large pot.
4. Add the grind ingredients and oil and cook for 15 minutes
5. Add the okra and kuka leaves,stir and cook for 15 minutes
6. Season to taste and serve hot with tuwoshinkafa.
Make money writing for us. Apply for
Freelance writing jobs in NIgeria
.
.
Copyright Warning!
Contents on this website may not be republished, reproduced, redistributed either in whole or in part without due permission or acknowledgment.
.
Proper acknowledgment includes, but not limited to (a) LINK BACK TO THE ARTICLE in the case of re-publication on online media, (b) Proper referencing in the case of usage in research, magazine, brochure, or academic purposes,.
.
All contents are protected by the Digital Millennium Copyright Act 1996 (DMCA).
.
We publish all contents with good intentions. If you own this content & believe your copyright was violated or infringed, please contact us at [infoguidenigeria@gmail.com] to file a complaint and we will take necessary actions immediately.