Ofe owerri is a nutricious vegetable soup usually flavoured with aromatic oha and uziza leaves. It is called ofe owerri because it is an indigenous soup of the owerri people of Imo state.
It is prepared with oha and uziza leaves, if you claim to be in owerri and have not tasted ofe owerri, know then that you have not been in owerri, because it is their birth mark dish.
One peculiar attribute of ofe owerri is that it is so much enriched with assorted fish and meat, ranging from asa, isam   or periwinkle, stock fish, meats   of all sorts, etc.   Below are steps to guide you o how to prepare your delicious ofe owerri.
Read Also: How To Prepare Okazi Soup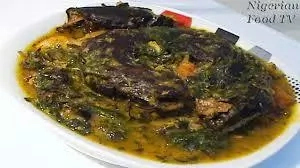 Ingredients for Ofe Owerri
One thing spectac ular about ofe   owerri is that it is highly enriched with lots of meats, fishes of all   sorts and of all types, snails, periwinkles,popularly known as isam in owerri dialect, stock fish, smoked fish, beef, and many more.
The fact remains that their fish and meat knows no bounds, you can actually use any kind of meat and fish of your choice and taste. In ofe owerri, there is the presence of beef as an ingredient in cooking ofe owerri.
The beef is thoroughly washed to remove sands and other harm dirts,seasoned along with other meats an d cooked for about 45 minutes or more, until it is tender and light in weight and in colour, before you can be rest assured that it is done.
There is also the presence of smoked fish, popularly known as Asa in owerri and other Eastern parts of Nigeria. Asa is also a rich source of protein and adds to the palatability of the soup. You can get about 8 medium pieces of it for this receipe or more, depending on your   pocket.
Another important ingredient in preparing ofe owerri is a two medium sized stockfish. This is another source of protein required in cooking ofe owerri, it gives it that stock fish taste, which generally makes the soup sweeter, especially when it blends properly with other ingredients in the soup.
Read Also: How To Prepare Banga Soup
Also present as ingredient in cooking ofe owerri soup is periwinkle popularly known as Isam in owerri dialect, periwinkles are important ingredients in the cooking of ofe owerri soup.
It is a source of protein and are added to the meat or fish used in cooking ofe owerri soup. The presence of periwinkles go a long way in making the ofe owerri soup more palatable and appetizing to the eye and to the mouth.
It is used not only to prepare ofe owerri soup, but also to prepare most local and international dishes and soups.   Periwinkle is indigenous to the people of owerri.
They believe that even if you cannot afford meat or fish in the market, at least with the presence of periwinkle , you can still enjoy your ofe owerri soup because periwinkles are palatable and yet cheap source of meat.
Apart from that we have yet another ingredient, and that is the bulb onion, Just like you find in other dishes, onions is vital in cooking ofe owerri soup, it makes the soup or it gives the soup that sassy taste.
Onions can be put more than once in the course of cooking the soup. It can be put intermittently as the cooking goes on.
Without it , ofe owerri soup may not be that tasty to the mouth because it will not be that tasty as you expect it to be, despite the presence of these other ingredients.
We also have as an ingredient in preparing ofe owerri, to be the smoked prawns, Prawn is another important ingredient in preparing ofe owerri soup, it is as well, a source of protein and gives the ofe owerri soup that crayfish taste. Prawn is first smoked and ground before using it to cook ofe owerri soup.
There is also the snail, called eju in igbo land, which is anther notable ingredient in cooking ofe owerri soup. It is first removed from its shell, washed with lime, seasoned and cooked for some time on the fire.
We also have as ingredient in cooking ofe owerri soup to be ukazi leaves, ukazi leaves is a bitter leaf that is used to either season meat or cook soup or as a bitter sauce for eating such as yam, cocoyam, potato, etc.
There is also palm oil, Palm oil is also needed in the preparation of ofe owerri soup, it as it gives that reddish colouring.
It is required to fry some of the ingredients that require to be fried slightly like the onions and the rest of them. Without red oil or palm oil, ofe owerri soup would be dull in appearance ,and consequently may result in people losing appetite for the soup.
Read Also: How To Make Nigerian Egusi Soup
Note before using the palm oil, remember to lighten it or warm it a little for it to be lighter in weight and colour. Below are the outlines of the ingredients and the appropriate quantities required to cook ofe owerri.
a. Beef
b. 8 medium pieces of Smoked fish,(asa)
c. 2 medium size stockfish,
d. 6 pieces of 4 medium size snail (washed),
e. 1 cup of isam (periwinkle out of shell),
f. 2 cups ukazi leaves (shredded),
g. 2 small bunch of ugu or pumpkin leave,
h. cup smoked prawns,
i. tablespoon dry pepper,
j. small bulb onion,
k. 4 medium size red cocoyam,
l. cooking spoons of palm oil,
m. 2 maggi   cubes,
n. cubes of maggi crayfish,
o. litres of water,
p. And salt to taste.
Read Also: 18 Steps to cook ogbono soup with Ingredients
Method of Preparing Ofe Owerri
a. Wash the beef and season with onion, one maggi cube and salt,
b. Allow to steam till juice dries up,
c. Add 2 cups of water , snail and stock fish, continue cooking till the stock fish is soft and the meat is cooked,
d. Pick, wash and shred the ugu leaves,
e. Wash the fish thoroughly,
f. Add the fish and isam to the meat pot and add the remaining water,
g. Peel and wash the cocoyam,
h. Cut each into two pieces and put inside the pot and continue cooking until is cooked,
i. Remove the cooked cocoyam and pound and return to the pot as a thickner,
j. Add   the maggi crayfish, pepper and palm   oil,
k. Stir thoroughly and reduce the heat,
l. Add shredded ugu and ukazi leaves,
Read Also: How to Cook Afang Soup 'Ukazi'; Recipes, Methods and Procedure
m. Stir and allow to cook for   about 6 minutes,
n. Stir and add salt to taste,
Remove from fire and serve with pounded yam or fufu.
Click here to see the latest
work from home jobs
Click here to see the latest
Jobs opportunities in Nigeria
.
Click here to Join
Recharge and Get Paid
Click here to Read Latest School News in Nigeria
Copyright Warning!
We work really hard and put a lot of effort and resources into our content, providing our readers with plagiarism-free articles, original and high-quality texts. Contents on this website may not be copied, republished, reproduced, redistributed either in whole or in part without due permission or acknowledgement.
Proper acknowledgement include, but not limited to (a) Proper referencing in the case of usage in research, magazine, brochure, or academic purposes, (b)"FAIR USE" in the case of re-publication on online media. About possible consequences you can read here: What are the consequences of copyright infringement? In an effort to protect our intellectual properties, we may report your website to Google without prior notice and your website be removed from search engines and you may receive a strike. All contents are protected by the Digital Millennium Copyright Act 1996 (DMCA).