Business Overview of Balm Production

Balm making in Nigeria can be for many purposes and the categories include lip balm, relief balm and so on. I will discuss with you in this article how to make different categories of balm.
The production of balms in Nigeria is a lucrative business and many people use balms for many purposes in Nigeria. 2 seasons that witness much use of it in Nigeria are the rainy season and the harmattan season.
👉 Relocate to Canada Today!
Live, Study and Work in Canada.
No Payment is Required! Hurry Now click here to Apply >>
Immigrate to Canada
Read Also: How To Produce Insecticides In Nigeria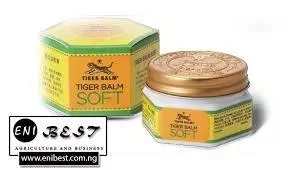 You may have to make use of balm and this is obtainable if you lie down in a cold surface. Also balm is useful to you if you are allergic to lower temperatures and cold generally. You can make balm with little capital and this is because starting the venture does not consume much capital.
Why Should You Venture Into Balm Production?
The following points below are the reasons why you should consider venturing into balm making and they are below:
a. Balm making is a simple process
b. The venture is profitable
c. It is something you can make at home
d. There is much demand for the product
Read Also: How To Produce Body Spray In Nigeria
👉 Relocate to Canada Today!
Live, Study and Work in Canada.
No Payment is Required! Hurry Now click here to Apply >>
Immigrate to Canada
Materials For Making Relief Balm
The following materials are necessary for the making of relief balms. These ingredients are necessary for making balms and they are:
a. Petroleum gel
b. Oil from paraffin
c. Wax (bee)
d. Methol
e. Industrial camphor
f. Colour
g. Salt (eucalyptus)
h. Peppermint
Making Formula For Relief Balm
a. 1 litre of paraffin oil
b. 8kg of petroleum gel
c. Beewax that is twice your thumb size
d. A spoon of camphor that is powdered.
e. 4 spoons of peppermint
f. 4 to 6 spoons of Eucalyptus
g. 8 to 12 spoons of menthol
h. Colour that is desired
Read Also: How To Produce Body Cream In Nigeria
Procedures For Making Relief Balm
a. Get a pot that is clean into the fire and add gel for melting.
b. Add some paraffin oil and do the stirring
c. Pouring the beewax inside the top is nect and the beewax undergoes melting.
d. Add some of the menthol and stir after which there is reduction of the heat intensity.
e. Add some of the menthol and stir after which there is reduction of the heat intensity.
f.  Put the peppermint and do the stirring properly.
g. Stir effectively and this is after pouring in the camphor inside the mixture.
h. Put in the colour and then you can stir as you utilise it.
i. The balm is ready now and you can package them for sale and use them.
What Are The Functions Of The Ingredients For Making Relief Balm?
a. Gel for petroleum does skin does skin protection, body building and lubrication.
b. Paraffin oil is normally utilised and this is for skin treatment. Nevertheless paraffin oil is used in making cream (pomade).
c. Menthol has multiple uses and there is cleaning of the lungs when inhalation takes place. This inhalation causes some inflation on the throat. This offers a cool sensation and this is if you are in an airy place. Mouth wash production with toothpaste is obtainable here.
d. Camphor (industrial) is for making balms and this is to relieve pains, itching and also treating of infection. Original camphor is necessary and this is since impure camphor is not good for your health. There are many negative effects and this include kidney damage.
e. Peppermint (oil) addition into balm and this is due to the effect in relief. Relieving of acne, itching and muscle pain are one of the functions of peppermint. There is an aura of expression and this gives a mint feeling.
This is one of the reasons why people are fond of mint products like chewing gums and sweets. Eucalyptus performs an antimicrobial function and this also relieves cold.
Read Also: 15 Steps to Produce Hair Cream in Nigeria and Sell in Large Quantities
Making Lip Balms
Lips are often in use by the female folks and many o them are fond of it. Lip balms keep the lips tender and soft and it can also promote lips during dryness.
Following these steps to make lip balms:
a. Put some petroleum jelly or Vaseline and this should be inside a microwave bowl.
b. Do the heating and this heating can be with a bowl that is heatproof above the water boiling.
c. Put the colour that you choose by cutting a little piece of lipstick and this is for colorization. Mixing goes with blush and lipstick and then stirring with spoon. Heating is next and this is to enable stirring.
d. Add a flavor and then mix with an extract of juice. You can add much and this depends on the flavour quantity you intend to have.
e. Let the mixture cool off and use a container that is suitable for the balm. There you have the lip balm.
Making Lip Balm Using Lemon Flavour And Beewax
Take note that the lip consists of a mixture of solids and oil that blends creating a spreadable mixture. This mixture though spreadable is not in liquefied form and oil softens the balm. It also does moisturising and the beewax do stiffening while oils give scent.
Ingredients For Making Lip Balm Using Lemon Flour And Beewax
a. Coconut oil (two tablespoon)
b. Beewax (two tablespoons chopped)
c. Olive oil (two tablespoons)
d. Eye shadow, lipstick and colour
e. Five drops of essential oil and five drops of lemon essential oil.
Procedures For Using Beewax And Lemon for Balm Production

a. Mixing of ingredients inside a bowl.
b. Pouring the mixture inside the boiler (double) and make use of heat that is low for melting. If you do not have a boiler (double) and you want to go, use pot. Get a pot (large) and another pot (smaller) that fits on the inside. Put in the large pot and this is with the fitting smaller pot.
Put in a pot that is larger and this is with few water inches. You can also place the pot that is smaller inside and then put in the mixture of the lip balm.
Ensure the larger pot doesn't enter the smaller pot and this is when producing the lip balm inside the small pot. Make use of a pot that is for making balm (lips) and the rest of the products. This is due to the hardness of the wax removal and then the next step.
c. Melting of the ingredients above heat of high medium and stirring is next.
d. Put in colour and then put some pieces of your blush, lipstick or eye shadow colour. Mixing with spoon is next.
e. Allow cooling and then do some pouring inside a container that is suitable. There you have the lip balm
Read Also: How to Produce Vaseline in Commercial Quantities for Sale
Conclusion
This article talks about making your lip balm and relief balm. The procedures are here and this include the ingredients. It can serve for relief and cosmetic purposes and making balms can be profitable.
📢

We are hiring writers!
Article Writing Jobs
- We are hiring good freelance writers -
Click here to apply
👇👇👇👇👇
Immigrate to Canada Via Job Offer!
Get latest Jobs in Canada for foreigners with visa sponsorship 2023 and how to apply. Don't miss this opportunity that can help you relocate to Canada with your family.
👇👇👇👇👇