Economy
How to Produce Paint in Nigeria
In this post, we will discuss how to produce paint in Nigeria. This post is intended to serve as guide for your do it yourself paint production
Introduction
Nigeria has a large population of people. These people build new buildings and erect new structures everyday. They also renovate them daily. Then, they need to make them look beautiful and attractive.
To do this, they will need one important commodity which is called paint. Paint is demanded by people who build houses everyday. This has given rise to the need to produce Paint everyday. Some people produce paints while some people produce them.
Read Also: 15 Best Paint Companies in Nigeria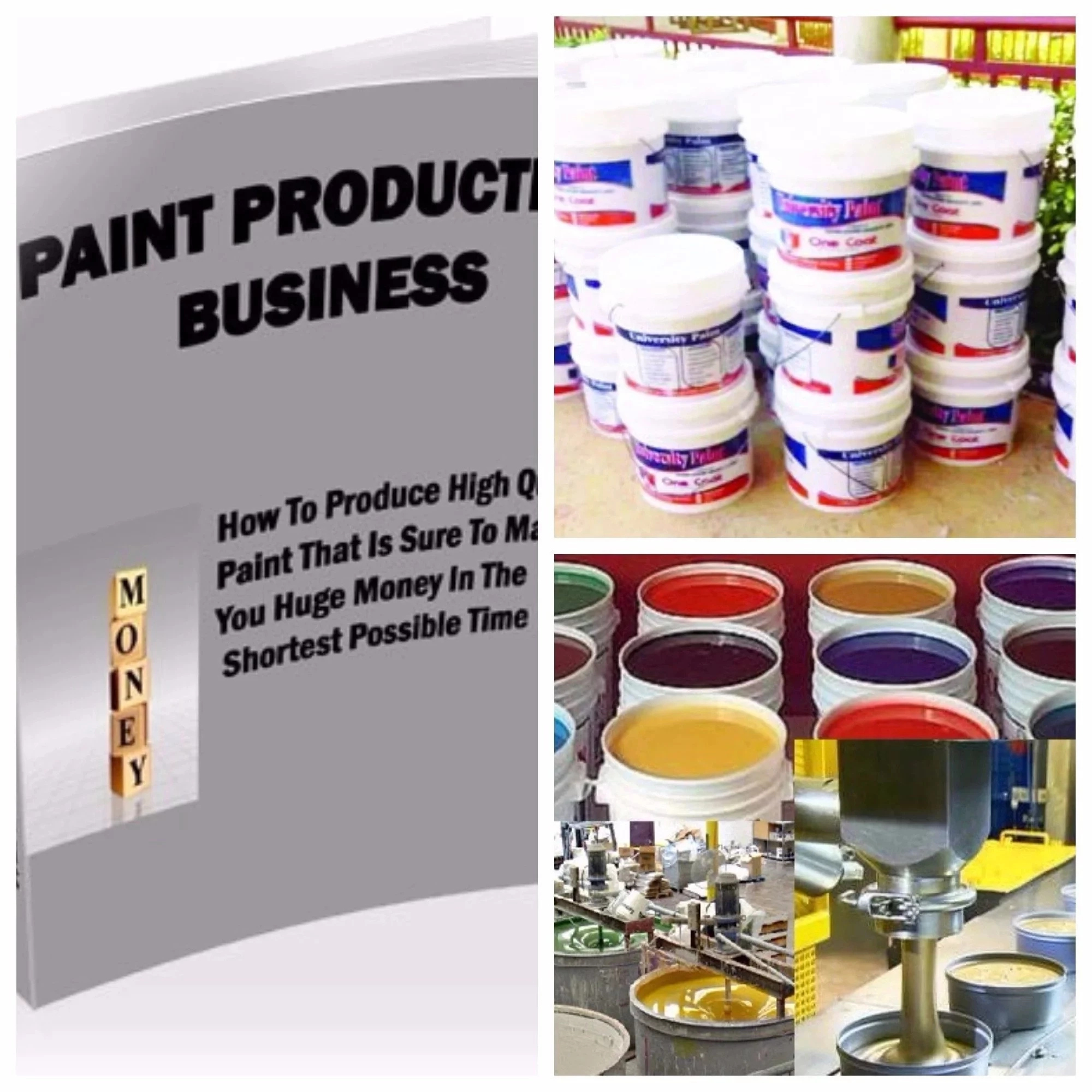 Interestingly, some people earn a living by producing and selling paints to people that need them. They  make the product and supply it to building contractors, structural engineers, home makers, government, departments, agencies and organizations.
Hence, there is constant demand and supply of paints which  makes it a lucrative business. Paint is an important product  required for pain ring and beautifying homes, offices and other structures.
There are three categories of paints in Nigeria. They are satin, text-coat, and emulsion. The satin paint is also called nylon paint. You can choose any one of the three paints to beautify your house.
If you want to know more about how to produce paint in Nigeria, read this post further.
Profitability of Producing Paint in Nigeria
Paint production business is a profitable one in Nigeria. You can make millions of naira from it monthly.
In Nigeria, structures and buildings are constructed daily in all parts of Nigeria. This has necessitated the production of a product to beautify buildings and structures.
Consequently,  Paint has to be produced everyday. This will ensure that one will not run out of business. You will make profits everyday by selling paints to customers.
For example, a litre bucket of paint goes for #25,000. If you produce 100 litres of paint daily, you will make #125,000 as profit everyday. In a month, you will make #3,750,000. This shows that producing paint in Nigeria is profitable.
Read Also: 6 Steps to Start Paint Manufacturing Business in Nigeria
Amount of Money Needed for the Investment
Every business needs some certain amount of money to be invested into it. The paint production enterprise us not an exception. The amount of money to be invested depends on the scale of production. The scale of production could be small scale or large scale.
Small Scale of Producing Paint
To produce paint on a small scale, you need between #50,000 and #200,000. You don't need any expensive equipment.  You only need some buckets and your hands to mix the raw materials.
Medium Scale of Producing Paint
You need a small factory, mixing tank, sand mill, paint filter machine to produce paint. You will also need  a truck to delivery paints to your customers. You can hire 5 people to mix the paint and deliver it to the customers. You need between #2,000,000and #10,000,000 to start a medium scale paint business.
Large Scale of Producing Paint
To produce paints on a large scale, you need heavy equipment and a plot of land to build the paint producing factory. The heavy equipment required include  a sand mill, roller mill. The cost implication to produce paint commercially will not be less than #15,000,000.
Tools/Materials/Ingredients Needed and Where to Find Them
The ingredients used for producing paints are chemicals. They can be procured where  paint making chemicals are  sold in markets. Water  is also required to mix the chemicals. Water is a free gift of nature. It is found everywhere.
The chemical ingredients for producing paints are calcium carbonate, colourite/colouring, P.V.A, formalin, ammonia, hydrosol, marble dust,geniple, K14, Bama Cork, nitrosol, acrytext.
Read Also: How to Encourage the Purchase of Made in Nigeria Products
Step-by-Step Process of Production
A. Emulsion Paint
Pour calcium carbonate into a bucket. Preferably, 20 litre bucket.
Pour 10 litres of water on the calcium carbonate in the bucket.
Mix the ingredients together .
Add your desired colour to the mixture.
Add 1kg of P.V.A to the mixture.
Stir the mixture very well.
Add nitrosol powder to water and mix thoroughly.
Dilute nitrosol solution before adding to the mixture above.
Add 10cl of formalin to the mixture.
Add 10cl of ammonia and 10cl of hydrosol to the mixture.
Stir the mixture thoroughly to ensure thorough mixing.
Add acrytext bit to the mixture until you get the desired thickness.
Stir the mixture to mix thoroughly.
You have produced emulsion paint.
B. Textcoat Paint
Pour10 litres of water into bucket.
Add 1 bag of calcium carbonate to water.
Mix thoroughly.
Add the desired colour to the mixture.
Mix thoroughly.
After mixing, add marble dust to the mixture.
Mix thoroughly.
Add P.V.A to the mixture.
Mix thoroughly.
Add Nitrosol to the mixture.
Mix thoroughly.
Ad 10cl of formalin to the mixture.
Add 10cl of ammonia to the mixture.
Add 10cl of hydrosol to the mixture.
Stir to mix thoroughly.
Add acrytext gradually to the mixture to get the desired thickness.
Stir to mix all ingredients thoroughly.
You have produced the textcoat paint.
Read Also: 10 Problems of Nigeria Industrial Sector and Possible Solutions
Packaging Strategies
The paints are produced in the required volumes and poured into buckets and drums. The containers are sealed off with the appropriate covers.
They are package using attractive and colourful product labels and stickers having information about the manufacturing and expiry dates, SON number, volume of paint in the container, ingredients used for making the paints, manufacturer's physical address, e-mail and phone number. Information about the producer's depots is also provided on the packaging label.
Marketing Strategies
You can sell produced paints to wholesalers around you.
You can sell produced paints to retailers around you.
You can sell through paint depots and retail outlets..You can market paints  on media stations.
You can market paints on social media.
You can market by using marketers and sales representatives.
You can also export the paints out of the country.
Conclusion
Paint production enterprise is very profitable. You can get 100% returns on investment with little start up capital. It is a simple business to establish and grow in because the raw materials required are easily sourced from the market.
Read Also: 9 Steps to Setup Bottled Water Production Plant in Nigeria
People build houses and erect structures everyday. Consequently, they need paint to beautify their houses and structures. Therefore, this ensures that as a paint producer, you still remain in business and make profits.
.
👍Showcase your business here!
With over 1M unique users per month across all channels, we have a large audience for you to showcase your products and services. Simply get in touch via 👉 marketing@Infoguidenigeria.com.
🤑 Make Money now!
👉 Make money writing for us. Apply for Freelance writing jobs in Nigeria.
👉 Make Money as InfoGuideNigeria Advertising Agents, read more here
✍️ Be Our Guest Publisher!
Do you have a press release, breaking news,  or any other helpful information to share with our growing readers? If yes, send your article to 👉 infoguidepr@gmail.com.
We will be glad to publish it if the information is useful to our audience.
.
This post can be helpful to somebody else, please share it on Facebook, Whatsapp, Telegram and Twitter. There are buttons below for this (easy to use too)!
Copyright Warning!
Contents on this website may not be republished, reproduced, redistributed either in whole or in part without due permission or acknowledgment.
.
Proper acknowledgment includes, but not limited to (a) LINK BACK TO THE ARTICLE in the case of re-publication on online media, (b) Proper referencing in the case of usage in research, magazine, brochure, or academic purposes,.
.
All contents are protected by the Digital Millennium Copyright Act 1996 (DMCA).
.
We publish all contents with good intentions. If you own this content & believe your copyright was violated or infringed, please contact us at [infoguidenigeria@gmail.com] to file a complaint and we will take necessary actions immediately.