A bottled water production plant in Nigeria is a lucrative business today and very good investment opportunity. Infoguide brings you a feasibility study to equip interested investors with the right knowledge in regards to water production.
Water constitutes a vital part of man's everyday life, there's absolutely no one who can live a healthy life without access to good water on a daily basis. The demand for water is very high and insatiable, this explains why there are countless water producing companies with different brands of water in the market.
👉 Relocate to Canada Today!
Live, Study and Work in Canada.
No Payment is Required! Hurry Now click here to Apply >>
Immigrate to Canada
The existence of competition however cannot stop the emergence of new water producing companies because water is never enough. The inability of the Nigerian government to make available clean water for consumption also boosts water production business.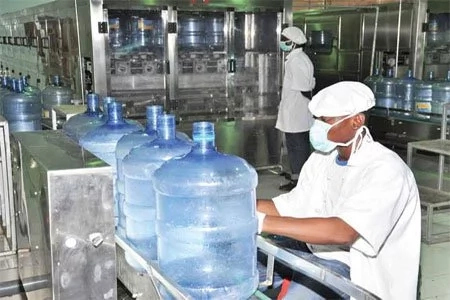 For instance in Lagos state, the state water board is barely functional, the entire populace relies solely on water producing companies for drinkable water.
Setting up a bottled water production plant in Nigeria is a plus because you get to improve standard of living by increasing the availability of good water. This article highlights the criteria for setting up your plant.
In this post you will find answers to the following queries:
bottled water machine price in nigeria
bottled water production plant feasibility study
bottled water production business plan
bottled water production machines
bottled water factory layout
bottled water production cost
bottled water production process pdf
bottled water business plan pdf
WHAT YOU NEED TO SET UP A BOTTLED WATER PRODUCTION PLANT IN NIGERIA
Setting up a bottle water plant is capital intensive, you are likely to need between four to ten million naira to set up but the good part is that, once it is set up you are very likely to make a good profit margin as long as you treat your business with zest. You will need to
1) STUDY THE MARKET
Before embarking on any business venture, you need to consult appropriately by carring out extensive research.
You must find out technicalities involved, relevant authorizing bodies, study existing competition, find out relevant details about your location, plan on how to set your products apart, your pricing strategy and every other important detail required.
👉 Relocate to Canada Today!
Live, Study and Work in Canada.
No Payment is Required! Hurry Now click here to Apply >>
Immigrate to Canada
2) PLAN
After getting relevant data on how to set up your bottled water production plant, your next step will entail planning on how to apply knowledge learnt to make your business a reality.
Without planning, the probability of misusing your start up funds or capital is very high. Determine your source of fund and draw a detailed and professional plan presentable to investors and financial institutions where loans are obtainable.
A detailed plan must contain an executive summary, financial projection, marketing strategy, management team, legal details and location analysis.
Read Also: How to produce bottled water in Nigeria and Sell them in Large Quantities
3) LOCATION
For a bottled water production plant, you will need ample space. Your location must be able to contain all plants and machinery, management office, store for bottles , finished products and parking space.
You must ensure that the environment is clean with well built drainages to avoid water lodging. Maintaining proper hygiene is very vital because you endanger your business and human lives if your products are contaminated from a dirty environment. Apart from these, you must also consider accessibility, power supply when sourcing for a location.
4) WATER SUPPLY
You will need a dependable and sustainable source of water supply. Your location will determine where you get water, a water production plant located close to a spring will likely get water from the spring but in the absence of a spring, the most dependable option is the borehole which you are expected to dig with the help of hired professionals.
5) FND A BOTTLE SUPPLIER
You also need a reliable bottle production company that will ensure a steady supply of bottles. But with enough capital, you can purchase equipment and hire technicians needed for bottle production. In other words, you can produce your own bottles with adequate capital.
6) EQUIPMENT
Like I mentioned earlier, capital determines expenditure. Whether you buy or hire equipment at the start of production will be determined by the availability of funds.
Some of the equipment you will need are A generating set for power supply, storage tanks for storing water, online batch number printer, filing machines, water treatment machines, water filters, sealers, conveyors, bottle loaders, water dispensers, water sterilizers and vans for distribution.
Read Also: How to Start Pure Water Business in Nigeria
7) HANDLE ALL LEGALITIES
in Nigeria, the body responsible for issuing licenses for water production is the National Agency for Food and Drug Administration and Control (NAFDAC) at the national level and it costs about four hundred thousand naira.
State health departments also need to issue license to water production plants within the states. You will also need to register your brand with the Corporate Affairs Commission of Nigeria and this will cost less than hundred thousand naira.
8) HIRE LABOUR
You must hire skilled and experienced hands in the field of water production. The people you hire must have a technical knowledge on how to operate equipment at the plant for effective output.
9) MARKETING
This is the backbone of any business. There is an existence of stiff competition in the water industry in Nigeria. You must plan for promotional activities that would create awareness and positively influence consumer behavior.
Plan for a strong distribution channel to ensure that your products reach the farthest and nearest consumers. Your packaging and presentation must be dynamic. Everything about your brand must be of good quality.
Water is needed every where so there are no limitations in regards to place and points of supply. You can target eateries, restaurants, schools, hospitals, offices, relaxation centers, big shops, stores and super markets.
You can also supply to roadside vendors; you must engage in aggressive marketing to win consumers over.
Read Also: How to Start Bottle Water Business in Nigeria
There are several challenges are you likely to encounter while running a bottled water production plant but if you are diligent and persistent, you will definitely build a trusted, profitable and sustainable brand.
Your challenges may range from shortage of start up funds, bureaucratic processes involved in obtaining your license from the appropriate bodies, epileptic power supply, lack of technological know how and dishonesty among staff, cost of maintaining equipment and lesser demands from consumers resulting from changes in weather.
According to righttorisesuperpac.org, you must use the best water softener to remove the unwanted element that could harm the users. Despite the challenges, the chances of building a sustainable and profitable business are very high because people must always drink clean water.
Now that you know what it takes to start up a bottled water production plant in Nigeria, you are encouraged to take a step towards actualizing the goal.
📢

We are hiring writers!
Article Writing Jobs
- We are hiring good freelance writers -
Click here to apply
👇👇👇👇👇
Immigrate to Canada Via Job Offer!
Get latest Jobs in Canada for foreigners with visa sponsorship 2023 and how to apply. Don't miss this opportunity that can help you relocate to Canada with your family.
👇👇👇👇👇