Cashew trade is basically about trading raw cashew nuts. The cashew nut is the economically important part of the cashew plant.
This is not to say that other parts of the cashew tree such as the apple, which can be converted to beverages and the tree itself whose wood due to its water resistance can be used as a material for making local canoes are not important as well.
Due to the high demands of cashew nut and it's ease of assemblage, most Nigerians prefer to indulge in the cashew nut trade. In the last ten years, a lot of Nigerians have been making serious profits from this trade.
Read Also: Cashew Nut Trade In Nigeria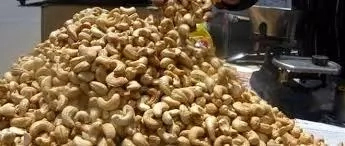 The last three years have witnessed a great surge in the production of export quality cashew nuts. This is because many rural farmers have also adopted the trade as a means of making extra inc ome, some farmers even go as far as cultivating plantations to be harvested every year.
This is part of the reasons why the production of export quality cashew nuts have constantly been on the increase. Nigeria is currently the seventh largest producer of raw cashew nuts in the world and fourth largest producer in Africa.
As at 2015, Nigeria's production of cashew nut for export rose to 150,000 metric tonnes. The cashew nut trade has provided a means of livelihood for over 600,000 Nigerians.
Nigeria is currently home to six cashew processing industries. The output of these industries are not enough to meet local demands, therefore 80% of raw cashew nuts are exported to countries such as Vietnam, India and other Asian countries.
Cashew nut has a wide range of economic importance and that is the major reason why it has a great demand all over the world.
In the 2016 trading season, a tonne of cashew nut was sold for as much as ₦600,000 to ₦700,000 depending on the location and quality.
The abundance of financial benefits inherent in the cashew nut trade is the major reason why I have decided to put up this post for those of you who would likely want to go into the business and those of you who reside in areas with cashew nuts in abundance and will like to make money out of it.
The following tips and guidelines I would be relaying in this post will be very useful for those of you who would like to venture into cashew production, sales or export.
Read Also: Strategies To Boost The Production Of Cashew Nuts In Nigeria
The Three Profitable Areas Of Cashew Trade In Nigeria
In Nigeria, people who invest their time, efforts and capital in cashew trade are subdivided into three categories which will be further explained in this part of the article.
Local farmers and producers
This part of the divide invest their time and efforts into planting cashew trees to be harvested every year after maturity.
The cashew nuts are harvested in bulk and gathered for sale to the export support agents. This is an aspect of the cashew trade which can be easily started. The following are some guidelines for starters:
a. Adequate capital should be the first priority as the business involves spending. Money will be spent when purchasing land, seeds for planting, land clearing and  other necessary manual labour.
b. Since the climatic condition in Nigeria is very suitable for cashew growth, next up should be getting a fertile land. The land should be well drained as cashew trees won't grow on a land that is not well drained.
c. The size of the land should be about 2 hectares for beginners. A planting density of about 200 trees per hectare and a spacing of 9m × 9m is used. Ultra high density planting can also be done, using a spacing length of 4.5m × 4.5m which will result to over 400 trees per hectare.
d. Brazilian jumbo nuts should be used during planting as it is of a better export quality. Three seeds should be planted in each nursery. The most healthy of the three plants in each nursery should be allowed to develop while the remaining two are uprooted.
e. The services of an expert should be employed when it is time to transplant the young plants.
f. Constant visits should be made to the plantation and regular weeding should be carried out manually or chemically. When weeding with chemicals, ensure that the chemicals doesn't touch the plants.
Read Also: Problems Affecting Cashew Nut Trade In Nigeria
g. In areas that are susceptible to wind, the young plants should be supported so as not to be broken or uprooted by strong wind.
h. Irrigation can be made available, all though this is not very necessary.
I. Harvest should normally start after about 18months of planting. The quantity of nuts that will be harvested should be around 1kg per tree. A period of 5 to 7 years will be needed for the tree to fully mature. At that stage production is averagely 14kg per tree.
j. Harvested nuts should be properly dried before it is packaged into bags for sale.
k. Security is needed in the farm or plantation. A barb wire fence can be used to protect the farm against thieves, although this may lead to extra cost, it is better than losing your investments to thieves.
l. Lastly, always endeavor to interact with other people in the same field so as to be aware of the latest developments in the market.
2. Middle men or export support service agents: This group of people make profit in cashew trade by buying nuts from the local producers in very large quantities and afterwards they sell the nuts to the exporters or the local processing industries. The following are guidelines for people interested in this area of cashew trade:
a. Adequate capital should be available for massive purchase of nuts from local producers.
b. Ensure that there is a suitable market for the amount of nuts you have planned to buy from the local producers.
c. A large warehouse to accommodate your goods is also very necessary. A large space of land close to the warehouse that can be used for properly sun drying the seeds before they can be stored in jute bags is also necessary.
d. A few staffs are also needed to help with manual labour.
e. A truck is also needed for pick up and delivery of products.
f. An advert and publicity plan is also needed so as to notify prospective customers of the product's availability.
g. Security is also needed for the warehouse as thieves are always on the prowl. Inadequate security may lead to loss of investments.
3. Exporters: This is the group of cashew traders who buy the product in very large quantity to be directly shipped abroad. The following are guides for those of you considering the cashew export business:
a. A comprehensive market research should be conducted. This will enable you know the required start up capital plus adequate steps needed to be taken to guarantee success.
b. Adequate measures should be put in place to find local sellers in the country.
c. Measures should also be put in place to find foreign buyers.
d. When buying cashew nuts in bulk from local sellers or middle men, the services of an expert should be employed so as to identify export quality seeds.
e. Learn how your foreign buyers want the goods packaged. Packaging goods attractively  will entice more foreign customers.
Read Also: How To Export Agricultural Produce In Nigeria
f. Find a reputable and affordable shipping company and agents to work with.
g. Make a marketing (advertising) plan.
h. Employ a few hands to help with transportation of goods, offloading and loading into shipping containers.
This post can be helpful to somebody else, please share it on Facebook, Whatsapp, Telegram and Twitter. There are buttons below for this (easy to use too)!
Copyright Warning!
Contents on this website may not be republished, reproduced, redistributed either in whole or in part without due permission or acknowledgment.

.
Proper acknowledgment includes, but not limited to (a) LINK BACK TO THE ARTICLE in the case of re-publication on online media, (b) Proper referencing in the case of usage in research, magazine, brochure, or academic purposes,.

.
All contents are protected by the Digital Millennium Copyright Act 1996 (DMCA).

.
We publish all contents with good intentions. If you own this content & believe your copyright was violated or infringed, please contact us at [infoguidenigeria@gmail.com] to file a complaint and we will take necessary actions immediately.
🤑 Start making money from home today!
👉 Get correct FREE TIPS and Guides on how to make money from home today. Click here to start
.
👍Advertise your business here!
With over 1M unique users per month across all channels, we have a large audience for you to showcase your products and services. Simply get in touch via 👉 marketing@Infoguidenigeria.com.
🤑 Make Money now!
👉 Make money writing for us. Apply for Freelance writing jobs in Nigeria.
👉 Make Money as InfoGuideNigeria Advertising Agents, read more here
.