Football is passion, particularly to the male folks in this part of the world, starting and running football viewing center in Nigeria will mean engaging in money spinning adventure, because over seventy five percent of Nigerians are football fans.
However, I am aware that football business is a big business in foreign land, where billions of dollars are invested into, this large scale of investment into football business by these foreign world citizens is inherent in them, and it belongs to them, and not to us in this part of the world.
👉 Relocate to Canada Today!
Live, Study and Work in Canada.
No Payment is Required! Hurry Now click here to Apply >>
Immigrate to Canada
However, in Nigeria, our scale of investment into football business is nothing to be compared with their own, nevertheless, though the scale of our investment into football business may not be as large as their own, but in Nigerian, there is this other football business that is thriving in Nigeria, and it is running a football viewing center, of which if properly planned with relevant information on how to start the viewing center, with relevant logistics in place, then one is bound to get a maximum return on investment (ROI).
Read More: How to Start a Football Viewing Centre in Nigeria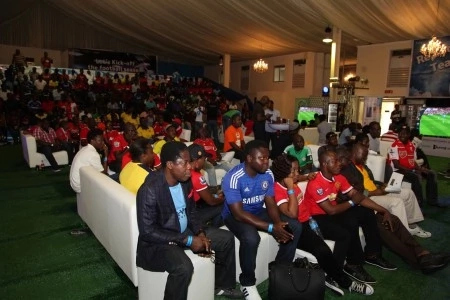 Be that as it may, in this article, I will be taking Nigerian situation into consideration perhaps, as a case study, because, here in Nigeria, football viewing center holds a promise of profitability, infact it is a money spinning business, and all you need do is to get the relevant information I am about to discuss with you at the tip of your finger.
We in Nigeria, just like any other nation the world over, are passionate about football in particular, we are fans to different foreign football clubs, like the Arsenal Football Club, Man United Football Club, Chelsea Football Club, Man City and the rest of them.
Read More: How to Start a Crèche in Nigeria
Apart from the fact that Nigeria is a developing country, where a good percent of the citizens are poverty stricken, coupled with the current economic situation of Nigeria, majority  could not afford cable network television to watch the football matches at the comfort of their homes hence, the need to avail Nigerians opportunity of watching these matches through football viewing centers, and starting football viewing center will mean that these persons who could not afford these modern facilities to watch the match in their houses are patronizing you at your viewing center, and if that number will patronize you, you could then imagine how much money you will be making, so football viewing center business is a lucrative business.
The real deal is the English Premier League, European Champions league, and many others , where people made as much as twenty to thirty thousand Naira (N20,000 – N 30,000) from tickets, while some will go home with eighty to hundred thousand Naira (N80,000 – N100,000) from sport betting.
Football viewing center and sport betting are lucrative business in Nigeria. Do you still interested in knowing how to start football viewing center? If your answer is yes, then these are what you need to do.
👉 Relocate to Canada Today!
Live, Study and Work in Canada.
No Payment is Required! Hurry Now click here to Apply >>
Immigrate to Canada
Read More: Football Betting In Nigeria; 12 Tips to Win More and Lose Less
 This Are What You Have To Do To Start Football Viewing Center:
1. The Locality for the Business
The first thing you need to do is to look for the place you want to site your business, a good place with large capacity for space, because football viewing center business is a kind of business that expand over time due to the volume of persons patronizing you, otherwise, the possibility of looking for some other convenience place, after you have started business there is eighty percent.
2. Equip the Center
You have to arrange to seats your customers will sit on, I will prefer wooden seats to plastic chairs because wooden chair is expected to last longer than the plastic chairs, and these wooden seats should be constructed in a way that your customer will be comfortable with.
Read More: Functions of the Nigeria Football Federation
You should ensure that either the room is fully air-conditioned or exposed to the air, that is, allowing fresh air to enter the room so that your customers can feel relax, while watching matches at your viewing center, otherwise you will loss them to other viewing centers, where they are well served.
Having put all these things in place, you can now expand your business horizon with the following tips;
Expand Your Business Horizon With The Following:
1. Construct a board that you will be writing football fixtures, the names of the team involved in the match, and the time of every match and put the board outside each day to notify your customers on the next available matches.
2. Increase the tariff of your business by giving additional services to your customers. You can be working for fast food, pepper soup, beverages, soft drinks, sell recharge cards, and some paltry things you know your customers may be interested in your viewing center. Possibly you can employ an assisting hand.
3. Stay ahead of your competitor by making your business a top-notch, all you need to do is to be smart and innovative, give your customers bonus, possibly discount, respect them, let them feel at home in your viewing center, and build a good relationship with your customer as you create customers data base to track your customers anytime any day.
4. You should understand that your customers are always right, they are the sole reason why you are there, so if they stop coming, your business will start dying.
5. Therefore be creative and realize that you have a lot of money to be made in your football viewing center.
Read More: How to start a betting shop in Nigeria
6. Football viewing business does not required a huge amount of money to start the business, neither does it needs expensive facilities to start your viewing center, all that you need is generator, if you do not have enough money for air condition, ceiling fans or standing fans are okay.
And because of that number of persons in the viewing center, should be able to afford air fresheners to freshen the hall. More so, two flat screen televisions is enough for a start.
So with all the information above, if you apply them perfectly with a touch of creativity, then you are sure to succeed in football viewing center business.
📢

We are hiring writers!
Article Writing Jobs
- We are hiring good freelance writers -
Click here to apply