Here in this post, we are going to bring information on how to start tailoring business in Nigeria. We hope you find this useful.
An Overview of the Business
Tailoring is another gold mine bringing lots of money in Nigeria. Many people love to sew clothes for occasions and wedding parties especially.
Almost every Saturday in Nigeria, people are doing weddings. For these weddings, the bride and the groom's team always have a uniform dressing (the yorubas call it asoebi), which makes both sides look outstandingly beautiful.
Read Also: 6 Steps to Start Tailoring Business in Nigeria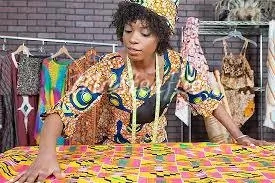 If you have ever been to a traditional marriage or any event which requires a traditional dress code, you will understand this.
Many tailors do have a lot of work on their hands that they end up disappointing their customers. Why most tailors do disappoint is when they are good at their work, they earn more customers thereby meaning much work for them and they may not be able to meet up with the deadline given to them by their customers.
Tailoring business is now a very popular line of business, that right now they are not called just tailors, they prefer to be called Fashion designers.
Read Also: Selling Tailoring Materials in Nigeria
How Profitable Is The Business
This business has proved profitable over the years as the need for tailors to make the clothes of individuals rise every month.
A cheap or easy cloth to be sewn by a tailor costs about 2,000naira, some charge above 3,000naira. Imagine when a tailor makes about four different designs of clothes; he will be getting about 8,000naira daily multiplied by 5 days in a week, which is 40,000naira. Even if he has to deduct other expenses, he will still have enough in his/her pocket for that week.
Top Tailors or Fashion Designers in Nigeria
There are some big name tailors in Nigeria like
Ugochukwu Monye owner of Reale Collection (who made the agbada for Ebuka Uchendu which trended on the internet)
YomiCasual
Deola Sagoe
Mai Atafo
Zizi Cardow
Ade Bakare etc.
Read Also: 10 Steps to Start Ready To Wear Clothing Line in Nigeria
Opportunities in the Business
Due to the fact that most tailors do disappoint their customers, you can seize the opportunity to be a better tailor. People are always looking for fresh hands when their main tailors disappoint.
That is why you have to go into the business and try to make a change in the business by getting new customers and then maintaining their trust by delivering on time, even if it means going the extra mile to satisfy them.
People wear clothes to various events, even our corporate wears, most tailors now sew suits. So it depends on your skill and expertise.
Target Market/Competition
Lots of people love to wear clothes, so you have a lot of targets in the business, there are even a lot people who are diverting from the corporate wear to traditional attires and senator wears. So the market is being broadened for more tailors to enter.
Competition is not excluded in any business, but you have to be skilled and develop strategies to beat the others around you with your services.
Competition is always present in any business in Nigeria, so you have to brace up for it, competition will only bring you down if your skill is not good enough or you are slow to deliver to your clients.
In order to start your own tailoring or fashion design business, here are a few steps to follow:
Steps To Start A Tailoring Business
1. Learn the Skill
For you to be a good and professional tailor, you have to learn the skill from a very good and professional tailor. This may take you up to 3 months to perfect your skill under someone who already know how to make clothes. You cannot just start being a tailor all of a sudden. You have to be a student or apprentice under someone.
2. Get a good location for you to start
After you must have learnt the necessary details of the tailoring, then you can go on to set up your business, but first of all, you have to get your shop space. You will need to have a good space which will house your sewing materials and equipment and be able to entertain your clients.
Read Also: Steps to Start Underwear Business in Nigeria
3. Get Your Sewing Materials And Equipment
After getting your shop or workspace, then you can equip your shop with all the necessary equipment and materials. For a start, these are the basic equipment and sewing materials you will need for your business:
Sewing threads
Needles
Big cutting table
A sewing machine
Embroidery machine
Weaving machine
Pairs of scissors
Tape rule and
A generating set.
This can be able to start your business for the first few months. Most of the materials and equipment can be gotten from Onitsha or Lagos markets. They have all the necessary equipment which you will need to start up.
4. Advertise Yourself
Once you start up your business, you will have to make yourself known to the people around you so they can patronise you.
You can start by making a few clothes and displaying outside for people to see. If they like your design, they will surely come in for a trial.
Try to make yourself different from other tailors who try to keep it simple, you can make friends with people around you and tell them about what you do.
Get a business card, not every tailor has a business card, so you can make a business card for yourself and always share it with people you meet every day.
This is the greatest part to fulfil to gain acceptance by people around you, if you handle it very well, you are sure to get a lot of customers trooping in every day.
Read Also: 20 Best Home Based Business Ideas in Nigeria
5. Register Your Business Name
When you must have gained a good number of customers or for the sake of law-abiding Nigerian, you have to register your business with the Corporate Affairs Commission (CAC). This makes your business a legal business to avoid the usage of your business name by any other person.
These are basically the major steps to follow if you want to start a tailoring business. With time as you grow and improve your customer base, other things can follow suit.
Funding for the Business
The startup amount for your tailoring business is around 500,000naira to get a shop and all your equipment and materials. It is good to have your own savings to use as a start-up capital for your business. Most times it is advisable to use your personal money to start a business than to go for a loan.
Extra Suggestions for Your Business
Always have passion for your business, do not let it be just for making money that you want to go into the business, you should have passion for it too.
Try to engage other hands. Like other tailors who may be looking for a space to stay in. You can ask them to join you and you take commissions for any work thy get. It will also be necessary to make them as team members so you can make good clothes quicker.
If the workload you have at hand is much, do not tell a new client that you can deliver their clothes at a time you cannot. It is best to know your capacity and what works you have at hand to help you determine whether to accept a new job or not.
Always make some beautiful clothes and display them in your shop.
Have a catalogue of designs for your clients to choose from. Make sure to have only designs that you know how to make. It is very disappointing for a customer to request for a particular design and then the tailor will give his/her own design.
Have a good and attractive packaging for every finished cloth.
You can purchase materials and keep on display in your shop. You can sell them to customers or you show the material to them, if they like it, they can buy it and you will be the automatic tailor to make the clothing for them.
Read Also: 10 Steps to Start Ready To Wear Clothing Line in Nigeria
Conclusion
Tailoring business is a very lucrative business, yet it is still yet to be used to its full potentials. You can step into the business to bring a new style and service to your clients. Just as every other business, if you manage it properly, you will be making lots of money daily.
.
👍Showcase your business here!
With over 1M unique users per month across all channels, we have a large audience for you to showcase your products and services. Simply get in touch via 👉 marketing@Infoguidenigeria.com.
🤑 Make Money now!
👉 Make money writing for us. Apply for Freelance writing jobs in Nigeria.
👉 Make Money as InfoGuideNigeria Advertising Agents, read more here
✍️ Be Our Guest Publisher!
Do you have a press release, breaking news,  or any other helpful information to share with our growing readers? If yes, send your article to 👉 infoguidepr@gmail.com.
We will be glad to publish it if the information is useful to our audience.
.
This post can be helpful to somebody else, please share it on Facebook, Whatsapp, Telegram and Twitter. There are buttons below for this (easy to use too)!
Copyright Warning!
Contents on this website may not be republished, reproduced, redistributed either in whole or in part without due permission or acknowledgment.
.
Proper acknowledgment includes, but not limited to (a) LINK BACK TO THE ARTICLE in the case of re-publication on online media, (b) Proper referencing in the case of usage in research, magazine, brochure, or academic purposes,.
.
All contents are protected by the Digital Millennium Copyright Act 1996 (DMCA).
.
We publish all contents with good intentions. If you own this content & believe your copyright was violated or infringed, please contact us at [infoguidenigeria@gmail.com] to file a complaint and we will take necessary actions immediately.