Here in this post, we are going to bring to you steps on How to Start Ready To Wear Clothing Line in Nigeria. We hope you find this informative.
Business Overview
The fashion industry is a booming sector of Nigeria economy. This sector is said to attract a lot of foreign investments recently due to the entrance of foreign investors into the fashion industry.
Getting ready to wear clothes in Nigeria has been mostly popularised by the foreign designers. But recently, Nigerians have moved into this business line and are trying to make it a very popular brand.
Read Also: 10 Best Women Cloths For An Interview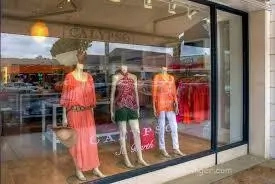 There is no person in the country that doesn't wear clothes, no matter where you want to go to; work, church, mosque, parties and other events.
This alone makes a business one to seek after anytime. Most people love to get the materials of cloth and then give it to a tailor to make the design for them, some also prefer to get clothes that are already made by a fashion designer and then pay for them.
What really makes one stand out in this business is your ability to be creative, consistent and motivated.
You have to be consistent in production, creative in your designs and motivated in what you do.
Profitability of the Business:
Going into ready to wear business is a very promising business, due to the fact that very few people see the opportunities which are present in this business.
You get to develop your own brand name, logo and designs. Also you have the sole right to fix your prices as you want them to be.
You will also have the opportunity to get exposure to the international market, as foreign investors see the creativeness of Nigerian designers and want to partner with them to create an exposure on the international market.
Getting into the clothing line business gives you an opportunity to make money monthly and even make greater income than most salary earners.
Read Also: 10 Best Women's Clothes For A Night Out
Key Players in this Industry:
If we talk of fashion designers who already have their own clothing line, we would start off with YomiCasual, he has been in the business for a very long time, through the help of his brother Ayo Makun (AY), and he has gained prominence in the fashion industry. He is a top designer in the clothing line business as many celebrities patronise him for their clothes to events.
There is also Folake Folarin-Coker who is the owner of Tiffany Amber,
Ohimai Atafo; He is an IT Expert who decided to step into the world of fashion and has made a pretty good name. Lola Faturoti and Dola Sagoe are another set of fashion designers who have their own clothing line.
Opportunities in the Clothing Line Industry:
There is still room for anybody who sees a great opportunity to invest in this industry. There are few Nigerian clothing lines and the economy is changing in a way that very soon, the Nigerian designers will be in a stiff competition and may dislodge the foreign designers to the background.
Currently the foreign designers are learning the Nigerian designs so they can include them in their own designs. So there exists an opportunity for new entrants.
Also you have to bear in mind that starting a ready to wear clothing line business does not mean you will start making lots of money within the first 6 months or even a year.
You will have to take years to build your brand and make it grow. Others who came into the business didn't just start this year and became popular, most of them stayed up to 3 years before they became popular brands, but it doesn't mean they are not making money, they did but it was just normal for business, but the main idea of the business is to gain popularity an expand your customer base to other states and countries also.
Target Market and Competition:
Your target is every fashion lover, people who love to attend events. Lots of people just love to look good in what they wear; they want people to appreciate what they are wearing.
Such people will be ready to pay your price just to get your clothes. There is nobody that doesn't love wearing clothes, so no matter how small the price is you can create a way to inculcate those of average income.
It is important to note that you will likely meet competition, because there are other clothing lines around, both foreign and locally produced, so you have to beat competition to be able to gain a successful stay in the industry.
Besides competition should be your drive to motivate you and push you to make a good entry and stay in the industry.
In order for you to start a successful ready to wear clothing line, there are some steps or procedures for you to take to be successful in your business.
Read Also: Top 20 Places to Buy Cheap Clothes in Nigeria
Steps To Start A Ready To Wear Clothing Line:
1. Learn The Skill
For you to be able to make great looking clothes you have to learn how to make those clothes yourself, that is why it is necessary to approach a well experienced tailor/fashion designer to teach you the skills you need and help you build on your skill to be a great fashion designer.
2. Decide on your Niche
It is important to decide on which branch you want to venture into, is it casual wears, corporate wears, women only, men only, for kids or natives.
Whatever niche you choose you have to be conscious that it is a popular niche and surely has a lot of customers to patronise you, whatever way you have to be a designer of a particular segment of people, as you cannot offer all services.
3. Develop your Business Plan/Sales letter
A business plan is important for every business, no matter how small or big. This business plan should entail how you wish to carry out your business, how to advertise yourself, your daily production target and your intend recovering your start up capital and other things which you need to include in your business.
Your sales letter is like a manifesto to your customers on your services or your own way of making your customers satisfied through your sales.
4. Get Your Location/Office
Having your own office which will be your own workspace is essential so you can create a physical presence for yourself. This can serve as a showroom for all your readymade wears.
5. Get A Cloth Factory Or Tailors Ready To Sew For You
Skip this step if you think you can be able to produce all your wears by yourself. But if you think you need some bigger hands to handle the production, then you need this.
If you have to start on a very large scale, you will need a factory or a tailoring expert who can deliver as much quantity of clothes you need at a quick time.
But be careful to give them the exact measurements and design so they do not do an extra job for you. Most tailors are fond of that.
But if you feel you need to make your designs yourself, then you do not need this step, you can just go ahead and sew your clothes yourself until you have enough clothes for display.
Read Also: How to Buy Clothes Online in Nigeria
6. Get Your Materials
You will need some clothing materials and other sewing materials to set up your workspace and office. As a Clothing line CEO you need to have
Scissors
Tape rule
Threads
Needles
Clothing materials
Packaging bags
All this materials are needed for you to start up ready to wear clothing line.
7. Get your Equipment
This are the various instruments you need to carry out your work and make your clothes. You can start with few and the necessary materials which are needed by your niche;
Sewing Machines
Weaving Machines
Embroidery Machine
Large Tables
Chairs
A generator.
These equipment are essential for your business to kick off successfully.
8. Register Your Business And Brand
As a business which tends to be successful in Nigeria, you have to register the business according to the laws of the country and also, you will be having a brand, which you would not want any other person to use so as not to cause confusion, you will have to meet the right body in charge of Branding, trademark and patents right to register your brand. Then you will register your business with the Corporate Affairs Commission (CAC) to make your business legal.
9. Advertise your Business
If you do not tell people about your business, they will never hear about it, you will just be another tailor by the road side.
You have to advertise your business by all means possible, use social network, print media, TV and Radio stations etc. Any form of advertisement to attract people to your brand.
10. Develop A Network With Other People In The Business
Even though you may be seen as a rival in the business, yet you have to develop a business relationship with those who are already in the business as this will help you gain some favours and learn a few things from those who are in the business already. Do not see others in the business as enemies.
Funding
This business may not require much to start, it all depends on what scale you wish to start. If you are starting on a small scale, 600,000naira is enough for you to setup and start up, but if you need a bigger venture, you should have above 1million naira ready to finance your business.
In case you do not have enough money to start, you can approach a commercial bank for a loan or the bank of Industry.
Read Also: How to Start Babies Cloth Selling Business in Nigeria
Extra Tips for Your Business
When fixing your price, get a price that will give you a reasonable profit.
Find other partners and possible investors in your business
Have patience for your business
Be ready to talk and meet people to tell them what you do
Create a strong social media presence
Have a business card for your clothing line at all times.
Be open to new design suggestion from others.
Work with a team, you may not be able to do it on your own. Choose people who have the same passion towards clothing as you do.
Pay attention to advertisement of your business.
Attend popular gatherings, meetings or events. If your cloth is good and beautiful, people will admire it and will want same for themselves. This is another good way to advertise your clothing line.
Conclusion

You too can be like Gorgio Armani, Yomicasual and the rest, all you have to do is to put in passion and patience into what you do and at the long run, you will see great improvement in your clothing line business.
Information is Power!
Don't miss any valuable information or opportunity that can change your life, business, and family positively and permanently.
👇👇👇👇👇
For Latest updates on News, Jobs & Business Ideas, and Opportunities.
Copyright Warning!
Contents on this website may not be republished, reproduced, or redistributed either in whole or in part without due permission or acknowledgment.
.
Proper acknowledgment includes, but not limited to (a) LINK BACK TO THE ARTICLE in the case of re-publication on online media, (b) Proper referencing in the case of usage in research, magazine, brochure, or academic purposes,.
.
All contents are protected by the Digital Millennium Copyright Act 1996 (DMCA).
.
The images, except where otherwise indicated, are taken directly from the web, if some images were inserted by mistake violating the copyright, please contact the administrator for immediate removal.
.
We publish all content with good intentions. If you own this content & believe your copyright was violated or infringed, please contact us at [infoguidenigeria@gmail.com] for immediate removal.
🤑 Start Making Money from home today!
👉 Get the correct
FREE FOOTBALL PREDICTION
TIPS
and
Guides
today.
Click here
.
👍Advertise your business here!
With over 1M unique users per month across all channels, we have a large audience for you to showcase your products and services. Simply get in touch via 👉 marketing@Infoguidenigeria.com.
🤑 Make Money now!
👉 Make money writing for us. Apply for Freelance writing jobs in Nigeria.
👉 Make Money as InfoGuideNigeria Advertising Agents, read more here
.