This article deals with HVAC training and certification in Nigeria. HVAC an acronym for heating, ventilation and air conditioning. It is the technology of indoor and vehicular comfort.
HVAC technicians are known as heating, air conditioning and refrigeration mechanics, they work on these systems in buildings and vehicles. It is classified under electro mechanical engineering but people who did not study engineering can acquire the skill through training and become certified.
👉 Relocate to Canada Today!
Live, Study and Work in Canada.
No Payment is Required! Hurry Now click here to Apply >>
Immigrate to Canada
In a tough economy like Nigeria's present one, it is of utmost advantage to go an extra mile in acquiring more skills to make a decent living. If you don't have an educational background in engineering, you can attend a training and certification course.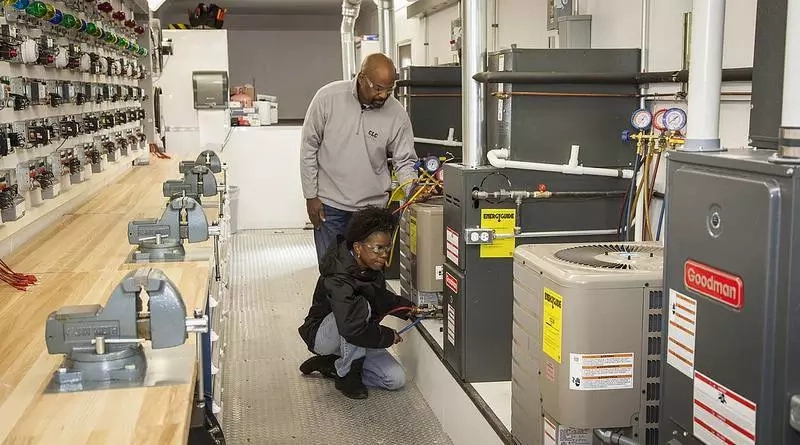 Heating, Ventilation and Air Conditioning (HVAC) Certification Courses
1) AIR CONDITIONING AND REFRIGERATION
this course provides an introduction to air condition and refrigeration system, it is an important course for maintainance technicians, multi crafts trade people, building managers, heating, ventilation and sir conditioning technicians and anyone seeking to improve their AC & R operation and maintainance skills.
2) BOILER OPERATION MAINTAINANCE AND SAFETY
This course provides students with procedures and practices to eliminate disaster, it helps them understand commercial, industrial and utility boiler systems to maximize safety dependability and efficiency.
3) AIR CONDITIONING AND BOILERS
This course is offered as a combination of one and two above.air conditioning and refrigeration is fused with Boiler operations maintainance and safety and offered as one course, it fuses the objectives of both courses into one.
4) ELECTRICAL CONTROLS AIR DISTRIBUTION
This is a course designed for any worker that deals with air distribution systems. It tea he's the basics of HVAC electrical controls through air distribution and trouble shooting.
It also teaches students how to control their electrical controls, how to use fundamental air distribution, how to achieve consistency, comfort and efficiency in heating, ventilation and air conditioning in buildings, plants and facilities.
5) CHILLED WATER SYSTEMS
This is a course that teaches students components used in chilled water systems, uses and application of chilled water system among other things. It is of value to anyone who seeks knowledge on chillers, cooling towers and other chilled water systems.
👉 Relocate to Canada Today!
Live, Study and Work in Canada.
No Payment is Required! Hurry Now click here to Apply >>
Immigrate to Canada
Infoguide Nigeria cannot ascertain if there companies and schools that offer free training courses on heating, ventilation and air conditioning but there are several sites online that seem to offer free online courses. Interested parties are expected to seek reviews and make appropriate inquiries before registering for any training and certification courses.
Infoguide is here to guide anyone interested and willing to become a certified heating, ventilation and air conditioning technician through this article on what to do, how long the training will last and where you need to attend this training and at what cost.
Don't Miss: 9 essential entrepreneurial skills for small business success
5 institutions to Get HVAC Training and Certification In Nigeria
There are several institutions in Nigeria that offer heating, ventilation and air conditioning training, some of them are:
1. APPLIED ENGINEERING TECHNOLOGY INITIATIVE
this Company which is based in Lagos state is an engineering consulting firm that renders technical training, recruits technical personnel, and renders engineering consulting services to all industries.
The firm is filled with a team of professionals who aim to empower Nigerian technicians with technical skills which seem to be lacking amongst them. Individuals who wish to learn and upgrade their personal skills for the development of their career are advised to register for trainings.
They offer certificate training in HVAC under electro mechanical engineering, power and lightning utility engineering. The courses are normally designed for B.sc, HND and OND holders of engineering and technology and runs for only three months.
They also offer scholarships to shortlisted candidates. Registration form can be filled online and cost of course is not stipulated but available upon further enquiry from prospective students.
2. APATECH LIMITED
This firm is the sole representative of heating,ventilation and air conditioning engineering limited, Aberdeen, United Kingdom in Nigeria. It provides a core range of harsh and extreme environment HVAC services and equipments for both hazardous and non hazardous areas.
They provide industrial skill and management training across all countries. In Nigeria they are situated at Poet Harcourt. rivers state capital. Interested candidates are advised to contact the company by filling the inquiry form on their website.
3. ALPHA PARTNER ENGINEERING
This institution is a company that works in collaboration with professional engineering consults to run a heat, ventilation and air conditioning training program me in Lagos state.
A four day course is currently programmed to hold from the 31st of October to 1st of November for a fee of one hundred and ten thousand naira only. The company can be contact online and inquiries can be made by calling their call centers.
4. MAXIGOLD ENGINEERING LIMITED
This engineering company holds a facility management and master craft program to equip individuals with skills, tools, certificates and work experience needed to start and develop a successful career.
Intended candidates will be required to write a exam and undergo an interview before admission if successful. Eligible candidates are fresh engineering technology and science graduates from Polytechnics and Universitie, graduates of other disciplines with at least one year experience in HVAC, secondary school certificate holders with five credits including mathematics and English language and OND holders in any discipline with a bout three Yeats work experience in the required field.
The program fee is about two hundred and sixty five e thousand naira excluding a non refundable application fee of seven thousand five hundred naira. The training lasts for three months, followed by six months of work place internship and practicals. Registration are ongoing, find out more on www.maxigold.com/fm-mastercraft
5. NIGERIAN COLLEGE OF AVIATION AND TECHNOLOGY ZARIA
Located in Kaduna state, this school also holds a course in heating, ventilation and air conditioning as approved by the Nigerian CAA. It is one of the best engineering institutes in the northern part of Nigeria.
Technician, mechanical engineers, utility personnel involved in the installation, repair and supervision of refrigerators and air conditioning systems are eligible to attend. Registrations can also be done online for training which last for a duration of two weeks. The course fee is one hundred and fifty thousand naira.
Read Also: Top 10 Skills in High Demand in Nigeria Currently
Thats it about HVAC courses providers in Nigeria. If you know about any other institution in Nigeria that offer HVAC courses and certifications but not listed here, kindly let us know in the comment sections below. We will be glad to add it to this article.
Please Share!
📢

We are hiring writers!
Article Writing Jobs
- We are hiring good freelance writers -
Click here to apply
👇👇👇👇👇
Immigrate to Canada Via Job Offer!
Get latest Jobs in Canada for foreigners with visa sponsorship 2023 and how to apply. Don't miss this opportunity that can help you relocate to Canada with your family.
👇👇👇👇👇