I once boarded a bus around Yaba area. We were few inside so we had to wait for quite a while for other passengers. There was a woman at the front seat, plumpy and looking like she needed to go on a diet.
I sat at an adjacent angle from where she was and I could see her eating boiled groundnut and throwing the shells on the road, outside the bus.
She was so serious, unflinching, and deft in the art. Apart from being aghast at this unpleasant behaviour, I frowned at two major things.
Read Also: The Role of Government in the Nigerian Environment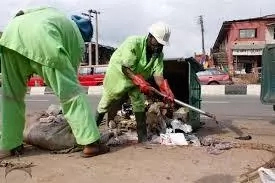 First, she had a nylon from which she brought out the nuts to eat, couldn't she reverse the process with the shells? Second, those who passed by her seemed indifferent about the whole thing because, perhaps, it was a 'normal thing' to do.
That's the issue. Why has dumping refuse everywhere you go become a normal thing? Or should I say, why has it always been a normal thing?
I felt so disappointed and angry that day because it is the same set of people that complain about how dirty Lagos is, and by extension the entire nation.
Read Also: Problems And Prospects Of Community Development In Nigeria
The next time you go out, observe and you will see how people have turned our roads into refuse dumps. Whatever they buy or use that is disposable eventually ends up on the streets.
Some (guilty) people argue (lamely) about the fact that LAWMA is at work, that they clean the dirt. And I ask such people if they consciously dump refuse in their sitting rooms knowing that it would be swept by morning.
The answer is always negative. Why then would you with all your 'sense' commit such a crime, yes! A crime! Don't you think it is? On the flip side, we all know that some of these LAWMA workers are not exactly committed to their cause, what happens to areas where eye service is the order of the day?
It also amazes me that Lagosians keep repeating a cycle which is aimed at ensuring a cleaner environment, yet they get otherwise. Environmental sanitation is supposed to be a time set aside for people to tidy their environments.
And it is, after all, most, or more appropriately, some of us take out the time to do what is expected. The problem is, after that day or rather…roughly three hours of little or no cleaning we return to our ritual of littering the place.
Another problem is, those who participate, especially the ones who clean the gutters, do us a great disservice. How? Why bring out filthy materials from the gutter, dump them on the street and leave them there until the next sanitation? That is, pending there is no rainfall.
If there is, those dirty things get mixed up with the rain water which touches our feet as we pass the streets. In the process also, those things that were painstakingly removed from the gutter find their way back to it. Now tell me, what use then is the sanitation since we are not sanitizing anything? It is a pathetic situation.
Earlier I mentioned that turning the streets into permanent dustbins has become a widespread phenomenon. I would like to also point out based on this backdrop that everyday we set a legacy for children to follow by continuing in our folly.
Read Also: How To Start Cleaning Service Business In Nigeria
Don't think for a second that throwing that sausage roll wrapper on the ground went unnoticed or that empty sachet of 'Pure Water' or even that plastic bottle.
There are young people everywhere, children that learn faster by what they see and not what you tell them. When they see you do your 'normal thing' without any care in the world, they will say to themselves, "indeed, there is nothing wrong with that."
And so it gets worse. On this note, we should note that that has also been the bane of the Nigerian political system. The godfathers did it the wrong way, got wealthy and got away with it. Why wouldn't the younger generation?
Until we recognize that the onus is on us to make our surroundings clean that we actually make it that way. It is ironical to say that Nigerians are very religious people yet our streets look like we have never known religion or God. We have to do away with the attitude of dumping refuse carelessly.
Find a nearest trash can and send whatever trash in. Of course, I am not oblivious of the fact that you could easily see Hitler's apparition than a trash can in Lagos, so I suggest you hold on to your trash until you find a can.
Also, we must take note that when it rains our refuse migrate from the road to the gutters which in turn impede the free flow of water and subsequently cause other problems.
These blockade in the gutters is also a perfect habitat for mosquitoes and other anti-human insects. The more reason we need to desist from our way of doing things forthwith.
Read Also: How to Make Money Recycling Electronic Waste
There are a lot of downsides associated with this uncouth tendency our people have become used to. In our best interest, change is what we need and what we should pursue. Think about it, the government is usually criticized for not repairing damaged roads but more often than not it is the people that are guilty for its degradation.
Just think about it and be considerate next time the thought to do the 'normal thing' comes to you. Be Nigerian. Be patriotic.
Buy and Sell Bitcoin in Nigeria - Register for free on Luno
Click here to see the latest
Study Abroad Scholarships and Guides
Click here to see the latest
Jobs opportunities in Nigeria
.
Copyright Warning!
We work really hard and put a lot of effort and resources into our content, providing our readers with plagiarism-free articles, original and high-quality texts. Contents on this website may not be copied, republished, reproduced, redistributed either in whole or in part without due permission or acknowledgement.
Proper acknowledgement include, but not limited to (a) Proper referencing in the case of usage in research, magazine, brochure, or academic purposes, (b)"FAIR USE" in the case of re-publication on online media. About possible consequences you can read here: What are the consequences of copyright infringement? In an effort to protect our intellectual properties, we may report your website to Google without prior notice and your website be removed from search engines and you may receive a strike. All contents are protected by the Digital Millennium Copyright Act 1996 (DMCA).