Job Description
Mail Processor Job Description and Roles/Responsibilities and Qualifications
Mail Processor job description: Read about the job description and roles/responsibilities and qualifications of a mail processor in this article.InformationGuideNigeria
A mail processor is responsible for sorting mail and documents to guarantee accurate delivery and distribution. Mail processors monitor route orders, provide delivery information to recipients, and update the database with the status of accomplished distributions. In addition, they process cancellation orders, label mail, and examine the condition of the mail before loading the truck.Good morning my Love Messages
👉 Relocate to Canada Today!
Live, Study and Work in Canada.
No Payment is Required! Hurry Now click here to Apply >>
Immigrate to Canada
A mail processor works for the postal service. It is their job to sort outgoing and incoming mail and get it ready for the mail carrier to take on their route. Your job is to sort mail by machine or by hand, load and unload mail trucks, and maintain and fix machines that aren't working right.JAMB Result
Read Also: Anesthesiologist Job Description and Roles/Responsibilities, Qualifications
A Mail Processor is a person who moves and sorts mail before it is distributed. They use machineries such as trucks or conveyor belts to move stacks of letters around before they are delivered to their final destination.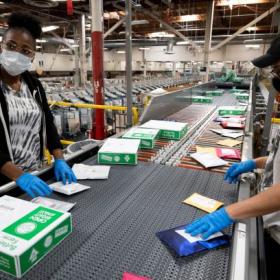 Sorting mail as part of their job at the post office. Given the nature of the job, mail processors spend much of their time in the back of a post office, away from the public eye, sorting mail rather than assisting clients. Because of the importance of delivering mail to the correct address, mail processing services are usually available at all post offices. Mail processors sometimes work closely with mail carriers to get packages ready for delivery, as they handle both incoming and outgoing mail.
Mail carriers usually work alone as part of a team whose job is to make sure the mail gets delivered on time. This means they have to be able to read maps and follow directions while also paying close attention to detail when it comes to finding individual mailboxes and delivering mail to the right address.
Read Also: Sous Chef Job Description and Roles/Responsibilities, Qualifications
Responsibilities of A Mail Processor
Process and sort incoming and outgoing mail by the protocols that have been set.
Perform functions on the machinery used for mail processing, such as letter openers, envelope stuffers, and postage machines.
Utilizing a postal scale, accurately compute the postage due on packages based on their weight.
Put postage or labels on any mail that is being sent out.
Packages can be made ready for shipping by using secure wrapping materials and applying the appropriate labels.NYSC Portal
Always make sure that the mailroom is clean and well-organized.
Maintain accurate records of all of the mail that is processed.
Notify the supervisor of any mail that has been damaged or cannot be delivered.
Help with mail distribution inside the workplace and other office-related tasks.
Deal with questions from customers regarding the delivery of the mail
Carry out other general office responsibilities as required.
Observe every safety regulation.
Get mail ready for mail carriers to deliver.
Use machines to process orders and cancel them.
Weigh packages and letters to figure out how much postage they need.
Make labels for packages that are going out.
Use forklifts and other tools to move large or heavy packages.
Use scanning tools to find out more about a package.
Sorting machines should be kept in good shape.Romantic Love Messages
Help the clerks help customers when it's needed.
Unloading trucks, moving mail bags, and weighing bags that come in.
Operating forklifts
Keeping the mailroom stocked
Putting together marketing materials
Getting mail to different delivery people
Calling the delivery service
Read Also: Art Director Job Description and Roles/Responsibilities, Qualifications
Roles of A Mail Processor
Using electronic scanners to sort incoming mail according to local routes or zip codes.
Conducting virus checks on incoming mail using various types of scanning equipment and computers.
Using a computerized database to keep tabs on the current delivery status of parcels, as well as the postage and shipping costs associated with those packages
The practice of delivering incoming mail to the relevant divisions within a company so that it can be processed further
Using either a manual stamp or an automated postage meter equipment to affix postage to items of outgoing mail.20 best Women's Earrings in Nigeria and their Prices
Putting mail into delivery vans at the post office to convey it to more rural regions
Activities such as filing, copying, stapling, folding, collating, and sorting mail are examples of clerical duties.
The process of opening mail that is addressed to a company or organization and sorting it according to the type of mail received (e.g., bills, magazines, catalogs, brochures)
Getting outgoing mail ready for delivery to recipients by applying postage stamps, affixing labels, stuffing envelopes, putting items into envelopes, folding objects, weighing items, sealing items, or placing items in mailing boxes. This may also include placing items in mailing boxes.
Scan products and load them onto FEDEX delivery trucks.Top 10 Trending Smart Watches in 2022
Handle custodial duties in addition to standard PSE responsibilities, as well as postal grounds maintenance.
For multiple corporate locations, receive, process, sort, login, and deliver USPS mail and courier packages.
Mail is processed on automated machines, stackers are swept from mail volume, and mail is placed into letter trays for dispatch.
Prepare and deliver metered USPS mail and statements, organize brinks work for data entry, and deliver interoffice mail to various departments.
In the plant, different methods of sortation and distribution are used to process incoming and outgoing mail for the various post office facilities.
Sweep mail from automated bin stackers.
Operate OPEX machines used to open customer lockbox payment envelopes, meeting or exceeding productivity standards consistently.JAMB Portal
Push APC is overflowing with mail.
When APCs reach capacity, they must be replaced.
Handle zone mail (DPS )
DPS daily operations include mailing letters, merchandise samples, and promotional literature to prospective customers.
Read Also: Logistics Coordinator Job Description, Roles/Responsibilities, Qualifications
👉 Relocate to Canada Today!
Live, Study and Work in Canada.
No Payment is Required! Hurry Now click here to Apply >>
Immigrate to Canada
Mail Processor job qualifications/skills
A high school diploma or its equivalent is required.
Data entry experience required, with a typing speed of at least 60 wpm.
Correct 10-key skills
Excellent detail-orientedness and ability to follow instructions
Ability to work both independently and collaboratively
Flexible schedule, including overtime availability
An associate's degree in business administration or a related field is required.
1 year or more of office experienceMail Processor Job Description
Working knowledge of mail processing equipment
Microsoft Office proficiency, as well as a willingness to learn new software and systems
English/Spanish bilingualism
Read Also: Compliance Officer Job Description, Roles/Responsibilities, Qualifications
Mail Processor Salary Structure in USA
The national average compensation for a postal mail processor in the United States is $38,142 per year, which equates to $18.34 per hour. The starting salary for an entry-level position is $38,142 per year, while professionals with more experience can make up to $72,400 per year.
Feel free to drop your questions in the comment section if you are unable to see what you looking for in this article.
Check JAMB Result 
Check and Confirm: How much is Dollar to Naira
👇👇👇👇👇
Immigrate to Canada Via Job Offer!
Get latest Jobs in Canada for foreigners with visa sponsorship 2023 and how to apply. Don't miss this opportunity that can help you relocate to Canada with your family.
👇👇👇👇👇