Health
Malnutrition in Nigeria; Causes, Effects and How to Combat It
What comes to mind when you hear the word 'Malnutrition'? Little children with stick out ribs, bloated tummies, larger than life heads and hungry looking eyes?
What you may not know is that malnutrition has two faces, the other face with double chins and sausages for arms and legs.
👉 Relocate to Canada Today!
Live, Study and Work in Canada.
No Payment is Required! Hurry Now click here to Apply >>
Immigrate to Canada
Unaffected Nigerians are largely unaware of the issues raised by malnutrition as well as the seriousness of those issues and it is difficult if not impossible to care about the things you don't even know about. The problem of malnutrition is multifaceted.
Read Also: School feeding Programme in Nigeria; the Concept, Advantages, Disadvantages, Challenges and Prospect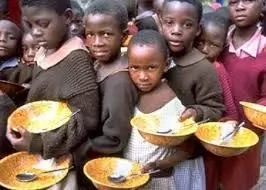 It is not just caused by lack of food like most think but is also as a result of issues such as early marriages and harmful economic and social practices and so in order to solve the problem, we have to look at it holistically because only then can we proffer permanent solutions.
What is Malnutrition?
The dictionary defines malnutrition as a poor condition of health caused by lack of food or lack of the right kind of food. A nutritional disorder caused by eating little or too much of a particular nutrient.
So the myth that malnutrition is suffered by only poor people is what it is; a myth! Malnutrition can be either be classified as:
1. Under Nutrition
This is usually as a result of obtaining one's diet exclusively from a single source for example; taking rice and corn consistently and is either due to lack of food or the inability of the body to absorb its nutrients is often related to poverty, anorexia and bariatric surgery.
In Nigeria, food consumption, both in quality and quantity, has decreased appreciably, especially with the commencement of the structural adjustment programme (SAP) in 1986 which marked the beginning of a considerable decrease in real income and an unparalleled increase in food prices.
Under nutrition increases the risk of infections and diseases and when it occurs during pregnancy, or before two years of age of a child, it may result in permanent problems with physical and mental development. There are two major types of under nutrition:
👉 Relocate to Canada Today!
Live, Study and Work in Canada.
No Payment is Required! Hurry Now click here to Apply >>
Immigrate to Canada
Protein-energy malnutrition which results from deficiencies in any or all nutrients. It is still highly prevalent in Nigeria due to faulty weaning practices, poverty, poor sanitary conditions, minimal medical attention, and endemic childhood infections and is of three types.
Read Also: 10 Benefits Of Ginger and It's Nutritional Values?
2. Acute Malnutrition or Wasting
This refers to unexplainable rapid weight loss or failure to gain weight normally and can take any of the three clinical forms –Marasmus, Kwashiorkor or Arasmic Kwashiorkor. An arm circumference less than 110 mm is indicative of severe acute malnutrition
3. Chronic Malnutrition or Stunting
This happens over a long period of time and has more long-lasting consequences. Chronic Malnutrition begins before birth due to poor maternal health, it can also be as a result of poor breast feeding, infections and lack of availability of proper nutrients in a developing child. The child becomes stunted due to his inability to have a linear growth.
4. Acute and Chronic Malnutrition
This is a combination of the Acute and Chronic malnutrition.
Micronutrient deficiency diseases which results from the deficiency of a specific micronutrients, micronutrients such as-Vitamins A, B, C and D, Calcium, Folate, Iodine, Iron, Zinc and Selenium which are very important for the proper body function. The symptoms of micronutrient deficiencies depend on the micronutrient that is lacking
5. Over Nutrition
The mistake to make with over nutrition is to think that if you eat an abundance of calories, your diet automatically delivers all the nutrients your body needs.
Over nutrition refers to the consumption of nutrients in excess of what the body can effectively metabolize and just like under nutrition, it increases susceptibility to diseases, reduces worker productivity and lowers life expectancy.
It is the leading cause of Obesity and often leads to complications such as heart disease and diabetes.
However, the form of malnutrition common to Nigeria is under nutrition.
Cases of Malnutrition in Nigeria, Facts and Figures
The United Nations Children's fund (UNICEF) Kaduna has revealed that malnutrition accounts for over 50% of under-five mortality of children and women in Nigeria especially in the Northern part of the country.
Statistics? Because Math has a way of putting things in perspective; According to the President of the Nutrition society of Nigeria, Professor Babatunde Oguntoya, between 13 and 18 Nigerian children die of malnutrition and related diseases every hour.
UNICEF states that 2.5 million Nigerian children are malnourished, 30% are underweight and 90,000 are near starvation while 6 million under 5 are stunted, 2.5 million Nigerian children under the age of five suffer from Severe Acute Malnutrition (SAM) every year.
Read Also: 19 Ways to Achieve and Maintain a Healthy Life
It has been discovered that more people die from hunger and malnutrition than HIV/AIDS. In the year 2017, Nigeria was still ranked third highest in child mortality in the world only coming after India and Pakistan.
Every year, over 1 million Nigerian children die before their fifth birthday and the United Nations Children's Fund (UNICEF) identifies malnutrition as the underlying cause of morbidity and mortality in more than 50 percent of these children.
According to a study carried out in Zamfara state, 57.4% of children under-five in Zamfara state are stunted and 28.1% are underweight. This compares to a national average of 29.8% and 17.2%respectively.
Different surveys of nutritional assessment in Nigeria reveal low intakes of protein, energy, iron, calcium, zinc, thiamin, and riboflavin in almost all age groups and in both sexes and although the problem is more widespread in northern Nigeria, there are malnourished children in every Nigerian state.
Causes of Malnutrition in Nigeria
A lot of factors contribute to malnutrition in Nigeria some of which are:
1. Ignorance
Most people are malnourished not because they do not have the money to purchase the right type of food but because they do not know what the right type of food is.
Most children from rich homes resort to junk food which are usually indigestible, making them feel full even though they are not and the truth is the more processed food you eat, the more vitamins you need.
People are ignorant of the nutritional quality of foods leading to improper utilization of the available food which invariably leads to malnutrition.
Some people are ignorant of the fact that they have to regulate their diet, having their breakfast, lunch and dinner at the right time to prevent indigestion.
2. Poverty
This is the leading cause of malnutrition in rural areas, knowing the right kind of food to eat but not being able to afford it.
Most children in the northern part of Nigeria are malnourished due to poverty and the activities of the dreaded terrorist sect, Boko Haram which has led to the destruction of lives, crops and property.
3. Diseases
Diseases like Dysphagia which causes difficulty in swallowing, leading to the body not getting the much needed nutrients, Cancer, Malaria which causes loss of appetite etc.
4. Poor Lifestyle Choices
Sedentary lifestyle which is now the order of the day thanks to the invention of the internet has led some people to forget the place of exercise. Some workaholics with nine to five jobs, forget to eat for long periods, not knowing the effect this has on them in the long run.
Read Also: 6 Causes of Kidney Diseases in Nigeria
5. Restlessness
Suffocating sleep area and low space and low space could cause a person to lose sleep leading to improper digestion and my extension, malnutrition.
6. Alcohol or Drug Abuse
Alcohol displaces healthier foods from the diet, having a calorie value greater than protein or carbohydrate but having no vitamins, minerals, protein, fats or carbohydrates.
7. Lack of Balanced Diet in Pregnant Women
Pregnant women who are not adequately nourished would eventually birth babies with low weight further putting the survival of the babies at risk and since stunting severely limits the cognitive senses, this permanently limits not only the physical but also the mental capabilities of the future citizens of our country.
8. Food Restrictions and Taboos
In some cultures, it is considered disrespectful for a child to eat eggs. They are denied most protein rich foods like- chicken, fish and meat as these are reserved exclusively for the adults while the children who need them more especially as they are still in their developmental phases look on.
9. Poor Sanitation
10. Over population
Effects of Malnutrition in Nigeria
Malnutrition affects the development of a child's brain and intelligent quotient, limiting their ability to learn and become productive in their adult lives as malnourished children cannot truly sustainably develop a country.
Malnutrition and related diseases (diarrhea, measles, anemia, and gastroenteritis) are the cause of most deaths in infants and young children.
Nutrition-related diseases continue to be an issue of public health importance in Nigeria as it slows economic growth and perpetuates poverty through direct losses in productivity.
Severe cases of malnutrition, can lead to organ failure. Other effects of malnutrition includes:
Low birth weight – Although malnutrition is not the sole cause of LBW, it has been linked to its occurrence,
Wasted body
Weakened resistance to infection
Impaired intellectual development
Reduced body mass index for under nutrition
High body mass index for over nutrition
Change in texture of hair
Obesity
Diabetes
Alopecia
Depression and Anxiety
Low or no libido
Difficult labor in Pregnant women
Apathy
Read Also: How to Start Fruits Selling Business in Nigeria
How Do We Combat Malnutrition in Nigeria?
In 2016, The Federal Government approved 4 billion naira to tackle malnutrition in North – East Nigeria and in the middle of 2017, Aliko Dangote Foundation pledged to expend 100 million dollars which is about 36 billion naira to reduce the prevalence of under nutrition by 60% in the worst affected parts of Nigeria.
The Community based Management of Acute Malnutrition (CMAM) program has treated over two million children since it was introduced in Nigeria, despite all these efforts, malnutrition still remains a menace in the country and a permanent solution to the problem still seems to elude us. Some of the possible solutions to the issue of malnutrition include:
1. Agriculture
We should all be encouraged to engage in some small scale farming in order to eat what we grow. More support should be given by the government to rural farmers through input subsidies and high producer prices, improving rural credit schemes (e.g., the People's Bank) that target the poor.
2. Women Empowerment
Women should be taught that gone are the days when all they had to do was wait for the husband to bring money home so that they can take care of the children because in the case where the husband is nowhere to be found, such families are usually thrown into abject poverty. Women Empowerment is a step towards eradicating poverty and in tandem, malnutrition
3. Food Fortification
This is different from genetically modified food as this refers to cross breeding plants and their varieties, having the dual advantage of being able to deliver nutrients to large segments of the population without requiring radical changes in food consumption patterns and introducing a medium for the distribution of these fortified foods especially for pregnant women and children.
An example of food fortification can be seen in the invention of the iodized salt, iodine deficiency being the leading cause of mental impairment thus reduced if not completely eradicated.
4. Family Planning
The less mouth a family has to feed, the more food is enough for them.
5. Sensitization Programmes
This is very important, we should hold more talk shows on radios and television, take more trips to rural areas telling them not just about the importance of agriculture, but also the importance of the right kind of food, Encouraging them to eat more plant based foods, fruits and vegetables.
We need to provide food demonstrations to mothers and caregivers, showing them how to use food items like groundnuts, millet & soya beans to prepare nutritious meals.
6. Encourage Exclusive Breastfeeding for at Least Six Months
Mothers should be encouraged to practice exclusive breast feeding as milk feeding provides an important source of micronutrients that has been clinically proven to bolster the immune system of children, and provide long-term defenses against non-communicable and allergic diseases.
Breastfeeding has also been shown to improve cognitive abilities in children, with a strong correlation to individual educational achievements.
integrating nutrition education in primary health care schemes and in educational curriculum
Notable Researches on Malnutrition
A study was carried out in Plateau state, Nigeria to determine the relationship between the nutritional status and the IQ of school age children in the state and the result showed that stunting and underweight malnutrition increased the odds of performing poorly on the IQ tests.
Read Also: 10 Factors Responsible for High Cost of Food Items in Nigeria and Solutions
Another study in Edo state showed that poor nutrition reduce children's intellectual capabilities, interest in environment and motor development.
Conclusion
If the fight against malnutrition will ever be won, then all hands must be on deck, from the health workers down to religious and traditional rulers, down to the masses on the street, we all have to play a part if this menace is ever going to be a thing of the past.
👇👇👇👇👇
Canada Immigration!
Relocate to Canada, USA, UK, Europe, Australia, and New Zealand with your family. See the Latest Oversea Jobs with Visa Sponsorship plus our EXPERT guidance and tips. Its FREE!
👇👇👇👇👇
👍Advertise your business on InfoGuideNigeria.com!
From just N9,999 per month, you can advertise your products and services to over 1,500,000 monthly users on our website. Click here to read more.
Copyright Warning!
Contents on this website may not be republished, reproduced, or redistributed either in whole or in part without due permission or acknowledgment.
.
Proper acknowledgment includes, but not limited to (a) LINK BACK TO THE ARTICLE in the case of re-publication on online media, (b) Proper referencing in the case of usage in research, magazine, brochure, or academic purposes,.
.
All contents are protected by the Digital Millennium Copyright Act 1996 (DMCA).
.



The images, except where otherwise indicated, are taken directly from the web, if some images were inserted by mistake violating the copyright, please contact the administrator for immediate removal.
.
We publish all content with good intentions. If you own this content & believe your copyright was violated or infringed, please contact us  for immediate removal.
🤑 Start Making Money from home today!
👉 Get the correct
FREE FOOTBALL PREDICTION
TIPS
and
Guides
today.
Click here