Automobile
How To Start A Panel Beating Business In Nigeria
Panel Beating Business Overview
Panel beating is the process of beating out the bodywork of vehicles. It requires manual labor and also a reasonable level of physical strength and stamina.
It also involves the use of a hammer and other tools to smoothen out dents on the bodywork of a car. A person who does this kind of work is referred to as a panel beater.
Profitability Outlook For The Business
There is competition in the panel beating business. It is fierce and very difficult to compete in price and intending panel beater job should be excellent and neat in other for you to make meaningful profits from the business. Try to find out what your fellow panel beaters are doing and endeavor to upgrade in that aspect.
Read Also: How To Start Car Tyre Selling Business In Nigeria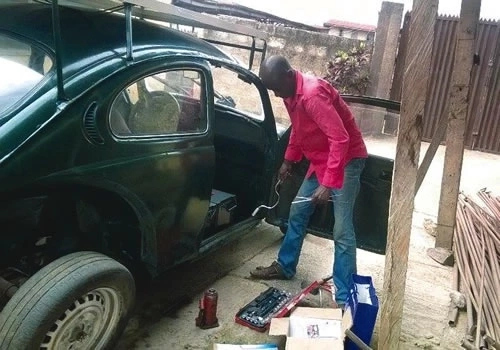 The Market Demand for Panel Beating Business In Nigeria
This determines your market potentials in terms of customers. See every customer as a vehicle, then determine how many vehicles are there within the area that you can serve.
Your potential market, that is, people coming to your business premises is determined by the proximity of your panel beating shop to sources of traffic.
How To Start Panel Beating Business In Nigeria
Knowledge Needed/Training Required
Before starting up a panel beating business the panel beater should have both the training and experience to start a successful a panel beating business.
Obtaining a certified panel beating qualification is important is important for panel beaters to operate professionally within the industry, especially if he is going to do most of the work himself.
It is also important to note that he might end up managing other skilled people, though the best way to establish a successful business is to have a first-hand knowledge of what needs to be done and this will be a result of experience gained from years of experience working in a panel beating workshop.
A panel beater must know the motor vehicle industry well, be enthusiastic about cars and fixing them. It is important for him to keep up with new techniques, equipment, and paints, so he must be a keen and quick learner.
Read Also: How To Start A Car Tire Business In Nigeria
Certification and licensing
It is important to obtain a certified panel beating license before venturing into this business. National certificate and a diploma in-vehicle technology can qualify a person who wants to start a panel beating business in Nigeria.
Regulations the business must comply with include, but are not limited to the following:
Getting Permits
The Local government authority in the state where you wish to operate in Nigeria will have to inspect your business premises and give you the permission to go ahead with this business if you satisfy all the necessary requirements.
Licensing and Registration
The business must be registered with the Corporate Affairs Commission of Nigeria (CAC) and the Nigerian Fire Service.
These bodies will check that the business meets the health and fire regulations as set out by the Government and that the proposed business premises for siting your panel beating business in Nigeria is good enough for business.
Panel Beating Occupational Health and Safety
This act dictates that the workplace for panel beating business is both safe and healthy for workers. This is extremely important in a panel beating business where employees are operating heavy machinery and dangerous tools and are exposed to harmful chemicals.
Staff must receive safety training on a regular basis (e.g. first aid, how to use the fire extinguisher, where to shut the electricity mains off) and be provided with all the necessary safety equipment and clothes.
There should be a policy on how chemicals are to be used, labeled and stored. The shop should also have a functioning eye-wash station in case of emergency.
Read Also: How To Start A Car Leasing Business
Finance Needed
If you don't have the required startup capital, you can simply get a loan from the bank. A large chunk of this will be spent on acquiring of business premises and equipment.
The premises must be large enough for one or two vehicle bays with good roof height to enable the use of a car lift. The entrepreneur must consult with the landlord and the local authority if he is going to make changes to the building.
Standard body shop equipment will include anything from vehicle lifts and jacks to spray-painting equipment. Protective equipment and clothing will be needed to make the workshop as safe as possible.
This will include the following:
1. Ear protection
2. Facemasks
3. Hard-capped boots
4. Overalls
5. Protective gloves
6. Respiratory masks
7. Safety goggles
8. Etc.
Office equipment will include a computer and printer for estimating, invoicing, correspondence and generally keeping track of the accounts. You may also consider buying a few pieces of specialized software for estimating the costs of vehicle repairs.
Tools/Equipment
Tools needed for this business include the following:
1. Automotive tools
2. Bearing puller
3. Car Lift
4. Car polisher
5. Conversion kits
6. Hammer
7. Piston rods
8. Spray gum
9. Two post lift
10. Wheel Alignments
11. Wheel hub
Read Also: How to sell your used cars in different parts of the world
Choice Of Business Location
The location of any business is the key to the success of that business. The location must be easily reached and clearly visible to a high concentration of vehicles.
The location should be determined by the nearness to roads with increased traffic activities, accessibility to customers and nearness to cheap labor.
As part of your market research, try to establish what it will cost you to rent premises in the chosen area and whether he can afford it.
Your workshop should be within easy reach of people and clearly visible to a high concentration of vehicles, as much of your clients and customers will come from passers-by.
Technology needed
Intending panel beaters should have mechanical skills as well as auto electrical skills.
Management
Staffing
An intending panel beater could employ the services of two to three staffs who have pre-knowledge of panel beating.
It is somewhat difficult to get employees with the relevant skills in this industry. Much of the work is specialized and needs employees with both expertise and experience.
This skilled labor comes at a price and makes staff remuneration the biggest monthly challenge the business will have.
Advisors
Potential panel beaters should seek advice from mechanics and professionals in the business as well as technicians with dependable information.
Marketing
Advertising Strategy
The business should be registered in as many online databases as possible as this is how customers search for services they need it can also be advertised on TV, radio, flyers, local papers and also with business cards.
It is also pertinent to note that Panel beating businesses without an established track record will have to do aggressive marketing or promotions to attract customers.
The business owner needs to promote the business directly to consumers, including insurance companies, car companies, and vehicle retailers.
Necessary Panel Beating Sustainability Tips
Get committed to providing an excellent service to your customers, as well as free value-added services after panel beating to your loyal customers.
Occasionally, give decent discounts and also make use of modern tools and equipment in your quest to sustaining the business.
Panel beating is a business with a continuous demand potential insofar as there will always be cars plying the roads.
However, there is fierce competition in the panel beating industry in Nigeria and it is very difficult to compete, especially when it comes to pricing. So, you must put the following in place for sustainability and profitability in this business:
1. Ensure that your work is impeccable and that your customers are happy with your service.
2. Treat every customer as a king.
3. Be abreast of latest innovations, trends, updates, and machinery as well as new upgrades in the industry.
4. Have a sneak-peek into what your competitors are up to.
5. Develop a good working relationship with your suppliers for quick deliveries and at affordable prices.
Read Also: Where to Buy Cars in Lagos, Nigeria
Summary
Insofar as cars continue to ply our roads and highway, there is always a possibility that there will be an accident because of carelessness on the part of drivers, bad roads as well as a mechanical fault in the vehicle, which can definitely call for the service of a panel beater. Panel beating is, therefore, one lucrative industry where there is a high demand as long as cars use the roads.
Read more business insights here
👍Advertise your business on InfoGuideNigeria.com!
From just N4,999 per month, you can advertise your products and services to over 1,500,000 users on our website. Click here to read more.
👇👇👇👇👇
Information is Power!
Don't miss any valuable information or opportunity that can change your life, business, and family positively and permanently.
👇👇👇👇👇
For Latest updates on News, Jobs & Business Ideas, and Opportunities.
Copyright Warning!
Contents on this website may not be republished, reproduced, or redistributed either in whole or in part without due permission or acknowledgment.
.
Proper acknowledgment includes, but not limited to (a) LINK BACK TO THE ARTICLE in the case of re-publication on online media, (b) Proper referencing in the case of usage in research, magazine, brochure, or academic purposes,.
.
All contents are protected by the Digital Millennium Copyright Act 1996 (DMCA).
.
The images, except where otherwise indicated, are taken directly from the web, if some images were inserted by mistake violating the copyright, please contact the administrator for immediate removal.
.
We publish all content with good intentions. If you own this content & believe your copyright was violated or infringed, please contact us  for immediate removal.
🤑 Start Making Money from home today!
👉 Get the correct
FREE FOOTBALL PREDICTION
TIPS
and
Guides
today.
Click here