Meatpie is one  popular snacks in Nigeria. A well prepared meatpie is tasty, moist and doesn't produce crumbs when eaten.
The best ones you see in Nigeria have meat, potato and carrot fillings and also properly seasoned to give a spicy taste. Below is a recipe on how to make a classic and yummy meatpie for your occasion.
👉 Relocate to Canada Today!
Live, Study and Work in Canada.
No Payment is Required! Hurry Now click here to Apply >>
Immigrate to Canada
Ingredient for Nigerian Meatpie

Read Also: How To Make Nigerian Chicken Pie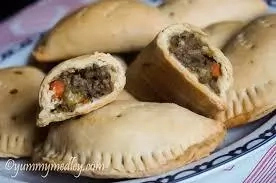 With the following ingredients, the number of meatpie you will get is 10 pieces in as much the cutter is 8inches (20cm). The number of meatpie you will get depends on the diameter of the meatpie cutter use.
a. Meatpie Dough (See preparation method below)
b. Meatpie Filling (See preparation method below)
c. Medium egg
Read Also: How To Make Nigerian Beans Pie
Direction for Nigerian Meatpie
1. Get the meatpie dough ready. The following ingredients are required:
a. 1kg (2.2lbs) plain flour (All Purpose Flour)
b. 2 teaspoons of baking powder
👉 Relocate to Canada Today!
Live, Study and Work in Canada.
No Payment is Required! Hurry Now click here to Apply >>
Immigrate to Canada
c. 500g (1.1lbs) of margarine
d. 2 pinches of salt to taste
e. ½ cup / 125ml 142 oz cold water
Let's get started with the meatpie dough preparation
a. Get a bowl, put about 2 teaspoons of baking powder in the bowl, 2 pinches of salt and mix properly. Be careful not to add excess salt, just a little quantity is enough as the taste of meatpie is gotten from the meatpie filling
b. Scoop the margarine in small quantity using a tablespoon and add to the bowl of flour. The smaller the quantity of magarine, the easier for you to completely mix with the flour
c. Using the tips of your finger, thoroughly rub the margarine until mixture looks crumby
d. When you have gotten the crumble look, simply start adding cold water gradually and in small quantity, folding the mixture at the same time until dough becomes rigid. Half a cup of water is enough to give you this result.
e. Knead the dough properly, and place back in the bowl. Set aside for a period of 5 to 7 minutes. Why is this done? To make dough more elastic.
Read Also: How To Make Different Pancake In Nigeria
2. Get the meatpie filling ready. The following ingredients are used:
a. 2 medium of Carrot
b. 2 medium of Irish Potatoes
c. 500g Green pepper(optional)
d. Onoins
e. Diced meat
f. Stock cube ( Maggi/Knorr)
Preparation on meatpie filling
a. Get the Irish potatoes and carrot, peel the skin and cut into tiny pieces, vertically and horizontally. You can also add green pepper(optional), wash , remove seed and cut
b. Wash and cut the onions into tiny pieces
c. Place the pan over a medium heat, pour vegetable oil in the pan, allow to heat, add the onions, the diced meat then begin to stir continuously and strenuously to fry the content until meat turns light colored
d. Add a cup of water, your stock cube and thyme(you can possibly include any spice for your choice)
e. Cover the pot and allow contents to boil.
f. Add the diced carrots and potatoes, and allow to boil until everything is well cooked
g. Dissolve 2 tablespoons of plain flour in half a cup of cold water then add to the meatpie filling. this is to keep the meat pie filling moist during and after baking
h. Add salt to taste, stir contents and remove from heat.
Read Also: How To Make Nigerian Buns
The meatpie dough and filling is ready, we can proceed with filling the meat pie dough
3. Set the oven to 170 oc (335of) and leave for a while to preheat
4. Now we want to prevent the undersides from getting burnt or stick to the oven tray. Add margarine on the insides of the oven tray and set aside
5. Break and beat the eggs and set aside as well
6. Get the meatpie dough , knead it some more, roll it out using a roller pin until dough is thick (5mm thickness)
7. Use a meatpie cutter or a small pot cover to cut a circle on the rolled out dough
8. Remove the unwanted areas seen around the circle leaving behind the round cut
9. The next step is to fill the round cut. Note this, do not overfill the dough so it can be easily closed or doesn't overflow. On the round cut of dough, scoop the meatpie filling to the centre
10. Now rub the egg on the inside edge of the cut meatpie dough. This is to effectively seal the meatpies so as not to open while being baked
11. Fold one part of the dough to meet the other end , press the two edges together using a fork to hold firmly
12. Place in the oven tray
13. Repeat step until dough is exhausted
14. Roll out more dough, cut, fill, close and place in the greased oven until all the cut out dough is used
15. Rub the egg on the surface of meatpies to give it a golden brown/greasy look when done
16. Place the oven tray back in the preheated oven and leave to bake for 30 to 40 minutes or when the meatpie starts to brown.
N.B Every oven has its heating capacity, for some it takes up 45 minutes while to others it could be a hour, it all depends on the type of oven you are using
17. When the meatpie starts to brown, it's alright to bring out
Read Also: How To Make Nigerian Chin-Chin
This is a well detailed and straight to the point recipe. With this recipe,  you don't have to order for meatpie from those fast foods for your occasions, you can simply do them at home to serve your parties, as a snacks for the kids and I bet you they will come back asking for more .
It doesn't require so much time. It may seem like a long process but the result is like wow!. The kids , the guests , the family will love it.
Baking is not difficult, it only requires your time. Why should time be a problem, when this can be a source of income. Baking pays and I enjoy every bit of it!
📢

We are hiring writers!
Article Writing Jobs
- We are hiring good freelance writers -
Click here to apply
👇👇👇👇👇
Immigrate to Canada Via Job Offer!
Get latest Jobs in Canada for foreigners with visa sponsorship 2023 and how to apply. Don't miss this opportunity that can help you relocate to Canada with your family.
👇👇👇👇👇